One of my readers, Carol M. from Maryland, sent me a delightful box of vintage Bon Appetit magazines from the 1970's.  Paired with on and off rain over the weekend and our PBS station running the entire series of Downton Abbey, I was a happy camper with a pile of magazines while enjoying the wit and wisdom of The Dowager Countess of Grantham.  I also tried a couple new recipes, one for a barbecue sauce using beer that was used on baby back ribs (oven cooked because it was too rainy to grill), and a delicious pasta recipe that will be a blog soon.
Look at these great covers from '73 and '74. The April '74 issue had a recipe for a lamb roast that sounds wonderful.  It was timely to find it as my husband Bill surprised me with a gorgeous lamb roast that he bought because I had just been telling him that I hadn't cooked lamb in ages.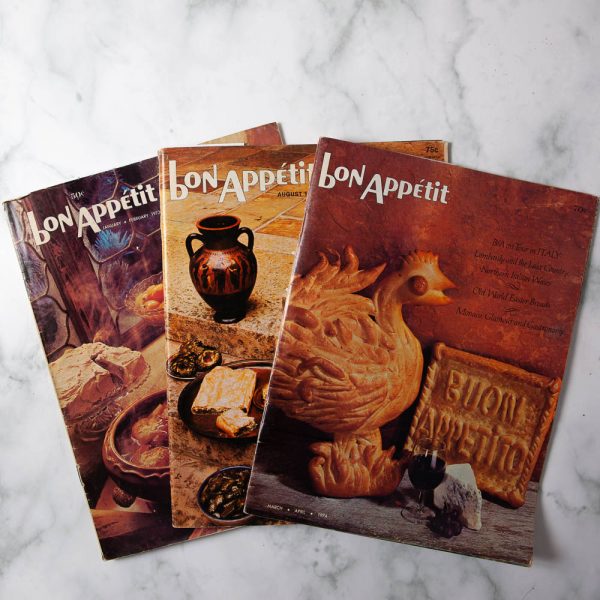 These issues are all from 1976.  The font and photography changed quite a bit in a couple years.  Since I had some leftover beer from making the barbecue sauce, I found a recipe in the July issue with a cheese spread using both cheddar and blue and some beer.  Sounds like game day food except there are no game days anymore!  Instead of watching sports, Bill has taken to watching the military channel, which means the cheese spread will have to do with snacks for viewing World War I programs.  I also found a recipe for hot and spicy canned dill pickles, which I love, so it's time to get out the canning pot.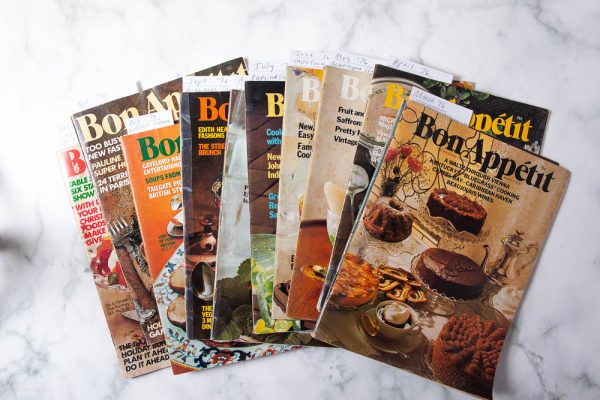 This group is from 1977.   The font became even bolder and more colorful.  I looked for some summertime recipes and found a rich strawberry shortcake and a freezer lime pie, both favorites of Bill's sweet tooth.  I am always fascinated with recipes for Dresdner Stollen and found one in the December issue.  I like to try a new stollen recipe every Christmas.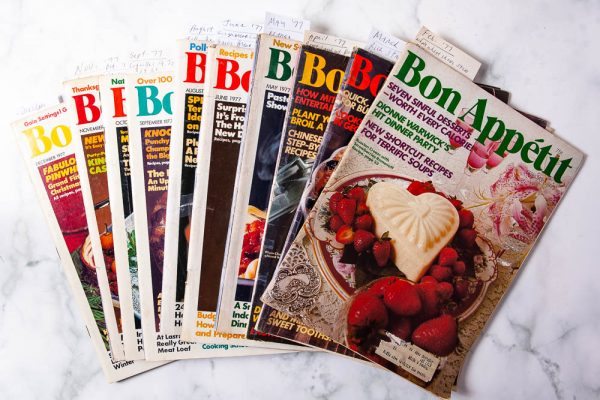 You can see each magazine has lists sticking out the top of so many recipes I would like to try for future blogs.  One fun aspect of these magazines is the celebrity interviews and their favorite recipes featured.  Some include Natalie Wood and Robert Wagner, Ed Asner, Mitzi Gaynor, and Phyllis Diller.
One of my favorite quotes from Downton Abbey coming from the Dowager Countess, was "What's a weekend?"  I would mention to her that looking at old Bon Appetit's was a fun way to spend a weekend, to which I'm sure she would repjy, "What's a Bon Appetit?"  Poor Countess will never know what she is missing.