Julie P. from Arkansas sent a box of cookbooks for The Culinary Cellar, including a few of Southern cooking which I love.  Thank you so much, Julie!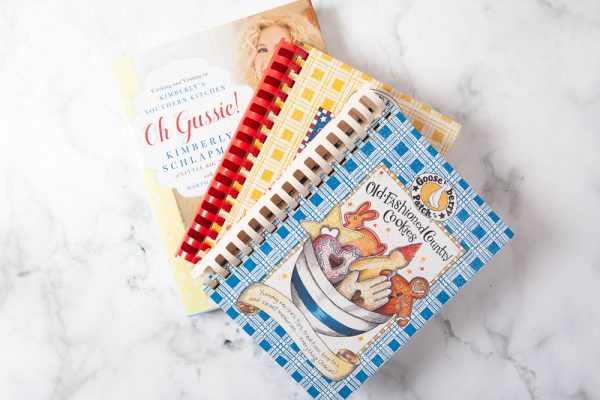 The Oh, Gussie cookbook is from country singer and cooking show host, Kimberly Schlapman, full of great Southern recipes and stories.  I'm looking forward to making her 'Mama's Tea Cakes" which are actually delicious little iced cookies that sound like the ones my daughter Kara buys at her favorite bakery in Jackson, Mississippi.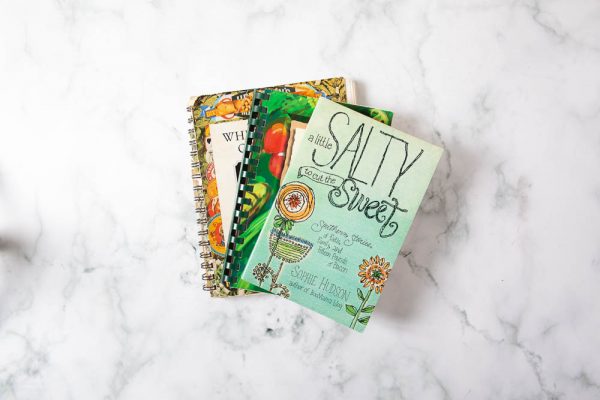 The book "A Little Salty to Cut the Sweet: Southern Stories of Faith, Family, and Fifteen Pounds of Bacon" is mostly the author's family stories of Southern life, but also includes some family recipes to enjoy.
Even though this book, "Creating a Meal You'll Love" isn't a Southern cookbook, it is filled with recipes from chefs and food writers about their unforgettable dining experiences with some including a favorite recipe.  There are stories and recipes from many award-winners, my favorite being Marcus Samuelsson.  He included a recipe for his mother's pasta dish with fresh peas, basil, and crispy pancetta, all in a creamy sauce.  We had it for dinner the other night and it was as delicious as it was beautiful and colorful.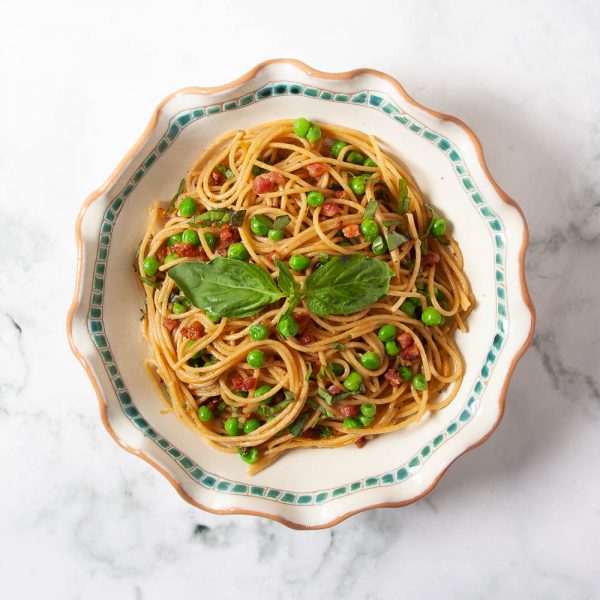 My Mother's Spaghetti with Peas
Author:
Marcus Samuelsson
Ingredients
1 pound whole wheat spaghetti
2 Tablespoons olive oil
1-1/2 cups peas
2 egg yolks
2 Tablespoons grated Parmesan cheese
2 Tablespoons heavy cream
½ cup diced pancetta
1 medium onion, chopped
3 garlic cloves, chopped
Zest of half a lemon
1 Tablespoon chopped parsley
6 basil leaves, torn
Salt and freshly ground black pepper, to taste
Instructions
Bring a large pot of water to boil. Add the spaghetti and cook until al dente according to package directions. Drain and toss with olive oil; set aside\.
Prepare an ice bath by filling a bowl with water and ice cubes. In a small pot, bring 2 cups of water to a boil. Add the peas and simmer for 30 seconds. Remove the peas with a slotted spoon and transfer them to the ice bath to keep their fresh, bright green color.
Whisk together the egg yolks, Parmesan cheese, and cream. Set aside.
Heat a large saute pan over low heat. Add the pancetta and saute until crispy, about 8 minutes. Add the onion and garlic and saute until translucent, about 4 minutes. Add the spaghetti and cook until heated through, about 4 minutes. Season with salt and pepper. Remove from heat and toss with the egg-Parmesan mixture and lemon zest. Garnish with parsley, basil, and peas. Serve immediately, Serves 6.