Our family loves blueberries, especially wild blueberries.  There is something extra good about those little ones.  My husband Bill gets the wild ones in Upper Michigan, that is unless the bears get to them first!   Last time he brought home the wild berries some were loose in bags and some on small branches.  Aren't they gorgeous?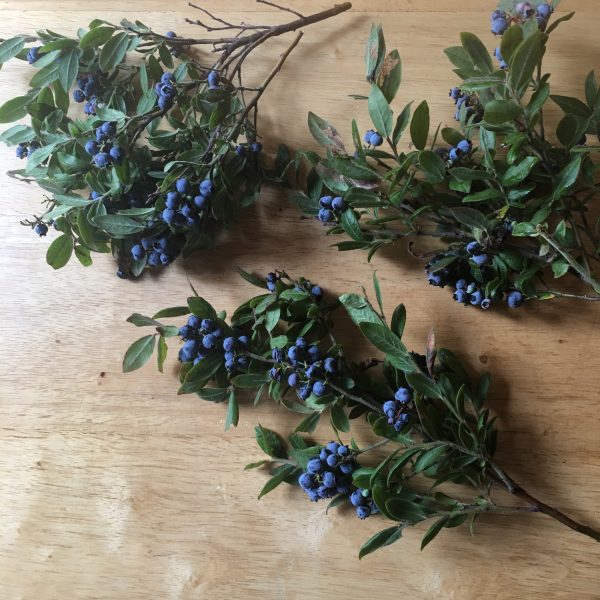 Here is daughter Kristina picking fresh blueberries in Finland.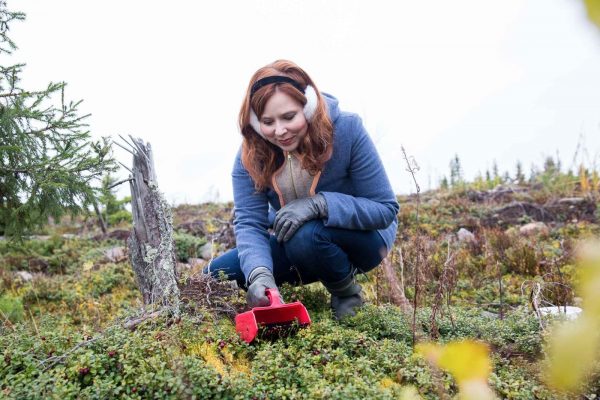 If you are not in an area to pick wild blueberries, no worries!  They can be ordered from the fabulous Northwest Wild Foods where you will also find all kinds of berries and other incredible products too.  Wild blueberries are also available frozen in bags at Trader Joe's if you happen to have one near you.  However you find them, I have the best prize-winning blueberry pie recipe for you!
Years ago, my beloved grandmother lived with us.  We decided her blueberry pie recipe was so good, grandma entered it in a local fair and won the Grand Champion and Best of Show award!  She was in her 80's at the time and so proud of her win.  I still have her original handwritten recipe card for this very special pie.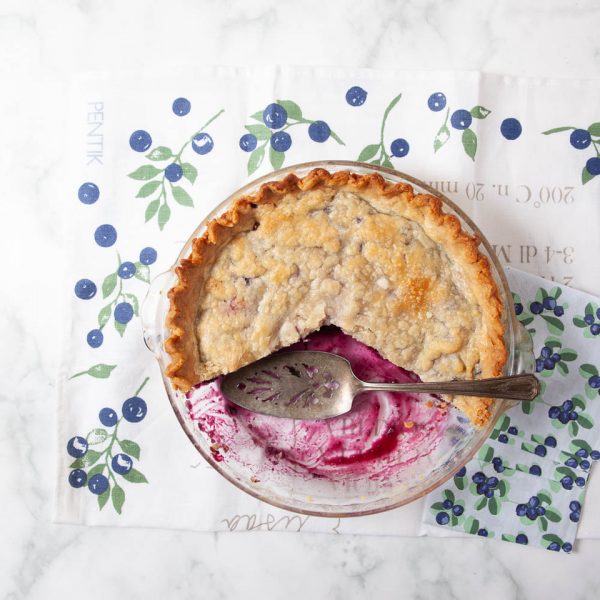 Best of Show Blueberry Pie
Author:
My Grandma Pauline Lamb
Ingredients
Your favorite pie pastry for a 2-crust nine-inch pie
4 cups fresh blueberries (wild blueberries are preferred, and unthawed frozen wild blueberries work too; or just find the smallest size blueberries)
3 Tablespoons all-purpose flour
1 cup granulated sugar
½ teaspoon freshly grated lemon peel
½ teaspoon ground cinnamon or nutmeg
Dash of salt
1 teaspoon fresh lemon juice
1 Tablespoon butter
Heavy cream (no substitute) to brush on top crust
Sprinkling of sugar for top crust
Vanilla ice cream, for serving
Instructions
Make your favorite pie pastry and divide into 2 parts. Wrap each in plastic wrap and refrigerate while preparing filling. Heat oven to 400 degrees F.
In a large bowl, gently toss blueberries with the flour. Stir in the sugar, grated lemon peel, cinnamon, and salt. Roll out the bottom crust using one part of the pie pastry and line a 9-nine pie pan, Place blueberry filling in crust.
Sprinkle the filling in pan with the lemon juice. Dot all over with bits of the butter. Roll out top crust and place on top of filling. Fold under edges and crimp.
Brush top crust lightly all over with heavy cream and sprinkle gently all over with sugar. Cut a few slits on top of pie to allow steam to escape.
Bake pie in preheated 400 degree F oven for 35 to 40 minutes until nicely golden and crust is cooked. Remove to wire rack to cool. Serve pie with scoops of vanilla ice cream. You can also dust the ice cream with a little cinnamon or nutmeg. The pie is good at room temperature or chilled.