How fun is it to receive fresh produce?  First my husband Bill was given tomatoes and peppers from a client, and then my friend Jean called and asked if I would like a bunch of her Swiss chard.  Isn't it a beautiful color?  It is also a good source of Thiamin, Folate and Zinc, and a very good source of Dietary Fiber, Vitamin A, Vitamin C, Vitamin E, Vitamin K, Riboflavin, Vitamin B6, Calcium, Iron, Magnesium, Phosphorus, Potassium, Copper and Manganese. Wow!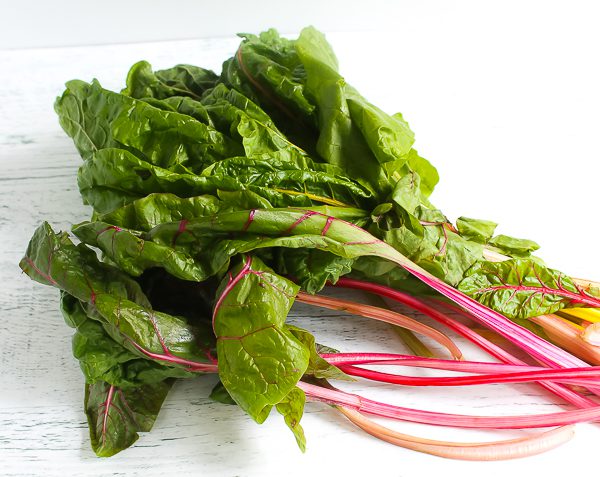 I decided to make a crustless quiche with the chard.  The first step is to saute some garlic and shallots in olive oil, stir in the chard minus stems, add a little salt, pepper, and crushed red pepper.  Spread on the bottom of a pie tin, then whisk together eggs, milk, shredded mozzarella, pour over the chard mixture, sprinkle with grated Parmesan and bake.  So easy and it makes a great breakfast or lunch.  I added some roasted cherry tomatoes and fresh basil to have on the side., along with a little more Parmesan on top of the quiche.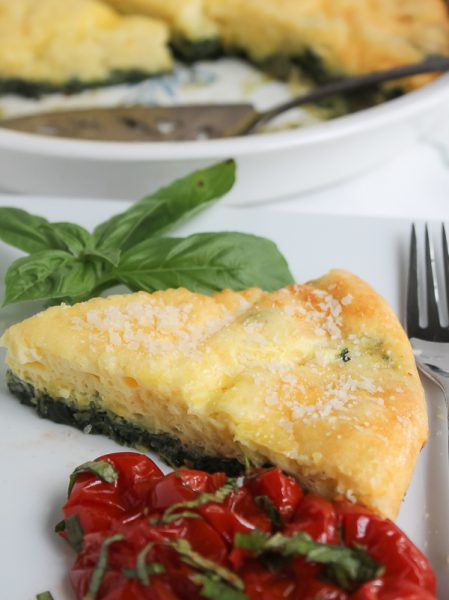 Pretty soon we will be seeing the vegetables and fruits of autumn.  I wonder if I will receive more food gifts.  No complaints here!

Crustless Swiss Chard Quiche
Author:
Adapted from Food & Wine magazine
Ingredients
2 Tablespoons olive oil
2 shallots, sliced thin
2 cloves garlic, minced
10 ounces Swiss Chard, coarsely chopped (can substitute spinach or kale)
1 teaspoon salt, divided
¼ teaspoon crushed red pepper
6 large eggs
⅓ cup milk ( I used 2%)
½ cup shredded mozzarella (or substitute Swiss, Gruyere, or Jack)
¼ cup freshly grated Parmesan cheese
Optional: 2 cups cherry tomatoes, fresh basil, olive oil
Instructions
Heat oven to 375 degrees. Grease a 9-inch pie plate with olive oil; set aside.
In a large skillet heat the 2 Tablespoons olive oil over medium-high heat. Add the shallots and garlic and cook for about 2-3 minutes or until softened. Add the chopped Swiss chard in batches, stirring until wilted. Add ½ teaspoon of the salt and the crushed red pepper. Spread the mixture in the prepared pie pan; set aside.
In a medium mixing bowl, whisk together the eggs and milk, then stir in the remaining ½ teaspoon salt and shredded mozzarella.
Pour the egg mixture over the Swiss chard mixture in pie pan and sprinkle with the Parmesan. Bake for about 25 minutes or until the center is firm to the touch. Remove from oven and let sit for 10 minutes before cutting into wedges and serving.
If you would like to serve the quiche with a side of roasted cherry tomatoes, place the tomatoes in another pin tin, sprinkle on olive oil to coat, and sprinkle with salt and pepper to taste. Place the tomatoes in the oven with the quiche. To serve, toss the roasted tomatoes with sliced fresh basil.