My husband loves waffles, especially on weekends, but most recipes make a lot just for the two of us.  Here is a recipe made for two and so delicious.  It can be doubled for more, but this is perfect for us.  I like to serve them with some breakfast links too.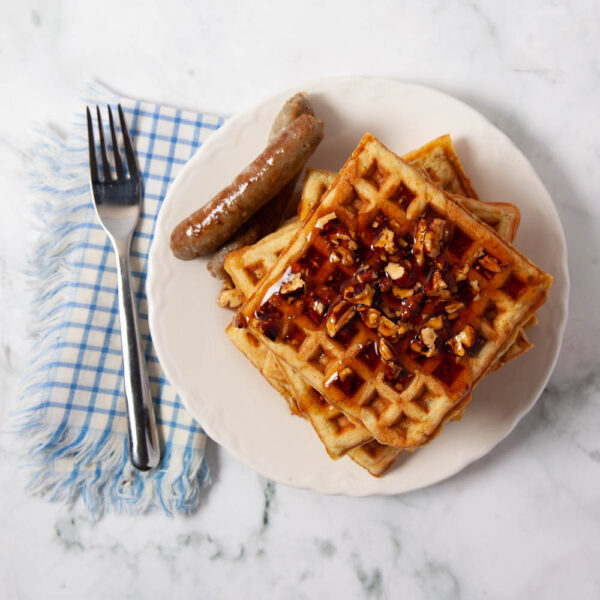 Make sure the banana is very ripe, and if you have a good stone-ground cornmeal, the better.  I like that the cornmeal adds fiber yet the waffles remain nice and fluffy.  The warm pecan syrup adds the right touch of sweetness and crunch.  So good, and perfect for a cold winter's day here in the Midwest.
Happy New Year!

Banana-Cornmeal Waffles with Maple-Pecan Syrup
Ingredients
½ cup pure maple syrup
¼ cup chopped toasted pecans (you don't have to toast them, but it adds a nice flavor)
2 teaspoons orange juice (or lemon juice)
⅓ cup all-purpose flour
⅓ cup yellow cornmeal
1 Tablespoon granulated white sugar
2 teaspoons baking powder
¼ teaspoon salt
1 ripe medium banana
⅓ cup water
2 large eggs
2 Tablespoons unsalted butter, melted and cooled
Canola or vegetable oil to brush on waffle iron
Instructions
In a small saucepan bring maple syrup and pecans to a boil and stir in juice. Remove syrup from heat and cover to keep warm.
In a bowl whisk together flour, cornmeal, sugar, baking powder, and salt; set aside. In another bowl, mash the banana well with the water. Whisk eggs and cooled butter into mashed banana. Add flour mixture and stir until well-combined.
Heat a waffle iron until hot and brush lightly with oil. Pour in half of the banana mixture and cook according to manufacturer's directions. Make another waffle and serve with the warm maple-pecan syrup. Serves two. Note: If you double the recipe and make more waffles, you can keep the freshly made ones in a 200 degree oven to keep warm while making other waffles.