Put some New Year's Eve fireworks in your own kitchen with this spicy and fiery pizza.  Your tastebuds will explode!
I couldn't have a better cookbook to make some spicy foods.  Nothing turns up the heat like The Fiery Cuisines with recipes from mildly spicy to call-the-fire-department flavors.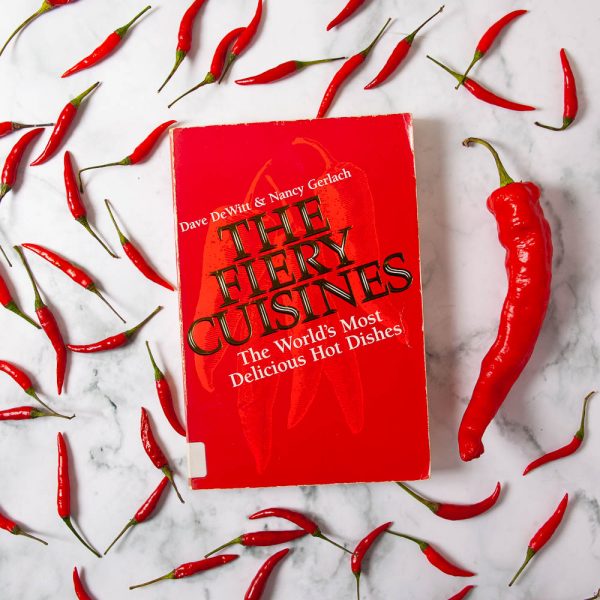 The recipes come from Mexico, the Caribbean, Latin America, Europe, Africa and the Middle East, the Indian Subcontinent, Southeast Asia and the Pacific, and the American Sunbelt.   Some are mildly spicy and some very spicy, which the book lets you know by their little temperature logo next to each recipe revealing the heat index.
There are so many recipes to look through in this cookbook and include appetizers, salads, soups, sauces, combination entreés, meat dishes, poultry dishes, seafood dishes, egg and cheese dishes, pasta, rice, potatoes, vegetables, and breads.
Examples include a spicy Huevos Rancheros, Arroz con Queso, Barbecued Hot Lamb, Avocado and Chile Salad, Goulash with Hot Peppers, Spicy Curry, Chicken with Peppers and Peanuts, Chilean Hot Sauce, Mongolian Fire Pot, Red Chile Paste, Cuban Lobster Creole, Spicy Malaysian Duck, Fish in Chile Almond Sauce, Hot Ginger Spinach Salad, Spicy Szechuan Noodles, Hot Ginger Spinach, Kim Chee, Turkey with Chile Stuffing, and Indonesian Beef Saté.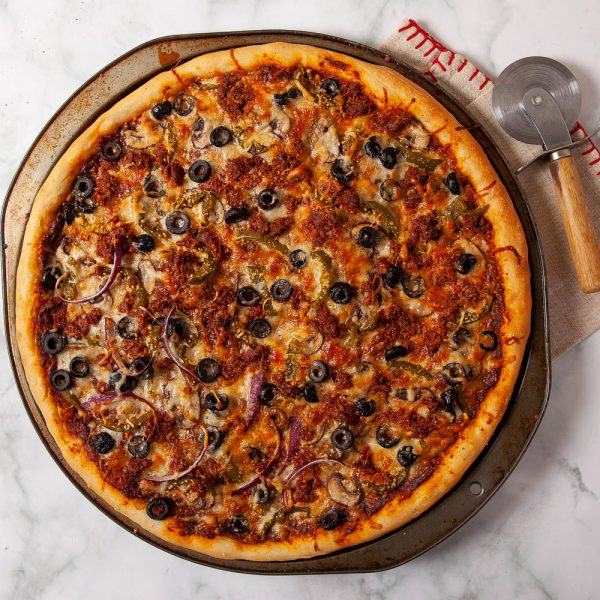 I decided to try this spicy pizza with a ground chipotle-seasoned sauce on the homemade crust, topped with extra spicy chorizo, red onions, jalapeño slices, mushrooms, black olives, and three kinds of cheese. Cilantro is optional.  You can use the hottest peppers desired, if green jalapeños aren't hot enough for you!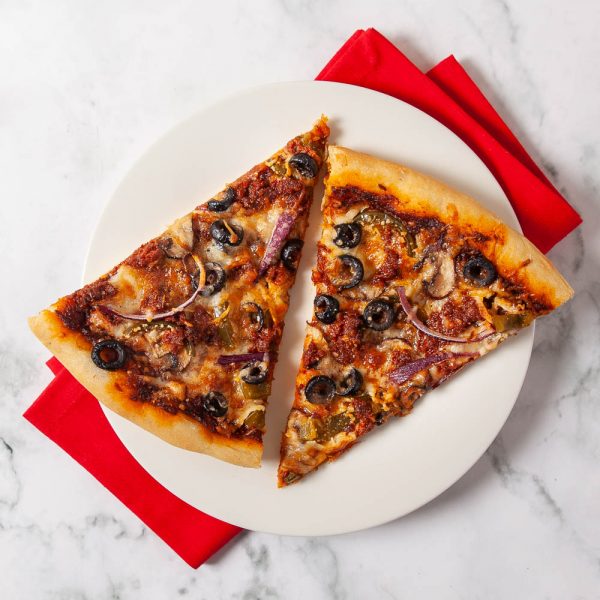 We loved this pizza!  It takes time but we thought worth it.  You can make the sauce a day or two ahead to save some time.  Also have all ingredients prepared and ready to assemble to save even more time.
Have a happy, safe, and spicy New Year!

Spicy Southwest Chorizo Pizza, adapted from The Fiery Cuisines
Author:
Dave DeWitt and Nancy Gerlach
Ingredients
For Chipotle Sauce:
2 Tablespoons canola or vegetable oil
½ cup finely chopped onion
2 cloves garlic, minced
8 ounce can tomato sauce
1 Tablespoon ground chipotle chiles
1 Tablespoon dried oregano
1 teaspoon sugar
Salt and pepper to taste
For Crust:
1 cup hot water
1 packet (1/4-ounce) active dry yeast
2 Tablespoons canola or vegetable oil
3 cups all-purpose flour or bread flour
1 teaspoon salt
Few grinds of freshly ground black pepper
For Chorizo Topping:
½ of a 9-ounce package raw pork chorizo (or if preferred, sliced fully cooked chorizo)
1 small red onion, sliced and separated into rings
½ cup (or more if desired) jarred whole jalapeño pieces cut into strips (or use fresh peppers)
½ cup thinly sliced mushrooms
½ cup sliced black olives
½ cup grated mozzarella
½ cup grated Monterey Jack with Peppers
½ cup grated Parmesan
Chopped cilantro, as desired (optional)
Olive oil for drizzling
Instructions
For Sauce: Heat oil in a saucepan. Add onions and sauté until softened. Add garlic and stir for a minute. Stir in all remaining sauce ingredients and mix to blend. Turn heat to low and simmer, stirring occasionally, for 1 hour or until thickened. Remove from heat and set aside. (can be made a day or two ahead and refrigerated).
For Crust: Place hot water in large mixing bowl and add yeast; stir to dissolve. Let stand 5 minutes. Stir in oil. Add 2 cups of the flour, salt, and pepper; mix to form a dough. Spread remaining cup of flour on work surface and place dough on top of flour. Knead for about 5-8 minutes, using flour as needed to make smooth and elastic. Form into a ball and place in an oiled bowl, flip over to coat, then cover and let rise for 1-1/2 to 2 hours or until doubled.
For Topping and forming Crust: While sauce is simmering (unless you made it earlier), you can prepare the topping. In a skillet, sauté the raw chorizo until chopped up and cooked through. Using a slotted spoon, remove to a paper towel-lined plate and set aside. (Or if you prefer fully cooked chorizo, slice and set aside). When crust dough has risen, lightly oil a 12-inch pizza pan and sprinkle with some cornmeal (optional). Punch dough down and stretch to fit pan.
To assemble pizza: Heat oven to 400 degrees. Spread prepared pizza sauce evenly over crust in pan. Crumble on the cooked raw chorizo evenly over sauce (or scatter sliced cooked chorizo). Add the red onion rings, jalapeño slices, sliced mushrooms, and sliced black olives. Toss the three cheeses together in a bowl, then evenly sprinkle on top. Add some chopped fresh cilantro, if desired. Bake at 400 degrees for about 20 to 25 minutes until crust is browned. Cut into slices and serve.