Yesterday it was predicted we would get hit with between six and nine inches of snow and icy roads, but all we ended up with was a couple inches.  But no matter; it was still pretty outside with the snow cover and still time for soup. Plus in anticipation of the snow, my husband Bill built a warm and cozy fire in our fireplace.  He also likes to have a fire while watching football, which seemed like it was on all day.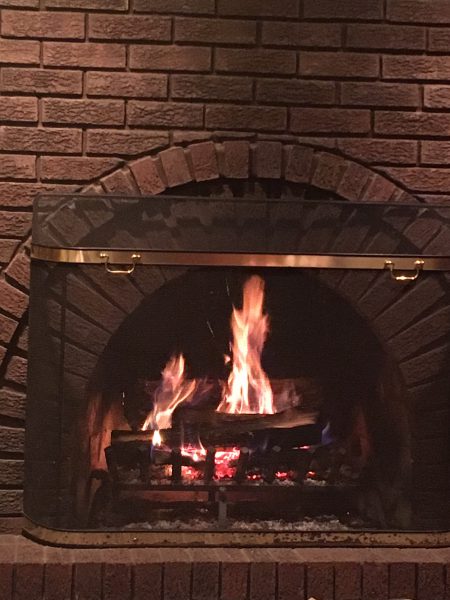 I had tons of Brussels sprouts that I was going to roast with some root vegetables, but soup won out even if I was just making it for myself.  Bill does not care for Brussels Sprouts that he affectionately calls "cannonballs."  He was happier with a hot dog, chips, and a beer for the games.  I couldn't convince him to try the soup even after telling him that Brussels sprouts were much healthier than a hot dog.  The sprouts are an excellent source of vitamins C and K, along with a good source of folate, manganese, B-6, B-1, fiber, copper, phosphorus, potassium, is fat-free, and low in calories.  Didn't phase him at all, so it was all mine.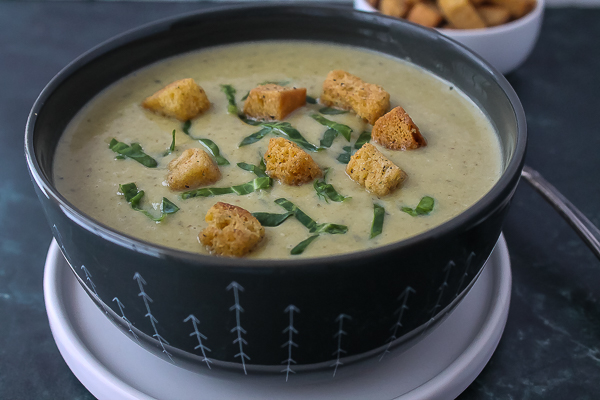 The soup is easy to make and tasted so good with a julienne of some sprout leaves and crunchy croutons sprinkled on top.  The sprouts are cooked in a little butter, then some flour, nutmeg, salt, and pepper stirred in, and simmered longer in chicken broth.  When the sprouts are soft, everything is pureed in a blender, returned to the pot, and half-and-half mixed with a couple egg yolks are added for creaminess.  Very simple ingredients but full of flavor.  I had enough for dinner, leftovers for lunch, and the rest to freeze for another snowy day.  And we know that will happen.  It's Chicago.

Belgium Brussels Sprout Soup
Ingredients
1-1/2 pounds Brussels Sprouts (about 6 cups)
2 Tablespoons unsalted butter
2 Tablespoons all-purpose flour
1 teaspoon salt
¼ teaspoon ground nutmeg
Freshly ground black pepper, to taste
1 container (32 ounces) chicken broth
2 egg yolks, slightly beaten
1 cup half-and-half
2 cups croutons
Julienne sprout leaves, for garnish
Instructions
Wash sprouts and cut off stem end. Halve sprouts, or quarter if very large. Melt butter over medium-low in a Dutch oven and add prepared sprouts. Cook, stirring frequently, for 15 minutes..
Sprinkle flour, salt, nutmeg, and pepper over sprouts and stir to blend. Gradually add chicken broth, reduce heat, and simmer for 50 minutes or until sprouts are softened. Remove from heat and cool a few minutes.
Place half of sprouts and liquid in blender; blend until smooth. Repeat with remaining sprouts and liquid. Return all to the pan.
Whisk the egg yolks with the half-and-half and gradually add to pureed soup in pot, Heat over low heat until very hot. Ladle into serving bowls and top with julienne pieces of sprout leaves and top with croutons. Pass remaining croutons. Serves 6-8.