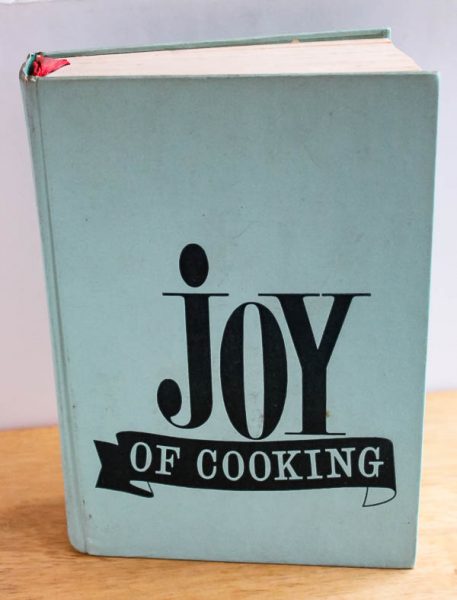 There are so many reprints and updates of the iconic Joy of Cooking, just take your pick and you'll never lose.  Many, many people over the years learned to cook from it and still do to this day.  Joy of Cooking has been in print continuously since 1936.  The first printing of only 3,000 were printed in 1931 by a small company, then by Bobbs-Merrill since 1936.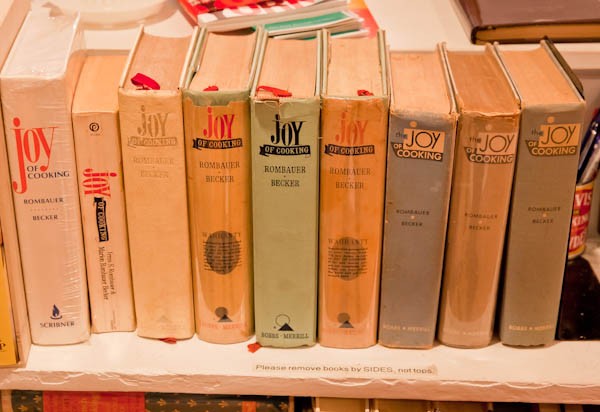 The rare 1931 first edition will cost in the thousands.  The ones lined up above are all the editions except for the newest which was recently published and praised as a must for every home cook.   I found this lineup at Bonnie Slotnick Cookbooks in New York City several years ago.  I asked Bonnie about the 1st edition which she said sold for $4,000.  It's probably even more now.  Joy of Cooking is considered the most popular cookbook in America, even teaching Julia Child to cook, who affectionally called author Irma S. Rombauer  "Mrs. Joy."
I was thrilled to receive this 1964 edition from Karen R. of Rockville, Maryland.  She sent the book along with a lovely note about how she loved this copy but no longer cooks and hoped I would enjoy it.  Thank you for your kindness and generosity, Karen!  I have loved looking through and finding the most splattered pages of your obvious favorites.
It was almost impossible to select a recipe to try, so I thought I would search for something I hadn't made in awhile and using ingredients I had on hand. The variety of doughnuts caught my eye, especially the sour cream ones that had a variation of adding molasses and ginger.  I had a bottle of molasses left from Christmas baking and the combination of ingredients sounded so good.
I embarked on a cold morning making the doughnuts and warming up the kitchen.  I also decided to make different shapes including the classic doughnut, holes, and even my square doughnut cutter that was my mom's.  I also decided to make the different toppings suggested in the book: a clear glaze that could be flavored with a choice of citrus juices (I picked orange juice), vanilla-frosted, powdered sugar, and for the holes, a sprinkling of cinnamon-sugar.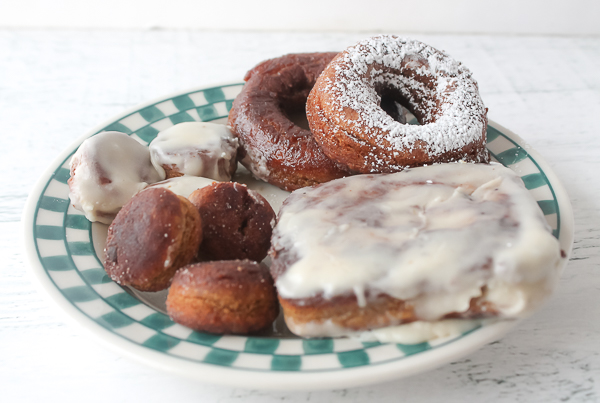 The doughnuts turned out great, so tender and flavorful and simply fun to make.  The dough is rather dark from the addition of molasses, but you can also skip the molasses and have just sour cream doughnuts.  They are best made and eaten the same day as making, and especially good when enjoyed nice and warm straight from the pan with a cold glass of milk or a cup of hot coffee.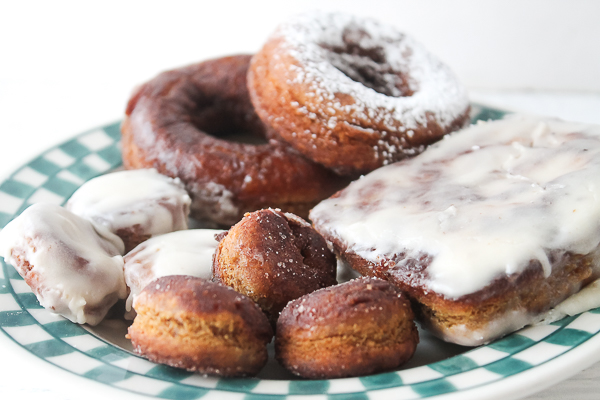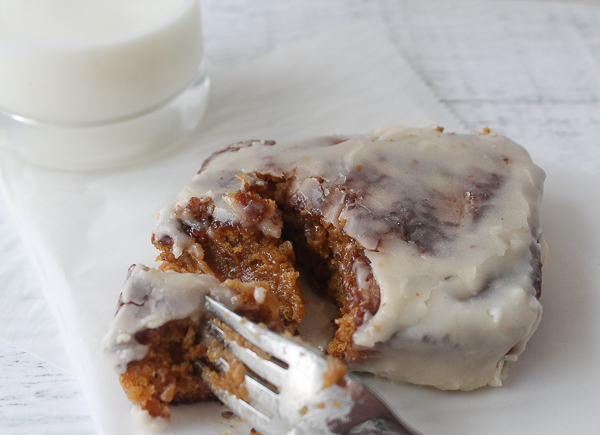 My husband Bill's favorite were the ones I made into squares with the vanilla icing, and he definitely wanted extra icing.  I must say they might have been my favorite too, with the powdered sugar ones a close second.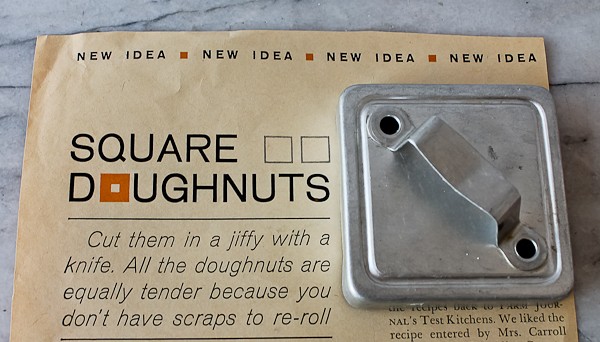 My mom's antique square doughnut cutter!
It was a fun morning, one I will repeat with other recipes that sound good to warm up the kitchen.  More cold and snow is expected this weekend.  I'm sure Mrs. Joy has something more for me to make.
Thank you again, Karen, for trusting me with your treasured book.

Sour Cream Doughnuts (with Molasses)
Author:
Joy of Cooking (1964 edition) by Irma S. Rombauer and Marion Rombauer Becker
Ingredients
Doughnuts:
3 eggs
1-1/4 cups granulated sugar, or if making molasses, use only 1 cup sugar and ½ cup molasses
1 cup sour cream (not light or fat-free)
4 cups all-purpose flour
1 teaspoon baking soda
2 teaspoons baking powder
¼ teaspoon cinnamon or ½ teaspoon nutmeg
½ teaspoon salt
1-1/2 teaspoons ground ginger, added if making the molasses variation
Oil for frying
Glazes:
Citrus glaze:
1-1/2 cups powdered sugar
¼ cup lemon, orange, or lime juice
1 teaspoon vanilla
Vanilla Glaze:
2 cups powdered sugar
4 Tablespoons melted butter
¼ cup whole milk
1-1/2 teaspoons vanilla extract
Instructions
In bowl of electric mixer, beat eggs well, Slowly add 1-1/4 cup granulated sugar, or if making molasses, add only 1 cup sugar and ½ cup molasses.
Stir in sour cream. Sift together flour, soda, baking powder, cinnamon or nutmeg, salt, and if making molasses, add 1-1/2 teaspoons ground ginger.
Stir dry ingredients into mixture in bowl until blended. Cover bowl and refrigerate dough at least one hour. for easier handling,
Pat dough, about half at a time, onto floured surface and cut into desired shapes. Lay each cut doughnut on a baking sheet and set aside while preparing oil to fry
Heat enough oil in electric skillet to fry doughnuts to 370 degrees, Drop in cut doughnuts, not crowding too much, and fry about 1-1/2 minutes per side. Remove to paper towel-lined baking sheets as made, Repeat with remaining dough. Recipe will make around 30 doughnuts, depending on size.
For both glazes: Combine ingredients in separate bowls and stir to mix, Dip hot doughnuts into desired glaze, or sprinkle with powdered sugar, or dust with cinnamon-sugar.