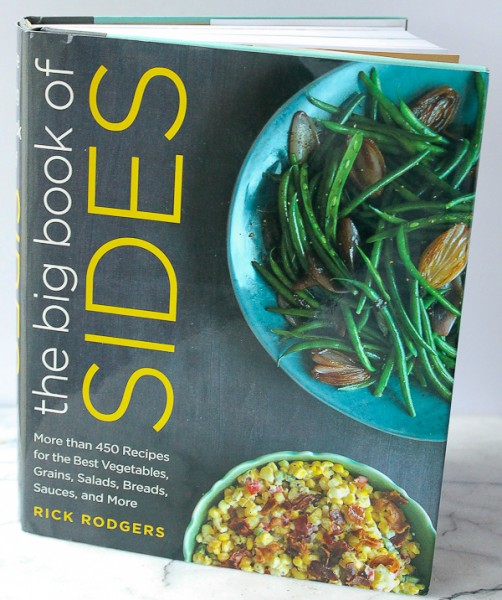 I'm a big fan of Rick Rodgers' cookbooks and have several on my Culinary Cellar shelves that I use often.  When I heard about his latest book about side dishes, I knew it would be decorated with my post-it notes within minutes of looking through it, and it was.  A book on side dishes makes perfect sense; after all what is a meal without side dishes?  What would Thanksgiving be without stuffing, gravy, mashed potatoes, or cranberry sauce?  Or hamburgers without French fries?  Or a barbecue without coleslaw or baked beans?  Or for me, steak or a roast without mushrooms.
There are more than 45o recipes for sides dishes using vegetables, grains, salads, breads, and sauces, and ideas for easy after work dishes as well as feeding a crowd.  You will find family favorites, dinner party ideas, buffet recipes, holiday feasts, classic and retro recipes, and vegetarian options.  There are also helpful hints on how to stock your pantry, easy-to-follow techniques, menu ideas, and beautiful photos.
One item Rodgers enjoys cooking with is bourbon, most notably, Four Roses Bourbon.  It's smooth and robust flavor pairs well with many dishes.  Rodgers has made some videos using the bourbon that I think you will enjoy and recipes that you can use for the holidays.  The first is for a cranberry sauce with bourbon and orange; the second is gravy made with bourbon; and the third is for a bacon, onion, and bourbon marmalade that you will want to put on everything!
Cranberry Sauce with Bourbon and Orange
Gravy with Bourbon
Bacon, Onion and Bourbon Marmalade
Four Roses Bourbon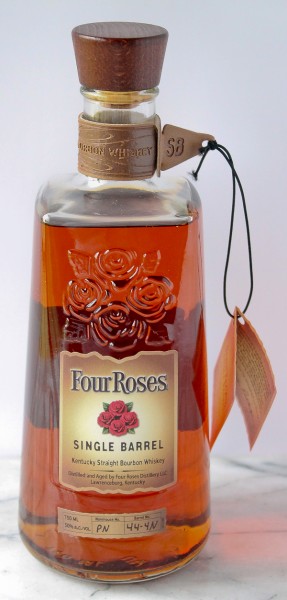 Seeing the videos sparked an idea of my own for a side dish using the bourbon.  As I mentioned, I love having mushrooms with steak or a roast.  Instead of potatoes or rice, I decided to substitute a puff pastry shell for an elegant change of pace and fill it with mushrooms mixed with bourbon, sour cream, and parmesan.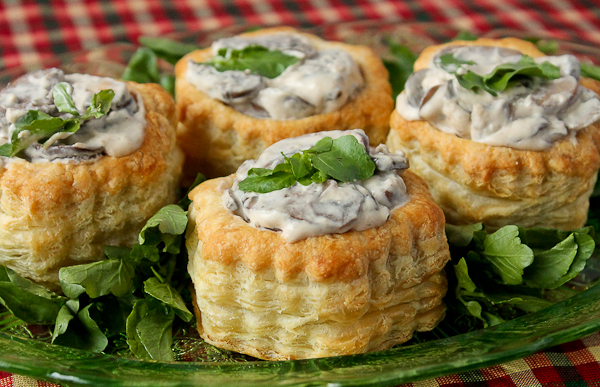 I would love for you to win this cookbook for the holidays!
Here is all you have to do to enter the drawing for this wonderful book:
Here's what you will win:
The Big Book of Sides by Rick Rodgers
How to enter the giveaway:
1)  Leave me a comment here on the blog and tell me your favorite side dish or one you would like to learn to make.  That's it!
2)  Winner is selected randomly using random.org and is open to Continental USA only.  Enter now through this Sunday, December 21, 2014 at 9:00 pm CST.  Winner will be notified by Monday, December 22, 2014.
Good luck!
Congratulations to the winner of French Comfort Food, Shirley D.!
Please note:  We all know how busy everything is the closer we get to Christmas and New Year's, so I will not be having any giveaways on the 22nd, or 29th, but will resume in the New Year on January 5th.  Well, unless I partied too hard and then it will be on the 12th…  Check back and see.  I will have lots of great books for 2015!
Have a very Merry Christmas and a Happy New Year!!
Bourbon Mushroom-Filled Puff Pastry Cups
Ingredients
1 package (10 ounces) frozen Puff Pastry Shells
1 pound baby bella (cremini) mushrooms
1-1/2 Tablespoons unsalted butter
⅔ to ¾ cup sour cream*
3 Tablespoons freshly grated Parmesan cheese
2 Tablespoons Four Roses Bourbon
1 Tablespoon all-purpose flour
¼ teaspoon salt
Freshly ground white pepper, to taste
Garnish: watercress sprigs
Instructions
Prepare puff pastry shells according to package directions. While oven is preheating for shells, have all other ingredients on the counter and ready to go, as you must work quickly to keep everything hot. You can make the filling while the shells bake and keep it warm.
Clean mushrooms, trim stems, and slice. Heat butter in saute pan over medium heat and add mushrooms. Cook, stirring frequently, until liquid has evaporated and mushrooms are browned.
While mushrooms are cooking, stir together sour cream, Parmesan, bourbon, flour, salt, and pepper together in a small mixing bowl; set aside. When mushrooms have cooked, reduce heat to low and add sour cream mixture. Stir constantly until mixture is thickened and blended. *Note: start with the ⅔ cup sour cream, but since various brands of sour cream have different thicknesses, you might need to add a little more if it is too thick.
When shells are done, and the middle part has been removed as directed on package, fill each shell immediately with the mushroom mixture, dividing evenly. Garnish with watercress sprigs. Serve while hot.