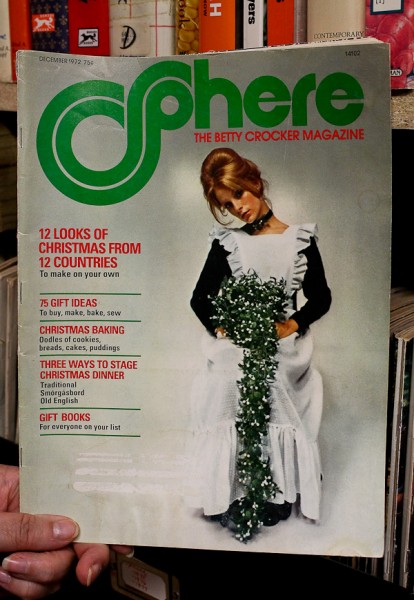 It never fails that every year I receive emails from fans of the old Sphere magazine in search of a favorite Christmas cookie they remember from the early days of Sphere.  Probably the most requested is the little mushroom-shaped cookie, a Lithuanian Grybai.  Don't worry – the recipe follows!
This issue has so many recipes for Christmas baking and dinner parties; decorations, gift ideas, and even a Rose Bowl spread for New Year's football day.  Do you see the English pinafore on the cover photo?  My mother actually made that for me back in 1972.  (Do you remember that, mom?)  I wish I still had it, but over the course of the last 40 plus years and several moves, it was somehow lost.  The magazine had a coupon where you could send for the pattern which cost all of $1.00.
There are several wonderful dinner menus throughout the magazine such as a roast beef with a horseradish sauce, and avocado-citrus salad, plum dumplings, a vegetable platter, and a hazelnut yule log for dessert.  An old English feast included a Wassail bowl, veal burgundy, trout with wine and grapes, and Peaches Wilbur.  A Swedish Smorgasbord offered meatballs, Jul ham, herring salad, pickled cucumbers, and an almond-rice pudding with raspberry sauce.
The baking section has a two-way whole wheat dough for making doughnuts and an apple-honey kuchen.  A potato refrigerator dough can be made into a beautiful swirled cinnamon roll cake or a crescent braid with almonds, raisins, and a honey topping.  Even if you don't like fruitcake there are several that sound heavenly.  In fact, I had a couple requests for these fruitcakes from people who remembered  them with fondness and couldn't wait to make them again.
Here is the recipe for those adorable mushroom cookies.  They taste as good as they look!
Lithuanian Grybai
Author:
Sphere Magazine, December 1972
Ingredients
½ cup honey
¼ cup sugar
2 Tablespoons packed brown sugar
2 Tablespoons unsalted butter
1 large egg
1-1/2 teaspoons ground cardamom
1-1/2 teaspoons ground cinnamon
1-1/2 teaspoons ground ginger
½ teaspoon ground cloves
½ teaspoon ground nutmeg
1-1/2 teaspoons freshly grated lemon peel
½ teaspoon freshly grated orange peel
2-3/4 cups all-purpose flour
¾ teaspoon baking soda
¼ teaspoon salt
2 Tablespoons sour cream
Frosting (recipe below)
Poppy seeds
Instructions
Heat honey in large saucepan over medium heat until it bubbles around side of pan. Remove from heat; stir in sugars, butter, egg, spices, and peels.
Measure flour, baking soda, and salt into mixing bowl; stir in honey mixture alternately with sour cream. Turn onto lightly floured board; knead until dough is easy to handle and not sticky, about 5 minutes. (Dough should be firm enough to hold impression of finger). Allow dough to rest 20 minutes.
Heat oven to 350 degrees. Divide dough into 4 equal parts. Make mushroom "stems" from one part. Shape into 2 rolls, each 25 inches long and about ⅜-inch in diameter. Cut into 1-inch lengths, reshaping ends of each "stem" if necessary. Place 1-1/2 inches apart on ungreased baking sheet. Bake until cookies are firm, about 7 minutes. Cool on wire rack.
Make same amount of "caps" as "stems." Form "caps" by shaping dough into ¾-inch balls; make indentations about ½ inch deep on one side of each with handle of a wooden spoon. Place indented side down 1-1/2 inches apart on ungreased baking sheet. Bake until cookies are light brown on bottoms, about 12 minutes. Cool on wire racks.
Enlarge indentations in "caps" with grapefruit knife or small pointed knife. Dip one end of each "stem" into frosting and insert into "caps." Dry mushrooms cap side down.
When dry, dip each mushroom into frosting, completely covering "cap" and underside of "cap," or covering "stem" and underside of "cap." (see photo) Allow excess to frosting to drip into bowl. Sprinkle frosted parts of cookies with poppy seeds. Lay on side on waxed paper to dry. Dry cookies completely before storing in airtight containers. Flavor mellows after 3-4 days. Store at room temperature no longer than 6 weeks, or in freezer no longer than 3 months.
Frosting: Mix together 2 cups confectioner's sugar and 1 Tablespoon water. Stir in remaining water 1 teaspoon at a time, beating well after each addition.