Delicate cookies shaped into crescents or rounds and rolled in powdered sugar are a classic holiday favorite.  Sometimes they are called Mexican Wedding Cookies or Crescent Cookies but made mostly with the same ingredients and cooking procedure.  These have an addition of cardamon and cinnamon to spice them up a little.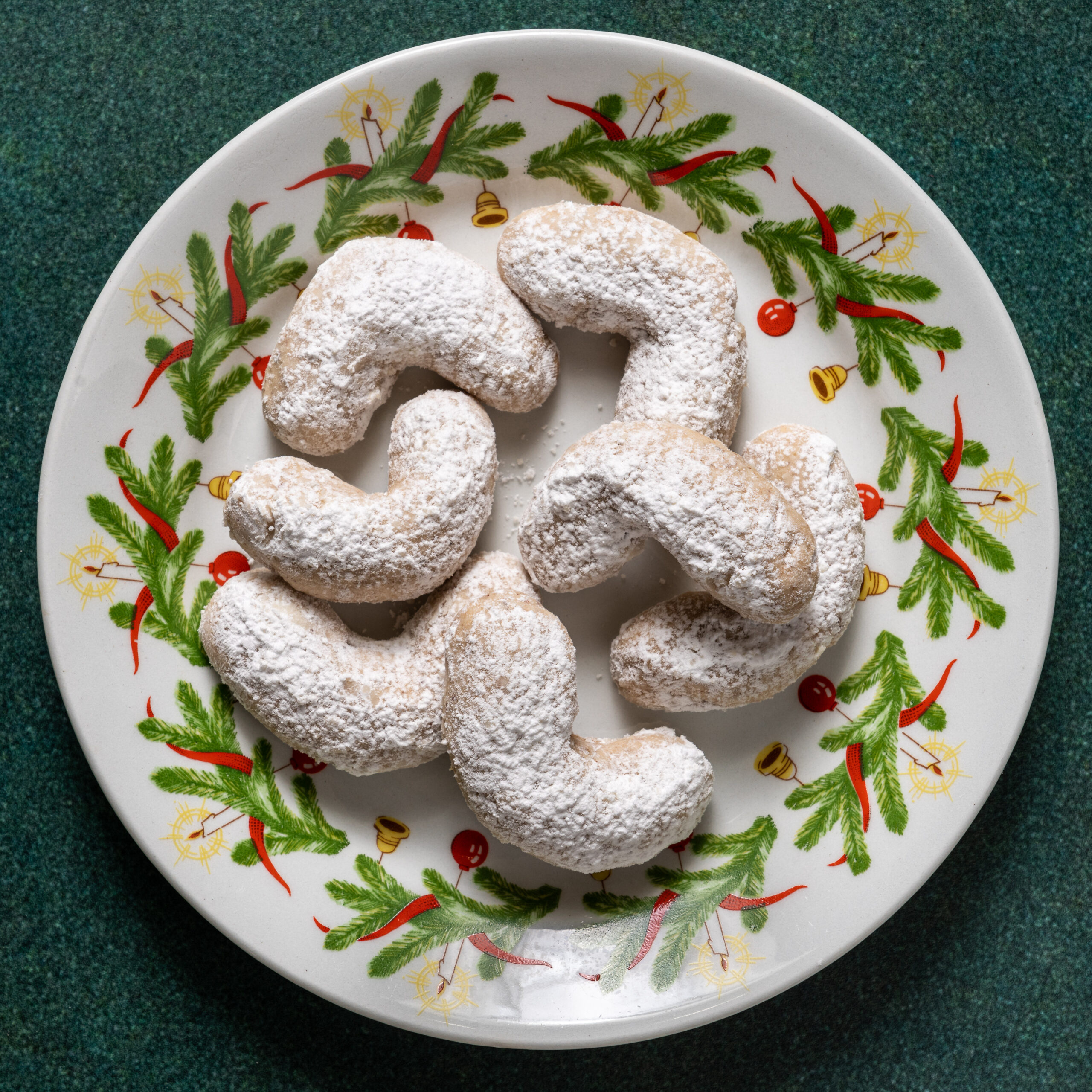 Enjoy these with a cup of coffee or tea, or give away as a gift from your kitchen.

Cardamom-Cinnamon Crescent Cookies
Ingredients
2-1/2 cups all-purpose flour
¾ teaspoon ground cardamom
½ teaspoon ground cinnamon
½ teaspoon kosher salt
1-1/2 cups powdered sugar, divided use
1 cup pecans
1 cup unsalted butter, softened
1 Tablespoon vanilla extract
Instructions
Heat oven to 350 degrees F. Line baking sheets with parchment paper.
In a medium mixing bowl whisk together flour, spices, and salt; set aside.
Combine ½ cup of the powdered sugar and pecans in a food processor and pulse until a coarse meal forms; set aside.
In bowl of electric mixer beat the butter and vanilla until creamy, about 2-3 minutes. Blend in the nut mixture. Add reserved dry ingredients and blend well. It will be a little crumbly but moist. Transfer to a work surface and knead it briefly a few times to form a ball.
Roll pieces of dough to form 1-inch balls. Roll the balls to form small logs about 4-inches long and then gently bend to form a crescent shape. Repeat with remaining dough and space about 1-inch apart on prepared baking sheets.
Bake until bottoms are golden, about 10-12 minutes. Sift the remaining 1 cup of powdered sugar into a shallow bowl. Working in batches of 6 cookies, gently roll each cookie while still warm, then place on wire racks to cool. When dusted and cooled, roll or dust again. Store airtight at room temperature or freeze.