Tag Archives | Christmas baking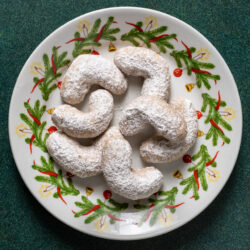 These delicate cookies shaped into crescents and rolled in powdered sugar are a traditional Christmas favorite for many.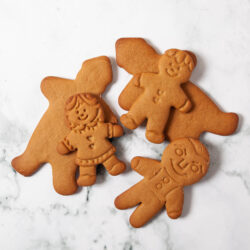 December 15, 2021
in
Christmas, Classic Recipes, Culinary History, Culinary traditions, Easy Recipes, Family, Family Recipes, Food Gifts, Grandchildren, Holidays, Mom, Recipes, The Culinary Cellar, Vintage recipes
My favorite childhood gingerbread cookie recipe from my mom, now will be made by a 4th generation this week by her great-granddaughter.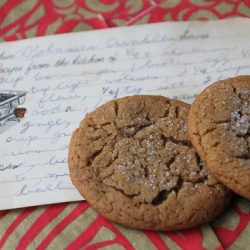 Cookie-baking makes me happy.  It makes me even happier to listen to happy music while baking. 
Why I Started This Blog
I love cookbooks. I mean I really love them. I love to read them, treasure them, learn from them, and, of course, cook from them. To me, cookbooks take on a life all of their own. They are history, family, and memories. I have been collecting cookbooks and writing down treasured recipes of family, friends, and neighbors since about age twelve, which means I now own thousands of cookbooks, recipes, and clippings. Now I want to share them with you along with the many other culinary treasures of my cellar." - Debbie Vanni