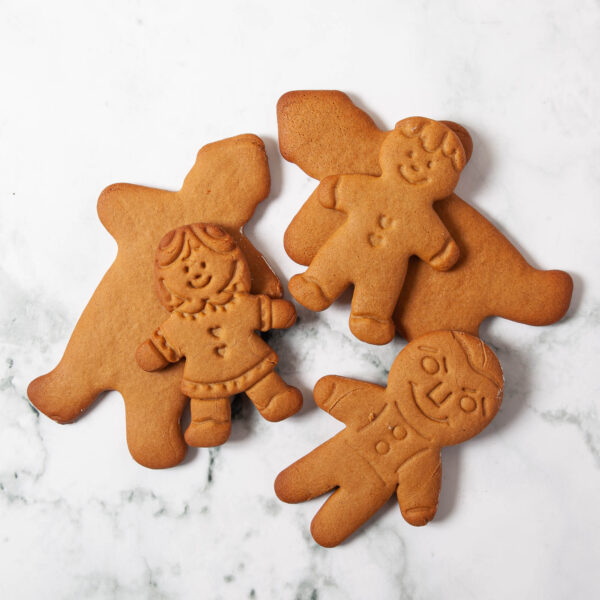 It isn't Christmas without the aroma of gingerbread cookies filling the air.  My mom's recipe is the only one I have ever used.  I loved making these cookies with her when I was a child.  Do you remember the days when kids had birthdays and were allowed to bring treats for their classmates to celebrate?  How sad that those days are long gone.  It was such fun to celebrate everyone's birthday with their mother's homemade treats.
When I was in 2nd grade I requested my mom's gingerbread cookies to share with the class, even though it was April and not December.  My mom first requested a list of students to find out how many boys and how many girls were in the class.  She then got out the large silver cookie cutter shown below and made the required amount.  But she went a step further and decorated each to look unique and customized for each student.  The boy cookies had little pants, and shirts with ties, and the girls had skirts, Mary Jane shoes and pretty blouses.  Every one was different with bright colors of clothing snd big smiles.  I proudly walked around the class giving each their special cookie.  The kids were thrilled.  How I wish I had a photo of them.  They were like little works of art.  But that was my mom; always going the extra mile to bring that extra touch of happiness.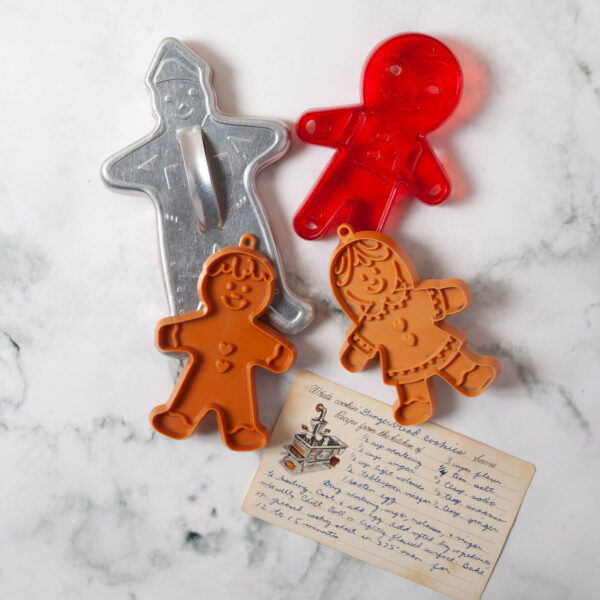 You can see my old recipe card that I still use today.  I made these cookies with my girls when they were young, and I made these now, not just because it's Christmas but to decorate with  my granddaughter Virginia Rose who is flying up with her mommy this week for a visit.  There will be three generations of us decorating the cookies.  My mom is no longer with us, but she would be happy to know we are still using her recipe.   At the moment, Virginia Rose is obsessed with the Disney movie "Frozen," so I expect the girl cookies will be decorated like her favorite character, Elsa.  I can't wait for the magic to be in my kitchen.  Thanks, mom.

4th Generation Gingerbread Cookie Recipe
Ingredients
½ cup solid shortening (Crisco)
½ cup granulated sugar
½ cup molasses
½ Tablespoon white vinegar
1 egg, beaten
3 cups all-purpose flour
½ teaspoon baking soda
½ teaspoon cinnamon
½ teaspoon ground ginger
¼ teaspoon table salt
Instructions
Place shortening, sugar, molasses, and vinegar in a small saucepan. Heat over medium heat, stirring, and bring to a boil. Remove from heat and let cool.
Place the cooled mixture in bowl of electric mixer and blend in the egg.
Sift the dry ingredients together and add to bowl; mix well.
Form dough into a ball and wrap in plastic. Chill until dough can roll out easily.
Heat oven to 375 degrees.
Using half the dough at a time, roll out on a lightly floured surface and cut with desired cookie cutters and place on lightly greased baking sheets.
Bake for 10 to 15 minutes, depending on size of cookies, until edges look just set. Remove from oven and let sit on cookie sheet a few minutes before moving to a cooling rack. Decorate as desired when cool.