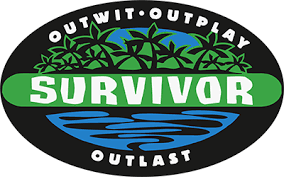 My husband Bill and I have been fans of "Survivor" on CBS since the first episode, and it's currently in its 41st season.  If you are also a fan, you know all about one of the most well-know contestants, Robert C. Mariano AKA "Boston Rob."  He has appeared on more episodes than any other contestant and won Season 22, "Survivor Redemption Island."  Rob met his wife Amber during the filming of Season 8, "Survivor All-Stars," and proposed to her at the season finale.  They have been married for fifteen years and have four adorable daughters.
Rob is an amateur chef and started sharing his family recipes on social media which led to the writing of his cookbook.  His interest in the culinary world stems from his parents and grandparents, the latter of whom were Italian immigrants.  The recipes in the cookbook reflect dishes he enjoyed growing up plus from his worldwide travels.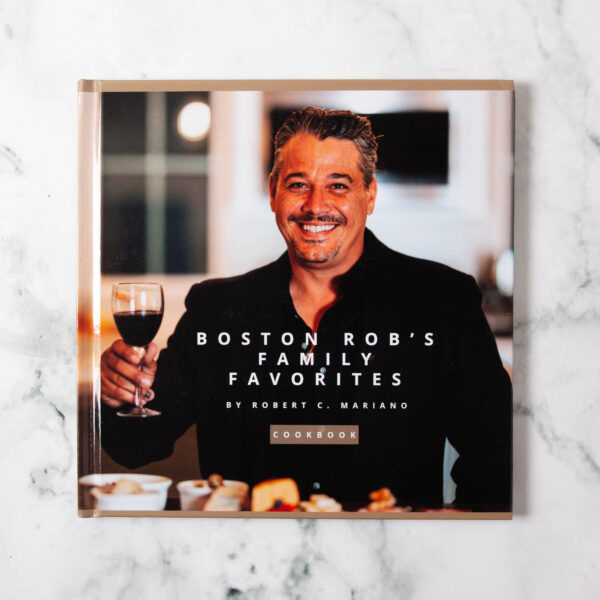 The cookbook has recipes for breakfast, sandwiches, salads and starters, main courses, sweet treats, and Island favorites which include how to make a fire as Rob did on Survivor.
Since I'm writing this after enjoying five days of turkey leftovers and we were ready for a change, nothing seemed better than a pizza.  Not only because it sounded good but it was inspired by a pizza Rob enjoyed in Palermo, Italy.  It was delicious!  The recipe is called "Adelina's Oven-Baked Pizza" that Rob made with one of his precious daughters, Adelina Rose.  Kids can definitely help make it.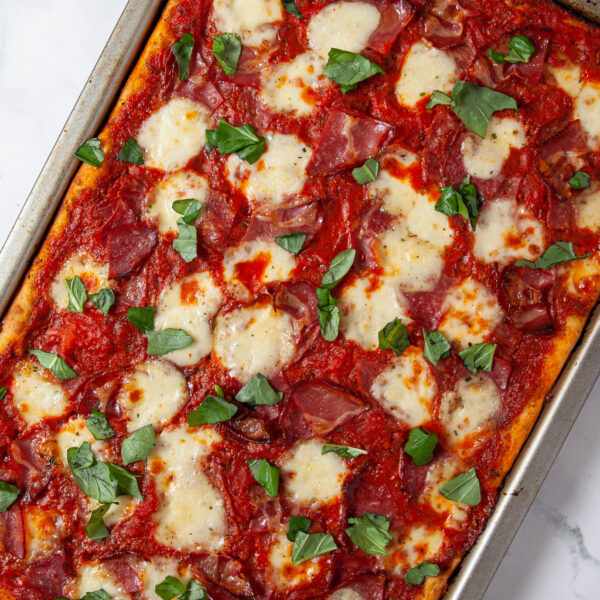 Doesn't this look beautiful?  I loved the simple sauce made with San Marazano canned whole tomatoes, fresh mozzarella, fresh basil, Capocollo, and fresh pizza dough.  It is baked in a jelly-roll size sheet pan and only takes about 15 minutes to bake.  We will be making this again!
Thanks, Rob!  Hope to see you on the show again someday, and I'll be watching your social media for more recipes!

Adelina's Oven-Baked Pizza
Author:
Boston Rob's Family Favorites Cookbook
Ingredients
Sauce:
28 ounce can whole peeled San Marazano Tomatoes
1 teaspoon salt
1 teaspoon pepper
1 Tablespoon dried oregano
3 Tablespoons Extra Virgin Olive Oil
2 teaspoons garlic powder
1 teaspoon onion powder
Pizza:
Olive oil for drizzling
1 pound fresh pizza dough
4 ounces Capocollo
8 ounces fresh mozzarella
8 fresh basil leaves
Instructions
Heat oven to 450 degrees.
For Sauce: Place tomatoes in a large mixing bowl. Crush the tomatoes by hand. Stir in olive oil and spices; set aside.
For Pizza: Drizzle some olive oil on a jelly-roll size pan. Stretch the pizza dough to fit the pan, making edges. Drizzle with more olive oil.
Ladle the sauce onto the dough, evenly spreading close to the edges.
Break up the mozzarella and scatter over sauce. Do the same with the Capocollo.
Drizzle the top with a little more olive oil.
Bake for 15 minutes or until edges are crispy. Remove from oven and scatter torn up pieces of fresh basil on top. Serve immediately.
Note: You can use all of the sauce if desired, or save half for another pizza. We just happen to like less sauce. You can also use half of the amount of Capocollo. The pizza is great as directed; these were just our personal preferences.
"If you told me I had to pick just one food I could eat for the rest of my life, it would be pizza."
-Boston Rob