One on the most heartbreaking items to lose in the flood of The Culinary Cellar was my library card catalog.  It was massive, about 500 pounds of heavy wood with over 40 long drawers on each side to hold my recipe card collection of 50 years in the making.  The cards were old and new, all precious to me, and with mostly irreplaceable recipes.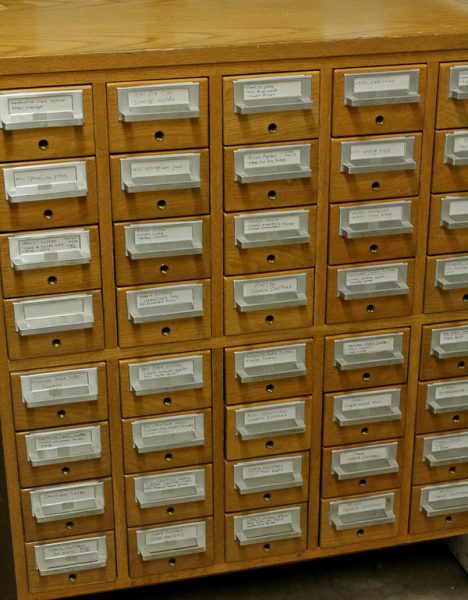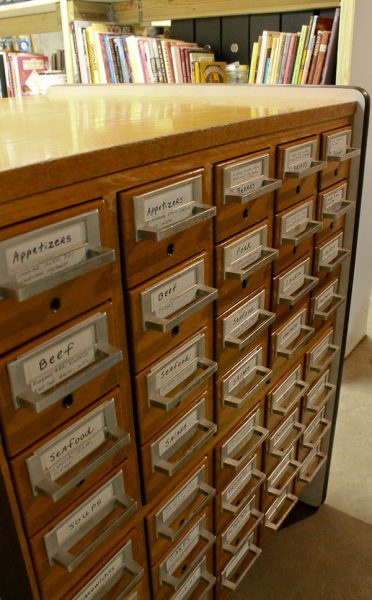 Each drawer was marked with what was inside, then subdivided into further categories.  I could find any recipe in seconds.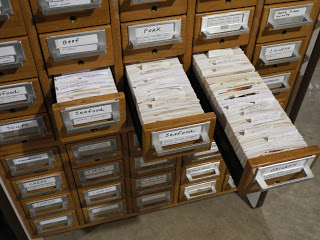 After the flood, here are some of the drawers that didn't make it at all: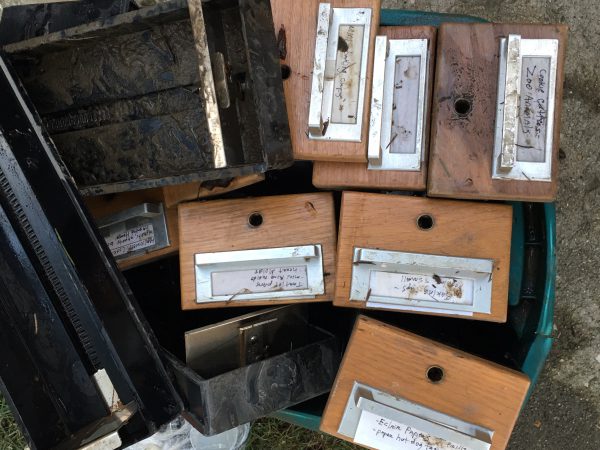 All drawers were obviously damaged being under 7 feet of water and mud, and the majority of drawers did not survive.  But some looked like this: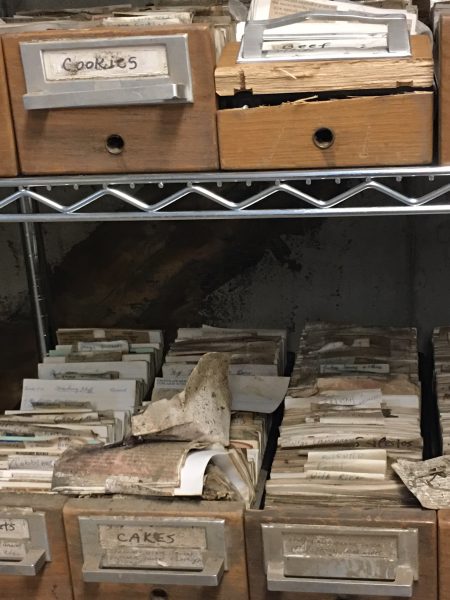 We think these drawers were stuck so tight, they didn't get pushed out. They had to be pried out with a crowbar.  Part of the drying out of the basement had giant fans running 24 hours a day for at least 2 weeks.  The drawers that still had cards were left on a shelf in the basement during the drying out.  After the crews were done after weeks of work, the drawers just sat there, and it seemed that the cards were dry but all stuck together.  It turned out that many of them were, but some survived.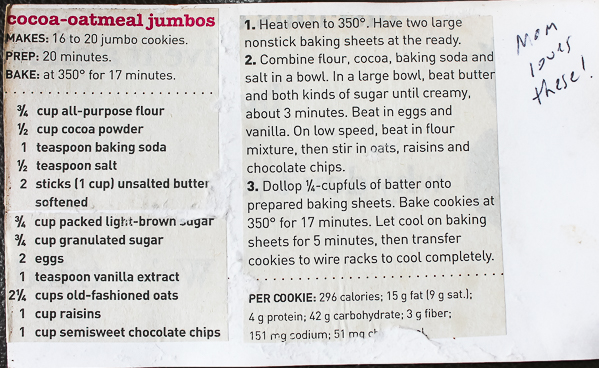 Here is a survivor.  I had to peel this off two other cards with good success.  You can see where it tore the paper in a few places and one edge has mud stains, but to me the most important part remained.  The part on the right where I wrote many years ago, "Mom loves these!"  I headed right to the kitchen.
Mom loved a good cookie with a glass of cold milk.  These cookies are big, and I can still hear her saying, "Oh, I can't eat that whole cookie," then would continue to enjoy two.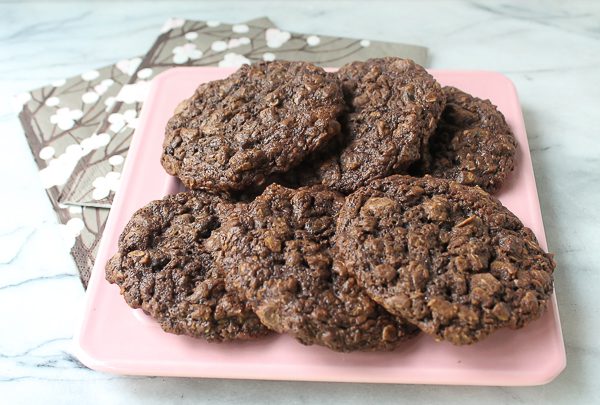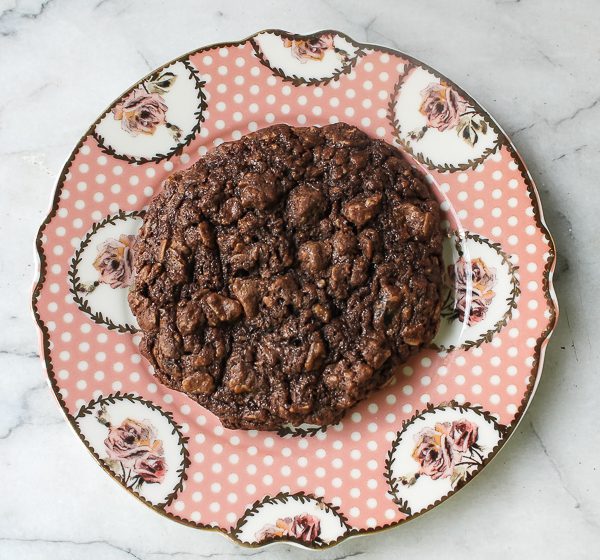 I don't remember which magazine the recipe is from or when was the first time I made them, but it was probably a time when mom was here for a visit and my girls were young.  I haven't made them in a long time, but it always feels so good to bake or cook something mom loved.  I miss her every day and things like baking her favorites makes me feel close to her.
I am hoping to find another card catalog to hold all the new cards I will have, and also the surviving cards that I can peel apart, one by one.  I hope to find even more Mom recipes.

Cocoa Oatmeal Jumbos
A favorite of my mom.
Ingredients
¾ cup all-purpose flour
½ cup unsweetened cocoa powder
1 teaspoon baking soda
½ teaspoon salt
1 cup unsalted butter, softened
¾ cup firmly packed light brown sugar
¾ cup granulated sugar
2 eggs
1 teaspoon vanilla extract
2-1/4 cups old-fashioned rolled oats
1 cup dark raisins
1 cup semisweet chocolate chips
Instructions
Heat oven to 350 degrees F. Have two large nonstick baking sheets ready.
Combine flour, cocoa powder, baking soda, and salt in a bowl; set aside.
In bowl of electric mixer, beat butter and both sugars until creamy, about 3 minutes.
Beat in eggs and vanilla. On low speed, beat in flour mixture, then stir in oats, raisins, and chocolate chips.
Dollop ¼-cupfuls of batter onto baking sheets. Bake cookies for 17 minutes. (Note: I thought that was too long. I baked them for 12-13 minutes and they were perfect).
Remove from oven and let cookies cool on the baking sheet for 4 to 5 minutes, then transfer to wire racks to cool. Makes about 16 to 20 cookies.
These are so good..