I have never been to Beaver Dam, Wisconsin which is about 2-1/2 hours from our home.  But when I saw a box on the front porch with that return address, I knew the books would be from one of many Wisconsin women who have been sending me cookbooks, most affiliated with Taste of Home magazine as "Field Editors."  I have come to love these generous women and you will hear about more of them in future blogs.  It seems someone on the Taste of Home Facebook page happened to read my blog about the Culinary Cellar flood and passed on the word.  Since those readers are cooking enthusiasts and cookbook collectors like me, they felt the pain of losing cookbooks and thought they would help out.  I have never met any of them but they didn't care.  They only wanted to help.  One of these lovely women was Sue Granholz of Beaver Dam.  I was thrilled to receive all her books, but I bet she wouldn't have guessed I would be especially grateful for one small paperback cookbook that I thought I would never see again.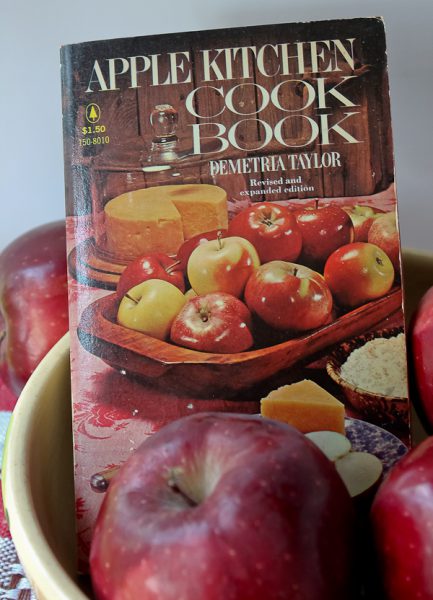 Back in the mid-1970's I was working a summer job at a bank in Arlington Heights, Illinois. The only excitement that ever happened there was when comedian and actor Bob Newhart's parents would come in to make a deposit (they were delightful people!), or I would visit a favorite little store by the bank.  During my lunch hour I would cross the street to this tiny store that sold newspapers and tons of paperback books.  It was here that I found the apple paperback cookbook for $1.50.  I loved apple cookbooks but usually don't buy paperbacks, but this one was filled with great recipes.  The author worked for Good Housekeeping, McCall's, Parade Magazine, and had written other cookbooks.  I figured I could trust her recipes.  Not only did I trust them, I made many of the recipes until the book fell apart and it was literally held together by rubber bands until the flood waters in July carried it away.  I also remember buying a paperback Pearl Bailey cookbook that I loved filled with funny stories, wise advice, and of course great Southern recipes.  Maybe someday I will find it again.  Thank you, Sue, for giving me back the memories and recipes from this apple cookbook.
Here are the other books sent by Sue: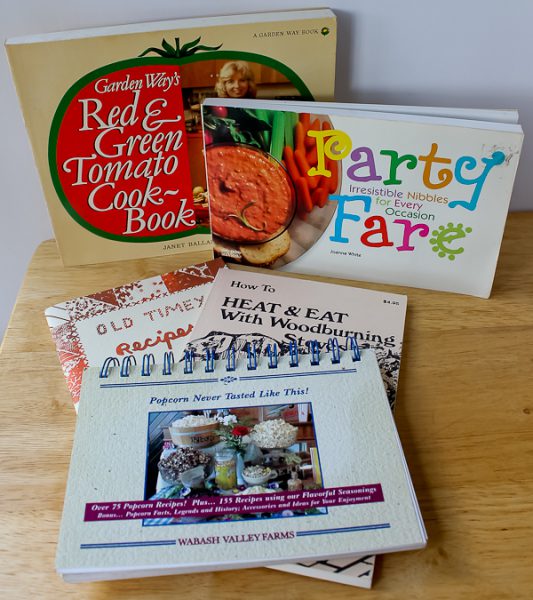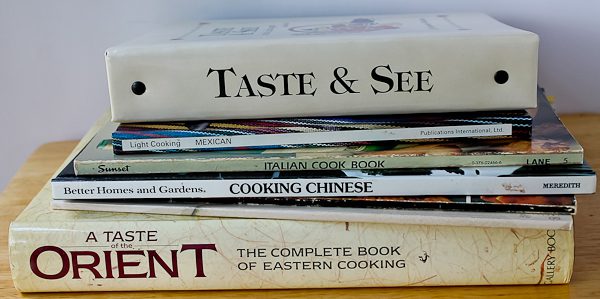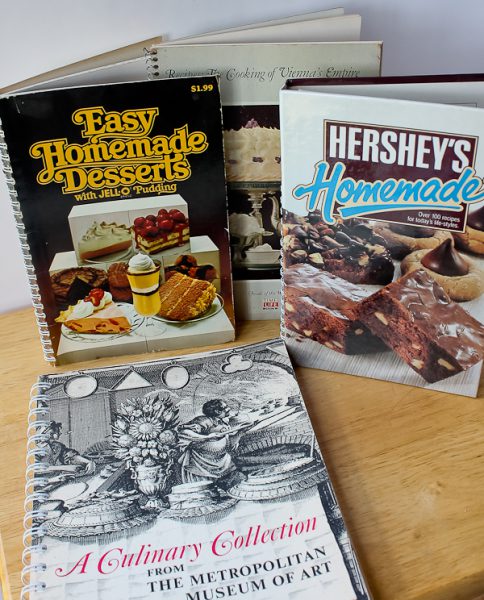 How fun are these?  Love them all!
One of the recipes I remembered from the apple book was a rich and buttery apple-pecan crumb pie.  An unbaked pie shell is sprinkled with some chopped pecans.  Sliced apples are tossed with sugar, flour, and spices, heaped into the pie shell, then dotted with butter.  It is topped off with a crumb mixture of brown sugar, butter, flour, cinnamon, and more chopped pecans.  The pie turns out rich and caramel-apple like.  It's great served with vanilla ice cream.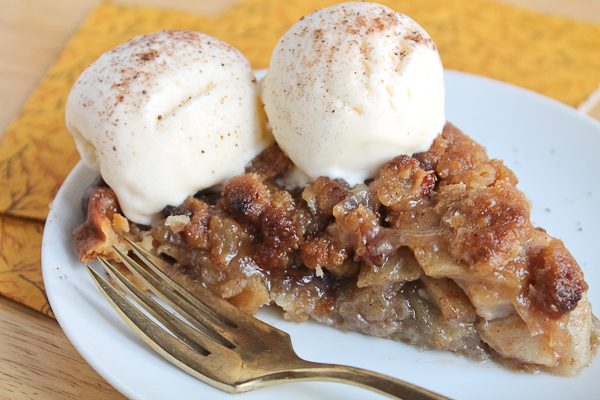 Besides many pie and other dessert recipes, the book covers appetizers, soups, main dishes including beef, pork, lamb, chicken, and fish.  There are also sandwiches, breads, beverages, salads, dressings, sauces, candies, and canning.  All this in a little paperback!

Apple Pecan Crumb-Top Pie
Author:
Demetria Taylor from Apple Kitchen Cookbook
Ingredients
¼ cup chopped pecans
1 unbaked 9-inch pie shell
1 cup sugar
2 teaspoons all-purpose flour
½ teaspoon cinnamon
¼ teaspoon nutmeg
6 cups thinly sliced tart apples
2 Tablespoons cold butter
Crumb Topping:
½ cup firmly packed brown sugar
⅓ cup all-purpose flour
¼ teaspoon cinnamon
¼ cup cold butter, sliced into small pieces
¼ cup chopped pecans
Instructions
Heat oven to 425 degrees. Sprinkle ¼ cup chopped pecans onto the bottom of unbaked pie shell. Mix together the 1 cup sugar, 2 teaspoons flour, ½ teaspoon cinnamon, and ¼ teaspoon nutmeg. Add apples and toss well to coat. Heap coated apples into pie shell on top of pecans. Dot apples evenly with the 2 Tablespoons cold butter.
For crumb topping: In a small mixing bowl, stir together the brown sugar, flour, and cinnamon. Using a pastry blender, cut in the ¼ cup cold butter into butter is the size of peas. Stir in ¼ cup chopped pecans. Sprinkle evenly over top of pie.
Bake pie for about 35 minutes or until apples are tender and pie is golden. Cool on wire rack. Pie may be served slightly warm or cooled. Good served with vanilla ice cream.