This past weekend, our subdivision celebrated the end of summer and back-to-school with a block party.  Each street was assigned a dish to bring, games were set up for the kids, and even the Libertyville Fire Department stopped by for everyone to meet the firefighters and see the huge trucks.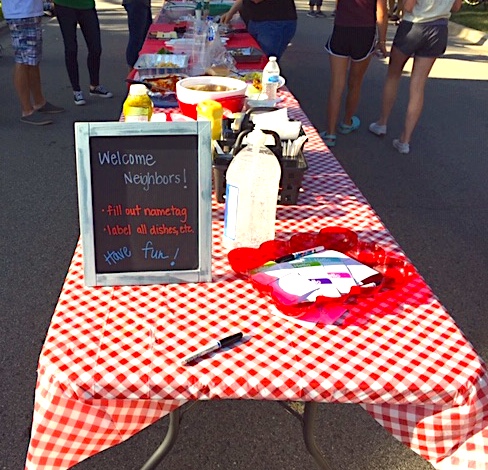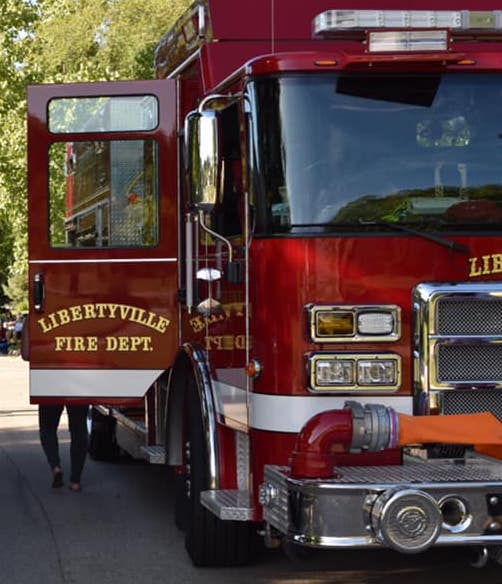 Our street was assigned main dishes.  I figured there would be plenty of hamburgers and hot dogs, so I decided to find one of my favorite recipes from a much-used and loved cookbook called Fearless Cooking for Crowds by Michele Evans.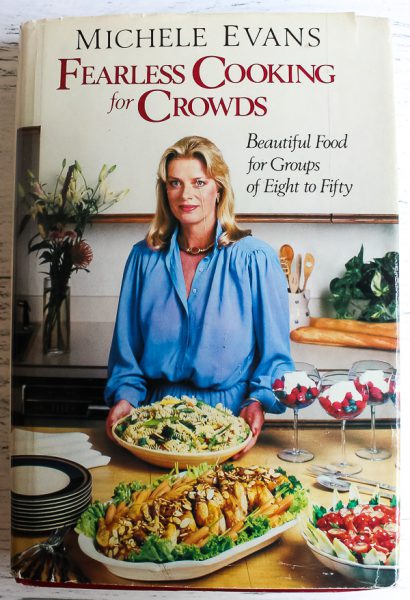 This cookbook has helped me through the years when cooking for graduation parties, birthday parties, church pot luck suppers, and now would help me feed a lot of neighbors.  The cookbook has pages of suggestions for themes, entertainment, full menus, shopping lists, equipment needed, table settings, advance preparations, and even clean-up.  Recipes include hot and cold hors d'Oeuvres, soups, fish, poultry, meats, vegetables, salads, bean dishes, noodle and pasta dishes, potato and rice dishes, sandwiches, breads, desserts, and more.
I turned the pages to a delectable noodle dish that I have made many times and it always proves popular.  It's easy, rich, beautiful, and can be made hours ahead of time.  It serves 25 people generously and was perfect for the block party.  I love cilantro added to it, but since it seems to be one of those herbs that people tend to love or hate, I usually chop some and place in a little bowl next to the serving dish so those who love it can add their desired amount.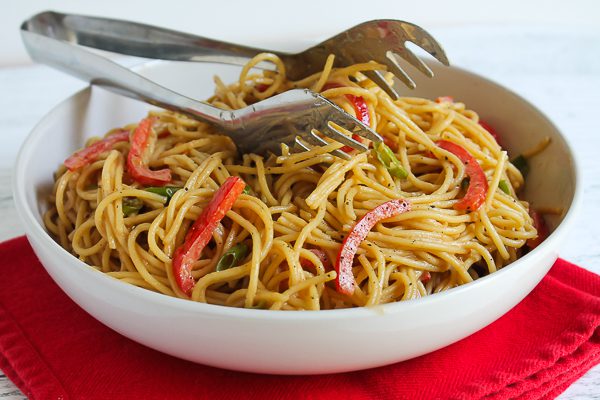 With Labor Day coming up, this would be a great dish to share at a large gathering, and just a little different and fun besides being delicious!
Sesame Noodles
Author:
Fearless Cooking for Crowds by Michele Evans
Ingredients
7 quarts water
1 cup crunchy peanut butter
½ cup sesame oil
½ cup Tahini (sesame seed paste)
2 cups peanut oil
3 Tablespoons soy sauce
2 Tablespoons rice wine vinegar
1 Tablespoon grated fresh ginger root
Salt (for boiling water for pasta)
3 pounds spaghetti, linguine, or Chinese egg noodles (I used spaghetti)
1 large sweet red bell pepper, seeded and thinly sliced
6 green onions, thinly sliced, some tops included
Freshly ground black pepper
Instructions
Bring the 7 quarts of water to a rolling boil in a large pot.
Meanwhile, combine the peanut butter, sesame oil, tahini, peanut oil, soy sauce, vinegar, and ginger in a large saucepan. Heat, but do not boil. Immediately remove from heat and set aside.
Stir 3 Tablespoons salt into the boiling water, stir, and cook the spaghetti until al dente. Drain.
In a large bowl, combine the sauce, spaghetti, red pepper strips, and green onion.
Season with freshly grated pepper, and taste for salt, if needed. Toss, cover, and chill thoroughly. Toss again before serving. Enough to feed at least 25 people.