Raise your hand if you have ever sent your husband out to the grocery store for just a few staples and he adds "surprises?"
Bill walks into the kitchen with a bag of eggs, milk, bread, and a couple other small things.  Here is how our conversation went:
Me:  Thanks, honey!
Bill:   Wait.  That's not all.  I have a big surprise for you!
Me:  (waiting for him while he fetches something from the car)
Bill:  Here it is!  Your favorite!  Lobsters!
Me:  Ummm, those are huge bags.  Did they give you a bag for each one?  They must be huge!
Bill:  No, sweetheart, there are ten huge lobsters!
Me:  …..Excuse me?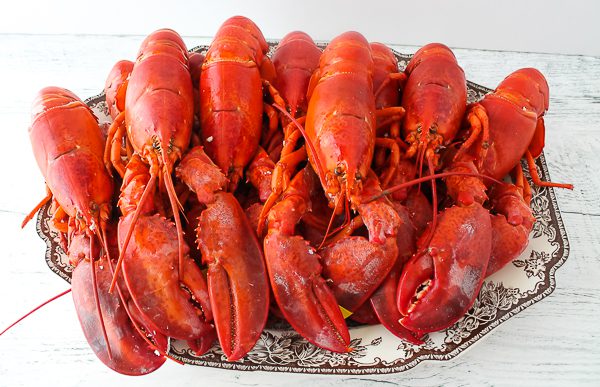 Yep- TEN lobsters…
We needed the turkey platter to hold them all, and even then they were all piled up on top of each other.
Me:  You know how much I love lobster, but ten all at once?  Even Barbara Streisand in Funny Girl couldn't eat more than two at one sitting!
Bill:  Well, when I read in the Tribune today about the Chinese tariffs on lobsters that created an abundant supply for Americans, I had to get ten and support our Maine lobster fisherman.  And to surprise you.
Looks like lobster for a long time at our house!  I'm not even sure what all I am going to make, but one thing for sure will be the classic lobster roll, one of my favorite things to eat.  Here is a link to one of my earlier blogs from 2017 with the recipe.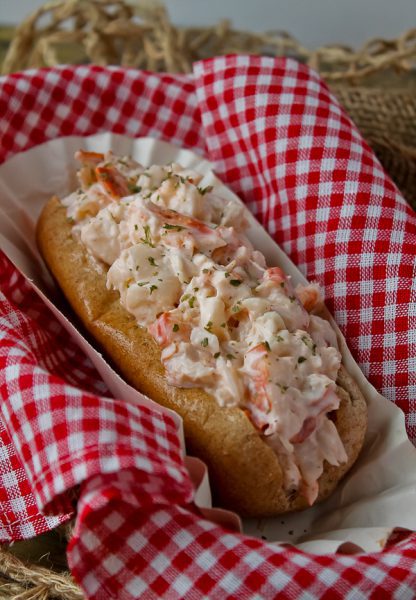 What would you do with ten lobsters?  I'm looking for ideas!  (Ya think??!)
Thank you my sweet husband, and the great Sunset Foods.  And of course to our Maine Lobster Fisherman!