Here is the book for Flood Survivor Friday!  Many of the books I will miss from the flood include all of the state cookbooks.  I had shelves and shelves of them, picked up on vacations over the years or ones friends and readers had sent me from their home states. There are some I am still working on to save, but I was very happy that this Maine cookbook survived because I only had a few from Maine, and this one was always my favorite.  It actually held up very well with hardly any water damage.  It must have been on top of something that was floating or was on a higher shelf.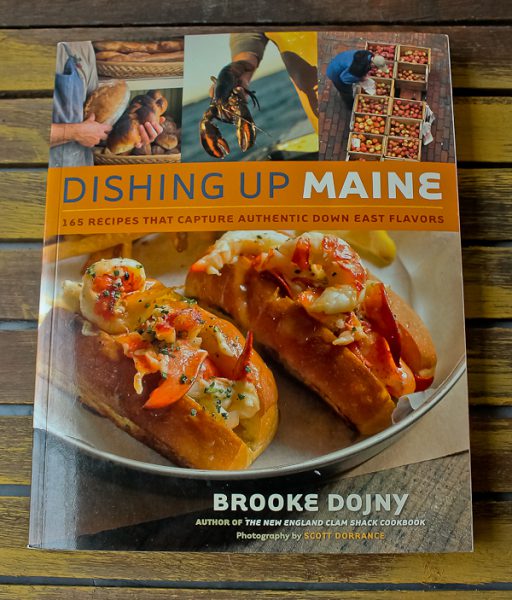 I knew the recipe I would search for in this cookbook had to be my favorite, a classic lobster roll. It sounded like a great summer sandwich for now plus August happens to be National Sandwich Month.  And there it was on page 49, "The Classic Maine Lobster Roll."  Done.  So first thing to do is to buy a lobster and cook it.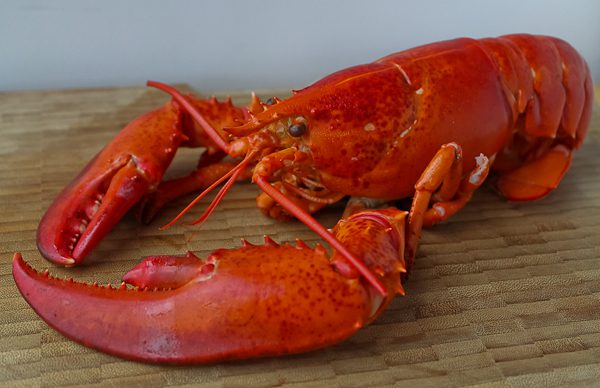 No worries about cooking a lobster.  It's easy, but if you have never done it before, there are instructions to follow in the cookbook.  There are even instructions on "How to Eat a Lobster."  Besides the classic lobster roll recipe, you will find a lobster stew, lobster and melon skewers, a lobster salad with roasted corn salsa, and another salad with a creamy Dijon and fresh tarragon dressing.  Everything in this book sounds good, but I still wanted only a pristine and simple lobster roll.  If you have never had or made a lobster roll, you will be astounded at its simplicity and absence of seasonings and condiments.  Only the pure and fresh taste of lobster meat shines through, and as long as it is on a toasted hot dog bun.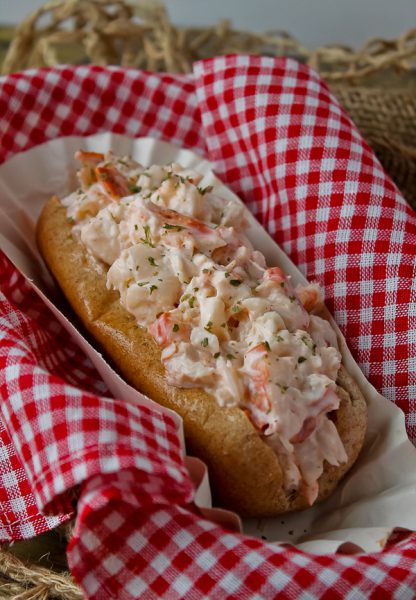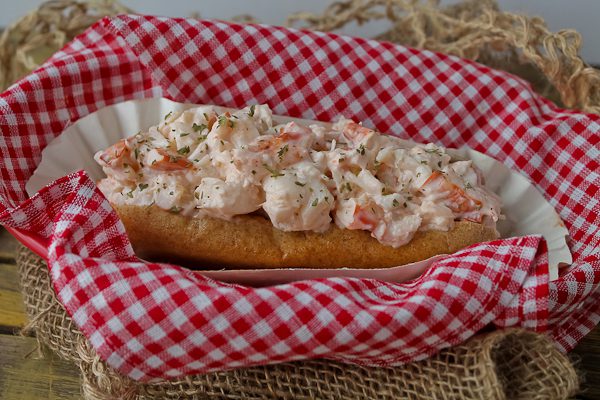 Doesn't that look so good?  It was too!  So simple yet full of flavor.  I could eat lobster several times a week and never tire of it.
How I miss all my state cookbooks, especially all the ones from New Orleans, New England, California Wine Country… Well, actually all of them.  Guess I'll have to go on some road trips and fly around the country to start gathering them up again.  Sounds like fun to me!

The Classic Maine Lobster Roll
Author:
Dishing up Maine by Brooke Dojny
Ingredients
2 cups cooked lobster meat, cut into chunks no smaller than ¾ inch*
2 teaspoons freshly squeezed lemon juice
½ cup mayonnaise, plus more if necessary
Salt and freshly ground black pepper, to taste
4 top-split hot dog buns or conventional hot dog buns, grilling the crusty top and bottom, but not the interior
3 Tablespoons unsalted butter, melted
Snipped chives or chopped parsley, optional
*Buy cooked lobster meat or steam three 1-1/2 pounds lobsters and pick out the meat.
Instructions
Toss the lobster with the lemon juice in a bowl. Add the mayonnaise and stir to combine, adding more if necessary to moisten the salad sufficiently. Season with salt and pepper to taste, but be cautious how much pepper you use. If not using right away, this can be refrigerated for up to 4 hours.
Heat a cast iron griddle or large heavy skillet over medium heat. Brush the crustless sides of the rolls with the melted butter and place on the griddle. Cook, turning once, until both sides are golden brown, about 2 minutes per side.
Open the rolls and spoon in the lobster salad, heaping it high. Sprinkle lightly with snipped chives or chopped parsley for color, if desired. Serve immediately. Serves 4.