Less than two weeks ago I received an email from a woman named Rachel in Michigan.  Rachel had read the story by my friend and food editor of the Toledo Blade, Mary Bilyeu, who lovingly wrote about our flood and the loss of all my cookbooks.  Rachel was moved by Mary's words and wrote to ask me if I would like to have some of her deceased mother-in-law's recipes and clippings.  Rachel said she "was not a cooking guru and never will be," and no one else in the family had a desire to keep the recipes.  I told Rachel I would be honored, and soon two huge boxes arrived.
In the first box were three massive albums, each filled to capacity with recipes.  Some on cards, some cut from magazines, each carefully placed on each page.  The recipes went back as far as the 1950's.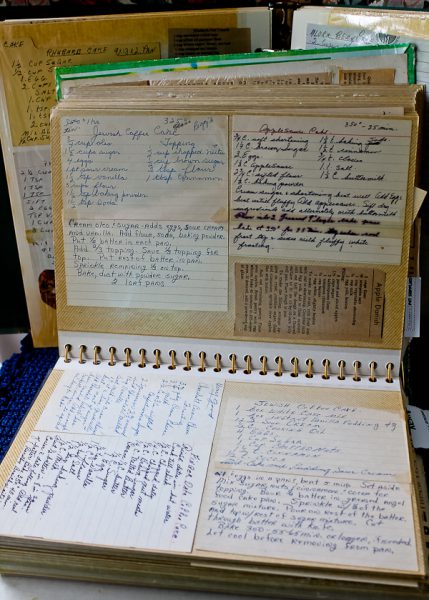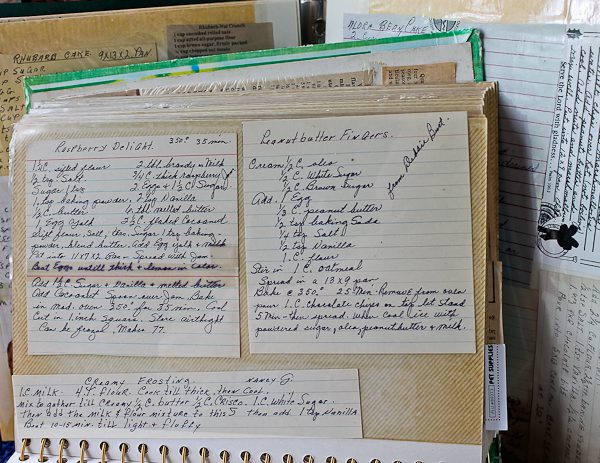 They took my breath away.  I was looking into someone's life. That person was Helen, who died one week shy of her 99th birthday.  Handwritten and yellowed recipes that Helen loved and arranged with such care.  Names of many people at the top of each card.  Rachel told me that Helen would find recipes everywhere and from many different people, some she knew, some she didn't.  She would jot recipes down on any kind of paper or from whatever place of business she happened to be in at the moment.  But no matter where she was, they all had something in common- a love of cooking.  Helen was a nurse, and Rachel mentioned that I might even find some cards that would have a person's name and a room number at the top.  I imagined Nurse Helen, comforting her patients and talking with them to ease their minds and try take away some pain by talking about a subject they loved, maybe cooking.  I like to think that is how Helen came away from Mrs. Baker in Room 354 with a pie crust recipe in hand.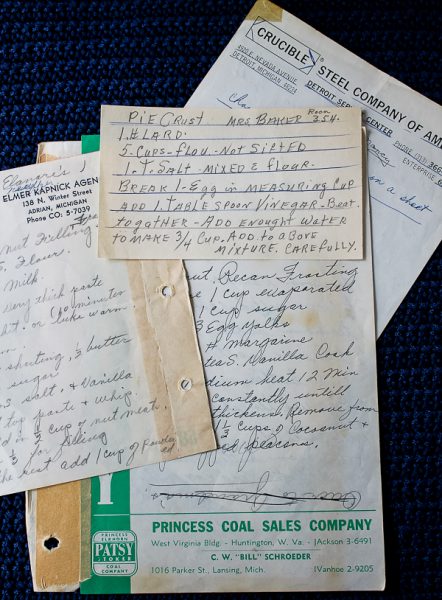 As I continued turning each page, I realized that I was now the keeper of this treasure.  I was going to honor and love each and every page for this person who had passed away.  All of Helen's careful gathering of recipes would live on.  I learned about Helen even though I had never met her.  I discovered that she loved fudge, rhubarb, and pies.  Or if she didn't, then someone she loved did as there were many recipes for those items. Let's not forget the pie crusts.  Mrs. Baker's recipe was one of many.  Helen must have been on a mission to find the perfect pie crust recipe because there were countless.  Another recipe I kept finding over and over was soft sugar cookies.  That immediately got my attention because I have been on a search for a soft sugar cookie recipe for years that would taste like my Great-Aunt Margery's.  My Aunt Margie never wrote down her recipe but my childhood memory of eating those soft warm cookies dusted with sugar and nutmeg while she held me in her big rocking chair has never left me.  I started gathering all the soft sugar cookie recipes of Helen's and spread them out on the kitchen table.  I knew Aunt Margie's were made with lard or shortening, sour cream, were soft with tiny crispy edges, and dusted with nutmeg and sugar.  And suddenly there it was, right in front in me.  It was the closest recipe I had ever seen that sounded like Aunt Margie's.  I stopped everything I was doing and started baking.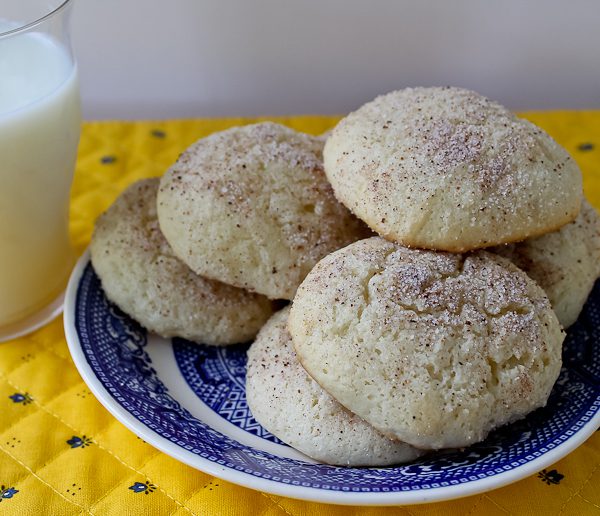 My search is over.  One bite and I knew I had found Aunt Margie's cookie.  I used solid Crisco although I'm pretty sure Aunt Margie used lard, which is not something I normally keep on hand.  Country bakers back in her tiny Iowa town used lard for soft cookies and for pie crust.  Mrs. Baker used it in her pie crust too.
P.S.  I plated the cookies on Aunt Margie's Willow Ware because it miraculously survived the flood!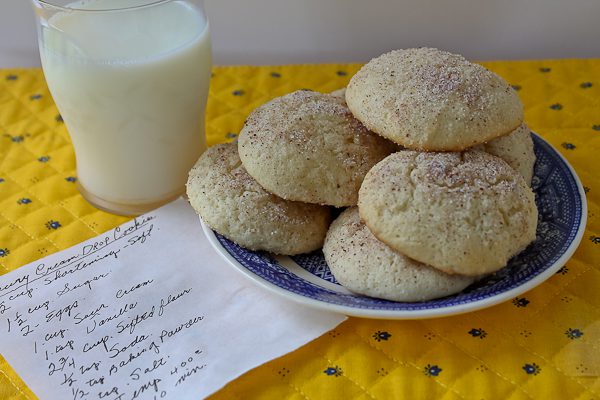 I forgot to mention what was in the other box!  In addition to all the recipes in the scrapbooks, Rachel also sent me bags of loose recipes.  She labeled each bag desserts, breads, main dishes, odds & ends, etc.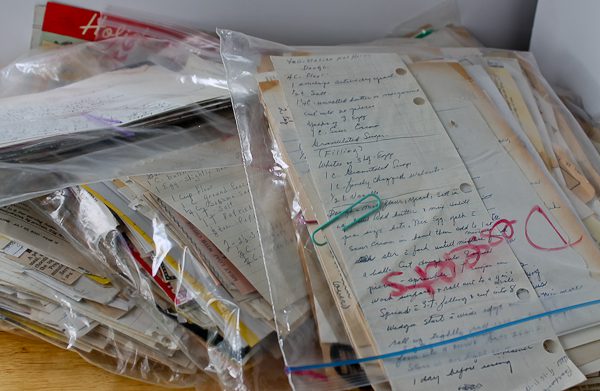 Bags and bags, and hours of fun.  I found one recipe that I have to show you that made me laugh in spite of the heartache of the flood: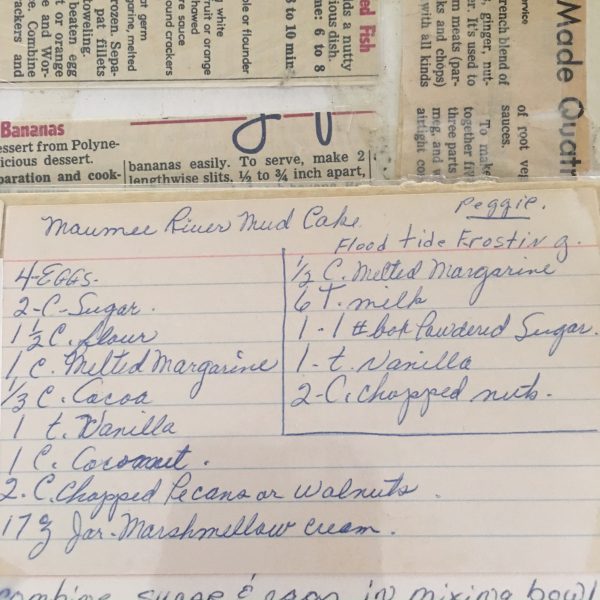 How could I not laugh at "Maumee River Mud Cake with Flood Tide Frosting."
Okay, I also like to think Helen has a sense of humor…
Soft Sugar Cookies like Aunt Margery's
Author:
From the files of Nurse Helen
Ingredients
½ cup solid Crisco (or lard if you want to be really authentic!)
1-1/2 cups granulated sugar
2 eggs
1 teaspoon vanilla extract
1 cup sour cream (not light or fat free)
2-3/4 cups all-purpose flour
½ teaspoon baking soda
½ teaspoon baking powder
½ teaspoon salt
For sprinkling on top- 2 Tablespoons granulated sugar mixed with 1 teaspoon ground nutmeg
Instructions
In large bowl of electric mixer, cream together shortening (or lard) and granulated sugar. Beat in eggs, one at a time, beating after each addition. Beat in vanilla.
Add sour cream, alternately with flour, baking soda, baking powder, and salt that have been stirred together. Mix until well blended.
Cover bowl with plastic wrap and chill at least 1 hour or as long as overnight, if desired.
When ready to bake, preheat oven to 400 degrees F. Line large baking sheets with parchment paper.
Drop dough by heaping tablespoonfuls onto prepared baking sheets, about 2-inches apart. Generously sprinkle some of the sugar-nutmeg mixture on each mound of dough.
Bake for about 9 minutes or until cookies are just set and the edges are just starting to look golden brown. Remove from oven and let cookies stand for 1 minute on baking sheet before removing to wire rack to cool completely.
Store cookies in an airtight container. They will stay soft. Great with a cold glass of milk!
Thank you, Rachel, for trusting me with Helen's recipes.  I will treasure them forever.
Did I mention that my mother-in-law was also named Helen and was also a nurse?