Leigh Mackenzie Sapp has been a part of our family since she was a child.  Leigh lived around the corner from us when my girls were growing up. There was no one else I trusted more as a babysitter.  Leigh became our babysitter when she was in sixth grade.  She was always reliable, smart, funny, and seemed wise beyond her years.  My girls loved her.  Leigh was in poms in high school, went onto college and became a Spanish teacher.  She married her high school sweetheart who is now a pediatrician and they have two lovely girls of their own.
Fast forward to the nightmare of the flood that destroyed the Culinary Cellar.  Who do you think was one of the first to see what she could do?  Leigh was here in a heartbeat with hugs, tears, love, and ready to help.  She loaded up her car with cookbooks that we hoped to save, dozens of filthy canning jars to be washed, muddy gadgets, and a beloved recipe box from my husband's aunt filled with dirty, wet recipes, some being her old Finnish ones.  I shook my head in disbelief as Leigh kept filling up her car with box after box of items, telling her it was way too much for her to handle.  Did I mention Leigh is stubbornly determined?  She wouldn't hear of it and kept filling up her car.  And off she went.
Leigh and her darling daughter Sophia came back a couple days ago.  Sophia is exactly the age that Leigh was when she started babysitting my girls.  I walked out the door and saw Sophia first.  She was carrying something and smiling her beautiful smile.  These are for you, she said.  Sophia handed me two of my Pillsbury Doughboy vases, all cleaned up from the flood and now filled with flowers and bay leaves from their garden.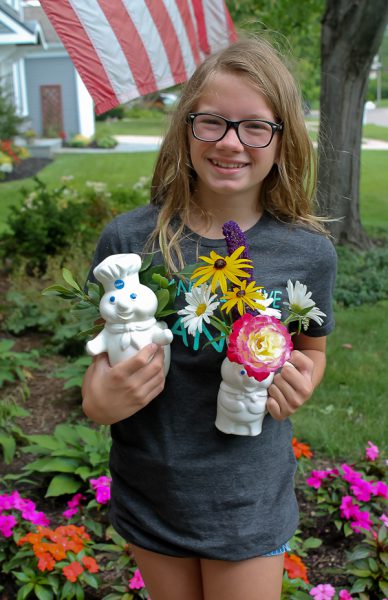 Before I knew it, Leigh and my husband Bill were carrying items from Leigh's car to the garage.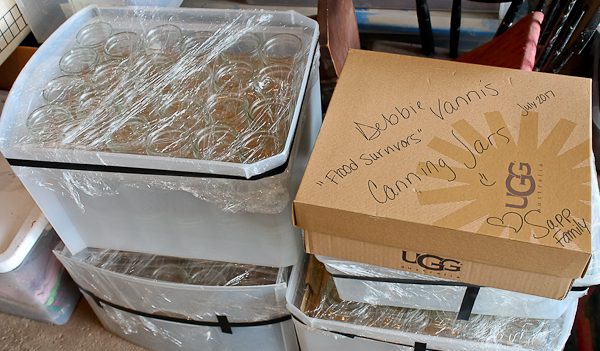 These are all the canning jars, sparkling clean.  Leigh even put a note on the box that they were my "Flood Survivor" jars.
Leigh then handed me Aunt Ann's recipe box.  She and her family had lovingly dried out each recipe and filled them back in the box.  The ink ran a little on some, but they were still legible.  Most made it.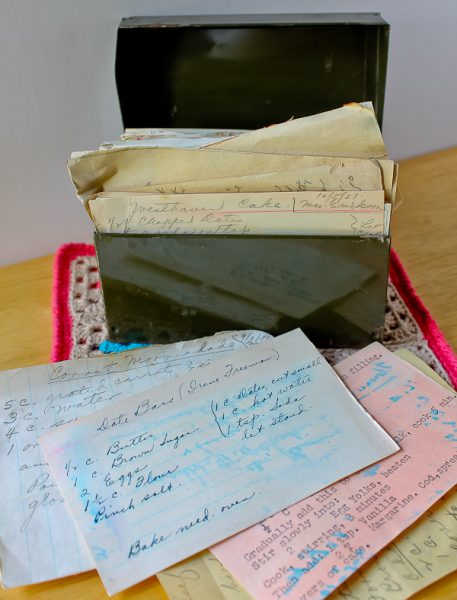 Next came a box with the cookbooks she and the family had worked on and saved.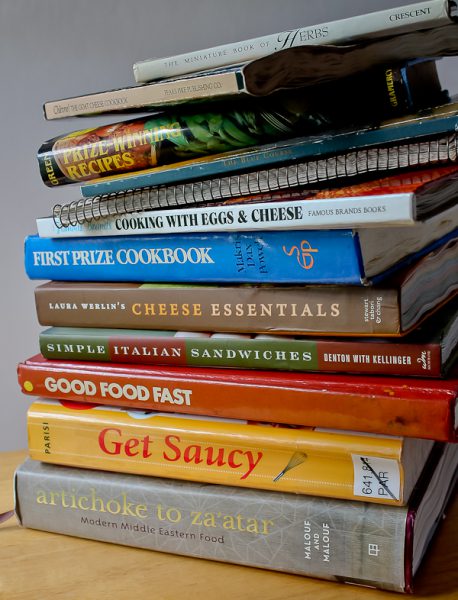 As if this wasn't enough, Leigh said she had another box which was a surprise.  It seems she had stopped at her library and bought a huge box of books at their book sale.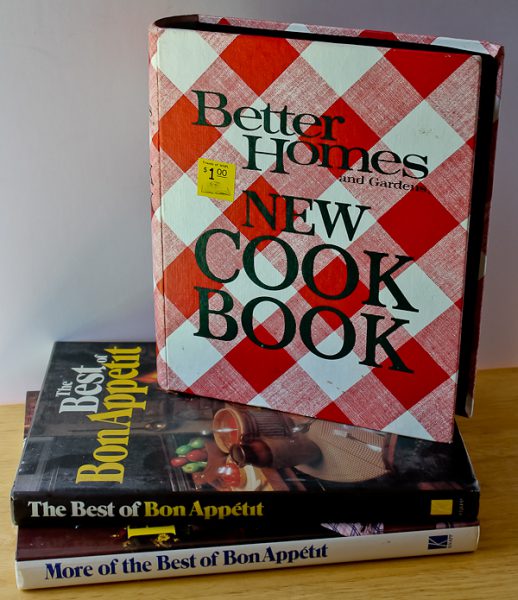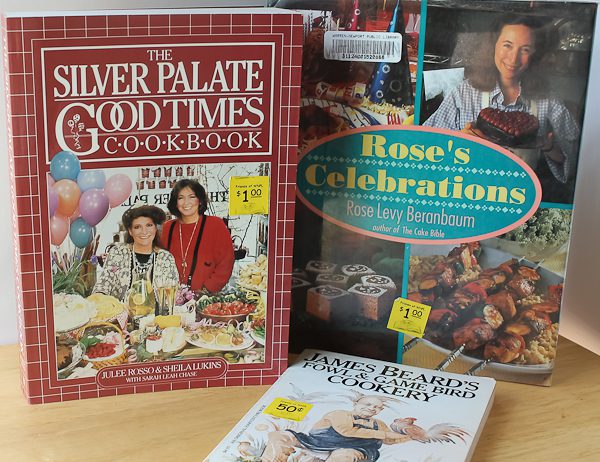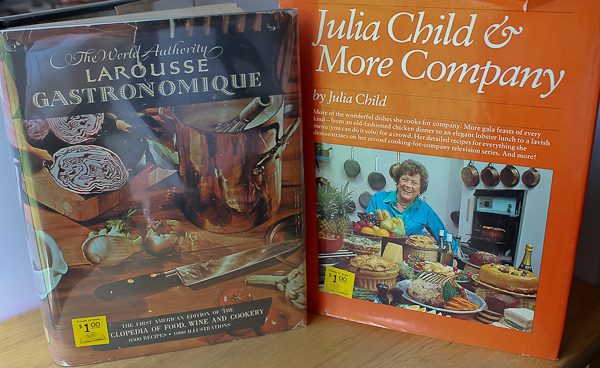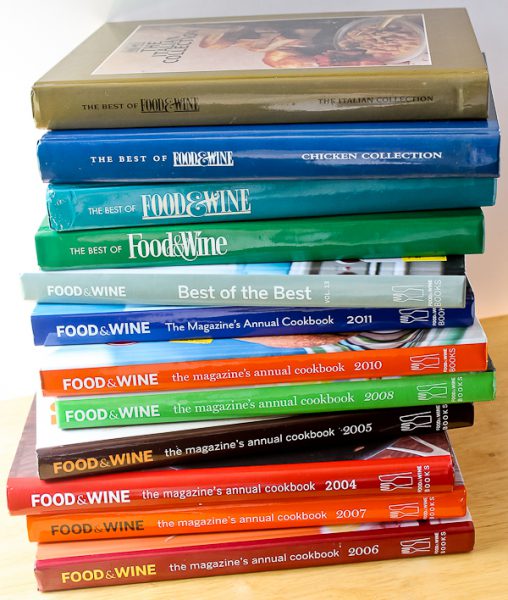 I think she made great choices, don't you?  I now have a Julia back!  I also lost my Silver Palate and Silver Palate Good Times cookbooks, and she found the Good Times.  Someone else has found the original Silver Palate so I'm delighted.  Not only that, when I visited the original Silver Palate store in New York City decades ago when it first opened, I bought the cookie tin.  It survived the flood and is a little rusty now, but I had to take a photo of the two of them together.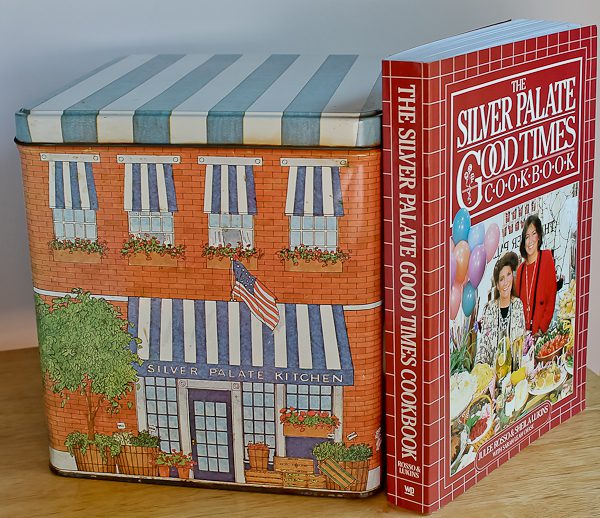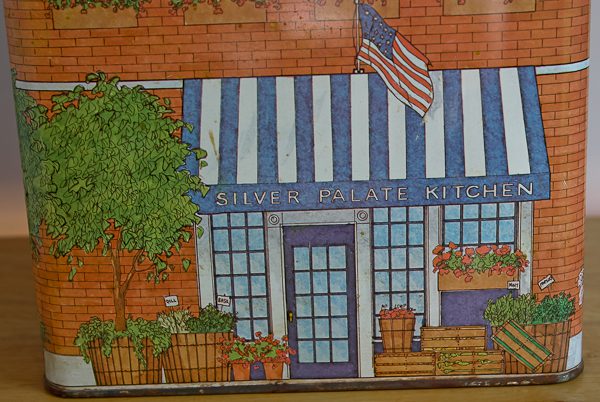 Isn't it an adorable tin?  And of course I had to make a recipe from the book too!  I decided to make something using summer tomatoes, a fabulous marinated tomato and brie salad with fresh basil.  It's the perfect summer appetizer with slices of a crusty baguette.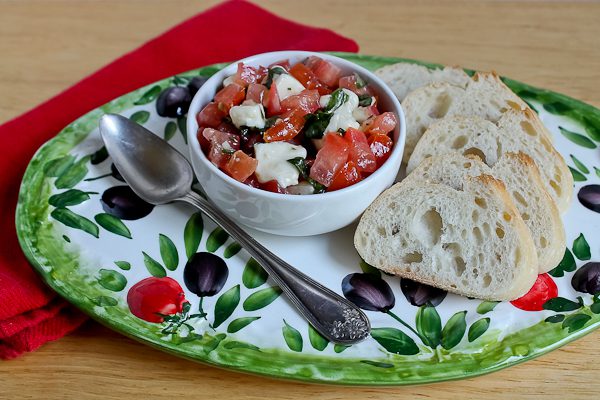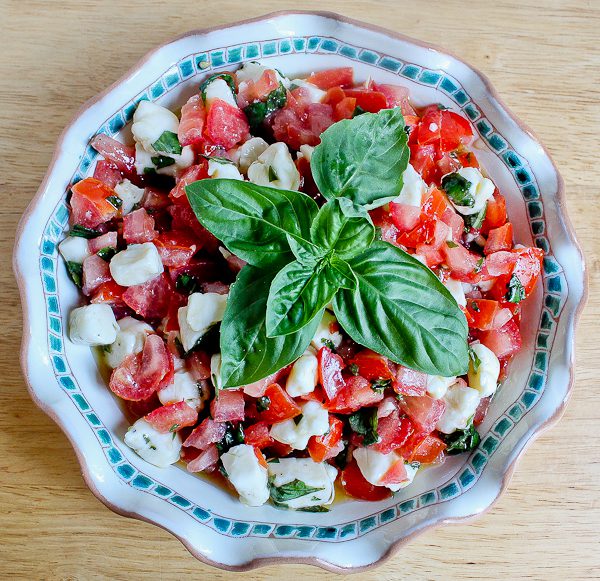 I've never made anything in either of those Silver Palate cookbooks that I didn't like.  I'll be making this one again.  The recipes in the Good Times book are divided by seasons so you can enjoy the recipes year round.
Thank you Leigh and family for making all this possible.  We will never forget how you helped to pull us out of the mud and smile again.  You are all our angels and we love you.
Leigh, you know we have a granddaughter now, so are you up for babysitting? Because there is no one better than you.

Marinated Tomato and Cheese Salad
Author:
The Silver Palate Good Times Cookbook by Julee Rosso and Sheila Lukins
Ingredients
4 ripe large tomatoes, seeded and cut into ½-inch cubes
1 pound brie, rind removed cheese cut into irregular pieces
1 cup fresh basil leaves, cut into strips (about 1 small bunch)
3 cloves garlic, finely minced
⅔ cup best quality olive oil
1 teaspoon salt
½ teaspoon freshly ground black pepper
Instructions
Combine the tomatoes, Brie, basil, garlic, oil, salt, and pepper in a large serving bowl. Let stand, covered, at room temperature for at least 2 hours.
Serve with crusty Italian bread and assorted charcuterie or as a filling for sandwiches. Makes 6-8 portions.