My husband Bill is a structural engineer who inspects everything from giant beams and cranes in steel mills to helping a homeowner who worries about a crack in a basement wall.  He especially likes inspecting homes because he enjoys meeting new people and feels good when he can pinpoint a concern.  He's a friendly guy and his customers are grateful for all the time he will spend with them to ease their minds about repairing a problem.  One of these grateful customers happened to be a chef, so of course Bill mentioned he had a wife and daughters who love to cook.  So guess what the chef gave Bill to take home?  Food of course, and even better, right from his garden.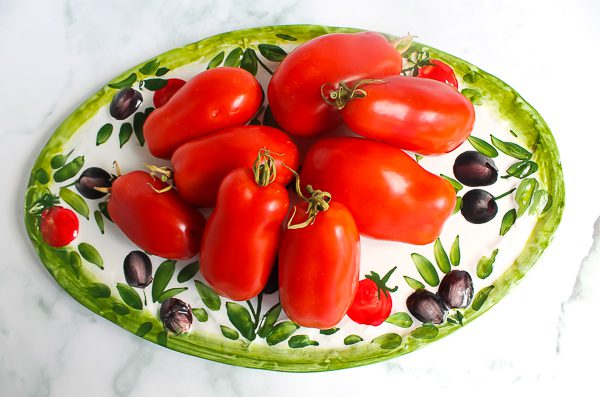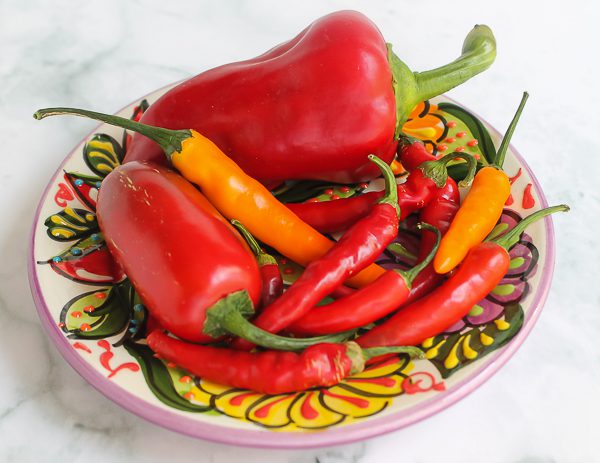 Aren't they all gorgeous?
I have had a craving for bruschetta lately and that's what popped in my head when I saw those tomatoes. I have another idea later for using the peppers.  But since we settled on bruschetta for the Labor Day weekend, Bill first walked out to our herbs in the backyard and picked some basil, then went to the store and bought a fresh whole grain baguette while I got to work on the tomato mixture.
I don't really have a recipe for the bruschetta because it depends on how many tomatoes I have.  The amount the chef gave us was perfect for two.  Here's how I make my bruschetta, which is basically the classic way and so easy.  First I heat a couple minced garlic cloves in a little olive oil just until softened and set aside to cool slightly while I chop the tomatoes.  I place the tomatoes in a bowl along with a generous amount of julienned fresh basil, a drizzle of balsamic vinegar, olive oil just to coat everything, stir in the garlic, then season to taste with salt, freshly ground black pepper, and a little crushed red pepper.  I stir it well, then set aside to marinate while preparing the bread.  I slice it, rub each slice (both sides) with a cut piece of garlic, then brush each side with a little olive oil.  I like to grill the bread slices on a stovetop grill pan, but you can also grill it outside on a grill or even warm it up in the oven.  I like it slightly crispy, but not super crunchy.  Place dollops of the tomato mixture on each warm slice and serve.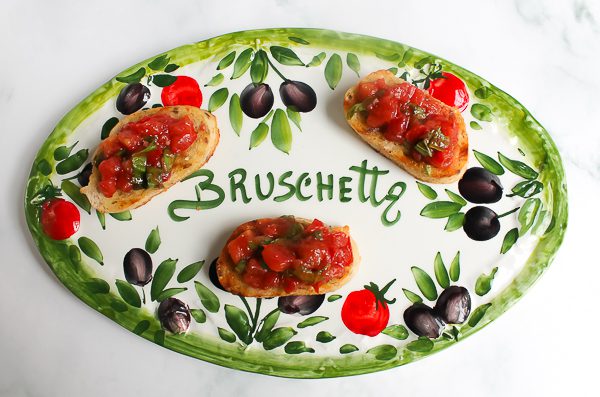 It's so incredibly good, and looks great on my lovely bruschetta plate I bought in Sicily.  It's one of my favorite small platters, handmade and hand-painted.  Isn't it beautiful?  I wish I would have bought a couple more for large parties.  I hope everyone is enjoying a lazy, fun, and relaxing Labor Day!
Buon Appetito!