Preparing a pot roast is like a trip back to my childhood.  Growing up in our Midwest household, pot roast was a favorite meal to have on Sundays.  There are endless recipes for pot roast whether it be slow roasted in the oven, in a pressure cooker, on the stovetop, or in a slow cooker. Even though slow cookers were invented in 1940, they didn't become mainstream until the 1970's when their popularity exploded, which is why growing up in the 1950's our family pot roast was cooked on the stovetop.
I loved, and still love, the rich aroma of a pot roast simmering on the stove.  I have made pot roast using every method but usually go back to the stovetop preparation. I have collected many recipes for this family favorite, but came across this particular one in my recipe files that I hadn't made in quite a while.  Even though it's still summer and pot roast might be considered more of a fall or winter dish, to me the season doesn't matter.  Comfort food is good anytime.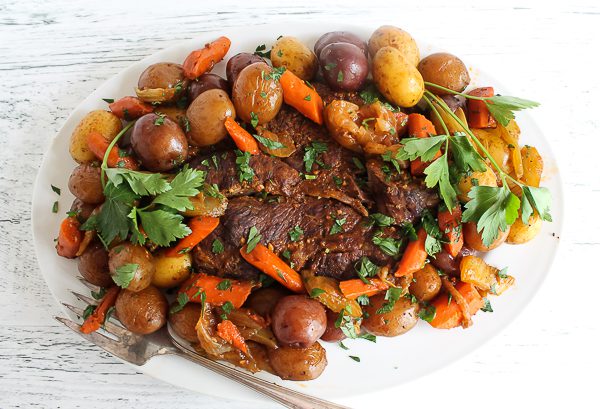 This recipe that I adapted from an old Better Homes & Garden cookbook uses a can of V-8 vegetable juice for most of the liquid.  I am not a fan of drinking V-8 right out of the can but really like it in this pot roast.  The V-8 is stirred with a packet of instant meat marinade.  The meat is marinated for only about fifteen minutes in the mixture while preparing the other ingredients, including baby new potatoes, carrots, celery, and onion.  After the roast and vegetables are done, a little flour mixed with water is stirred in for an easy and delicious gravy.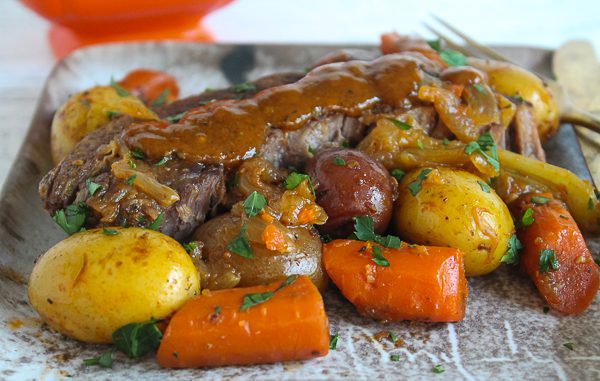 I like to present the individual servings on the famous Mississippi-made pottery from the town of Meridian called McCarty's. The famous plates have McCarty's signature little black squiggle which represents the Mississippi River, plus each is signed by the maker in a corner of the plate.  It is heavy, durable, and very unique.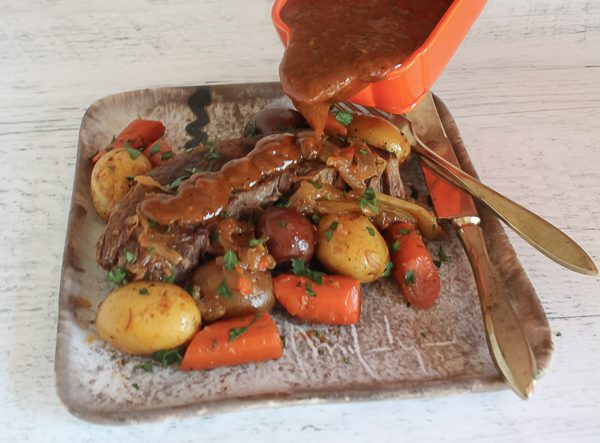 Take a weekend off from grilling and make a comforting pot roast instead.

Easy Stovetop Pot Roast
Author:
Adapted from Better Homes & Gardens
Ingredients
One beef chuck pot roast, about 3 to 3-1/2 pounds
1 can (11.5 ounces) original V-8 vegetable juice cocktail, divided use
1 envelope instant meat marinade (about 1.12 ounces or slightly smaller)
1 Tablespoon canola or olive oil
2 medium onions
1 bag of baby new potatoes, about 1-1/2 pounds
3 medium carrots
3 stalks celery
¼ cup water
For gravy:
½ cup cold water
2 Tablespoons all-purpose flour
Garnish:
Chopped fresh parsley, and some sprigs if desired
Instructions
Trim any excess fat from roast.
In a large ziploc bag or in a large glass plate, combine ⅔ cup of the V-8 (reserve rest for later use) and the meat marinade. Place meat in the marinade and let sit, turning once, while preparing vegetables.
Peel and cut onions into wedges. Scrub potatoes and carrots. Slice carrots into 1 or 2-inch pieces. Slice celery in pieces the size of the carrots; set all aside.
In a Dutch oven over high heat, heat the tablespoon of oil. Remove roast from marinade, reserving the marinade. Add meat to hot pan and sear on both sides.
Add the marinade and onions to the roast in pan. Reduce heat, cover and simmer gently for 45 minutes. Add potatoes, carrots, and celery. Stir in remaining V-8 in can and the ¼ cup of water. Cover again and simmer gently for 2 hours or until the meat is very tender, stirring occasionally, and adding small amounts of water, if needed. (I didn't need to add any).
Remove pan from burner and transfer roast and vegetables to a serving platter. Cover with foil and keep warm.
For gravy, pour the juices into a 2-cup glass measuring cup. Spoon off any fat, and add water if necessary to make 1-1/2 cups of liquid.
In a small measuring cup, stir together the ½ cup cold water and flour until blended. Return pan to heat, add the 1-1/2 cups of liquid and the flour mixture. Cook and stir until thickened and bubbly, then boil for 1 minute. Pass gravy at the table. Serves 6-8.
Note: I found that no salt or pepper is needed. The V-8 and meat marinade are enough. Also, you could add sprigs of fresh herbs like thyme sprigs and a bay leaf to the pan while simmering.