There are as many ways to make avocado toast as there are chocolate chip cookie recipes or a favorite apple pie.  What is stirred into the avocado, what is piled on top, and the kind of bread used, is made to everyone's personal taste.  Some people simply like the avocado in slices and placed on a piece of toast with nothing else.  I usually prefer spices, herbs, and a touch of lemon or lime mixed into the coarsely mashed avocado, spread on whole grain toast, and piled with sliced tomato, cucumber, thin red onion slices, drizzled with a little olive oil, and a final grinding on of  black pepper, and maybe even some red pepper flakes if I feel like more spice.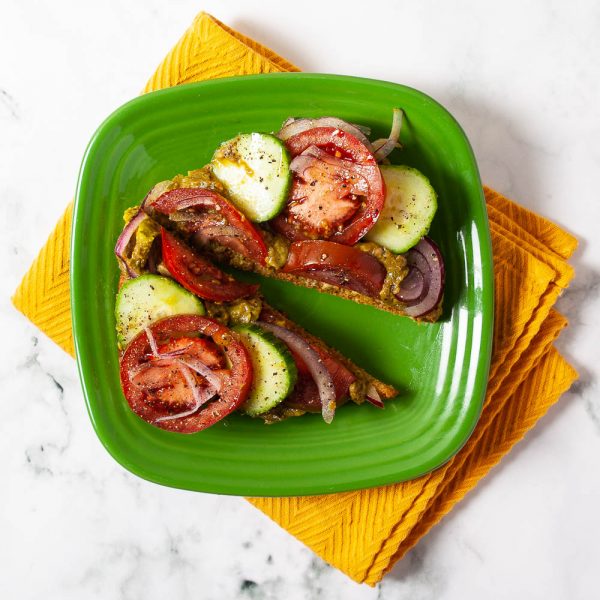 What do you put on your avocado toast?  I would love to hear!

Favorite Avocado Toast
Ingredients
1 ripe avocado
Juice and pulp of one lime
⅛ teaspoon EACH of ground turmeric, chili powder, dried oregano, and salt
1 teaspoon finely minced garlic
1 teaspoon olive oil
Whole wheat or whole grain bread slices
Toppings:
Sliced tomatoes, sliced cucumbers, thin slices of red onion, chopped fresh cilantro
Instructions
Scrape out all the pulp from the avocado into a small mixing bowl. Add the lime juice, then scrape out the lime pulp. Add all the spices, garlic, and olive oil.
Mash all together with a fork until of a consistency you prefer
Spread some of the mixture on your favorite toast, then add the toppings suggested or your favorite toppings. Grind on some black pepper, if desired. The mixture will keep in the refrigerator for a couple days.