This is our family's favorite casserole using root vegetables that is always filling and comforting in cold weather.  It can be served at Thanksgiving as a vegetarian alternative.  It's also a great option for those who don't care for stuffing, as it has the same heartiness of stuffing with its cornmeal base.
I love using a stone ground cornmeal like the kind made at my favorite historical Graue Mill about an hour from our house, where I have been going since grade school on field trips.  It's the only cornmeal I use and it's perfect for the casserole.  I love it so much, this just might be the third time I have written about it over the years!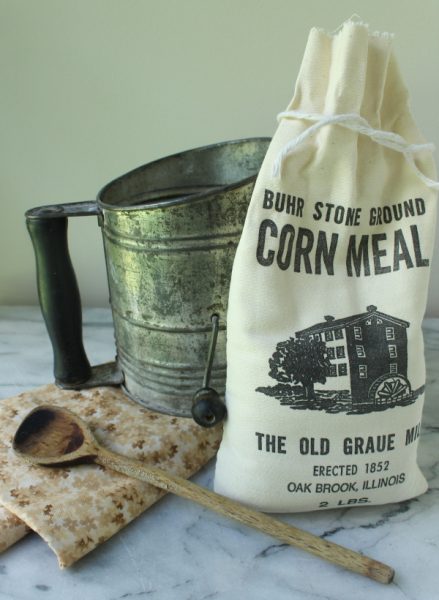 The polenta base made from this cornmeal is enhanced by Parmesan and fresh basil leaves.  The vegetables roasted include parsnips, carrots, red and yellow bell peppers, fennel, and red onion that are placed on top of the polenta then drizzled with cream, and sprinkled with shredded fontina cheese and fresh thyme leaves.  Can you imagine the aroma?  It's heavenly.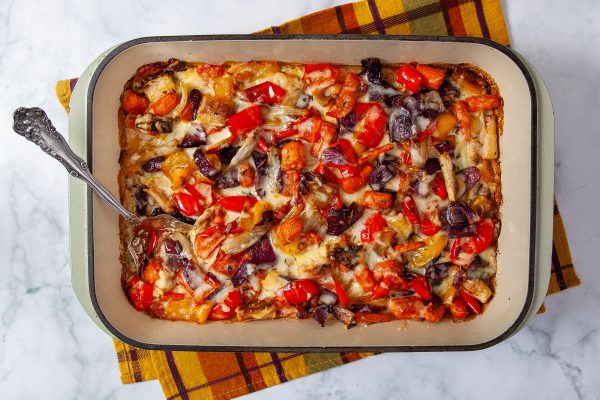 You will need a very sturdy casserole dish like my Le Creuset pictured here. That's a lot of filling to hold!  Look how bright and colorful it is.  It tastes as good as it looks.

Roasted Root Vegetable and Polenta Casserole
Ingredients
Roasted Vegetables:
2 parsnips (about ½ pound total) peeled and cut into 1-inch pieces
5 carrots (about ½ pound total, peeled and cut into 1-inch pieces
3 large sweet peppers (red and yellow), cored, seeded, and cut into1-inch wide strips
1 bulb fennel (about ½ pound) rinsed, sliced into 1-inch wide strips
1 red onion, cut into ½ -inch wedges]
2 Tablespoons olive oil
½ teaspoon table salt
¼ teaspoon black pepper
Polenta:
4 cups whole milk
1 cup hot water
1 teaspoon garlic powder
1 teaspoon table salt
¾ teaspoon black pepper
1-1/2 cups cornmeal (stone-ground preferred)
½ cup grated Parmesan cheese
⅓ cup fresh basil leaves, shredded
Topping:
¼ cup heavy cream
½ cup shredded fontina cheese
1 teaspoon fresh thyme leaves
Instructions
For Vegetables: Heat oven to 375 degrees. In a large bowl, mix together prepared parsnips, carrots, peppers, fennel, red onion, olive oil, salt, and pepper. Spread in a single layer in roasting pan.
Roast vegetables at 375 degrees for 45 minutes, stirring halfway through cooking time.
For Polenta: In a large saucepan combine milk, hot water, garlic powder, salt, and pepper. Bring to a simmer over medium-high heat. Whisk in cornmeal, and cook, whisking, until thick and smooth, about 3 minutes. If too thick, add a little more hot water. Stir in Parmesan and basil.
Coat a 9-by-13-by 2-inch inch baking pan pan with cooking spray. Spread polenta mixture in baking pan, then arrange vegetables over polenta.
For Topping: Drizzle cream over vegetables. Sprinkle with fontina, then thyme leaves. Bake at 375 for 25 minutes. Let cool slightly before cutting or scooping.