My adorable granddaughter Virginia Rose had her first photo taken with Santa.  We are all so excited for her first Christmas!  I have a feeling she will be the center of attention and probably enjoy every second of it!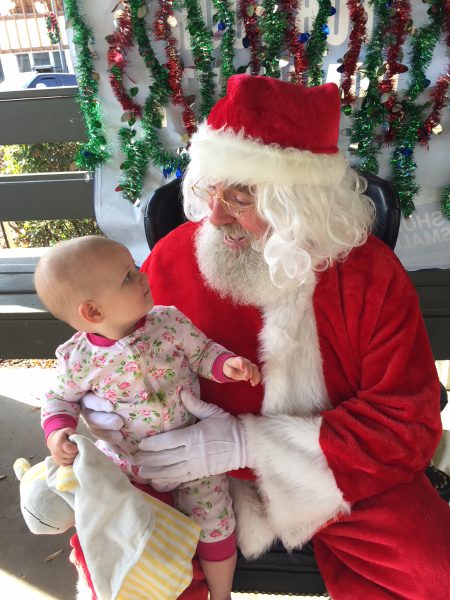 There were no tears at all, just looking at the wonder of her first Santa!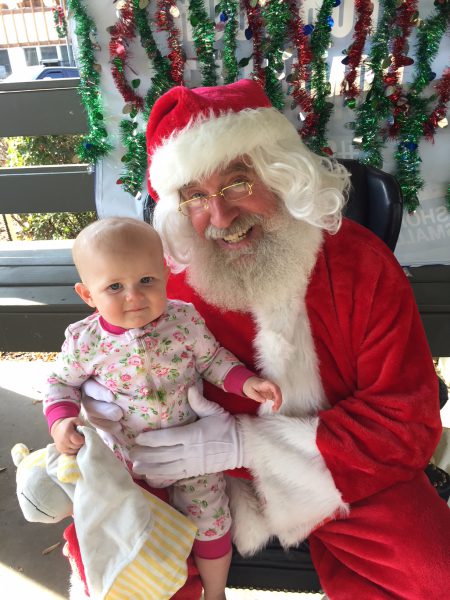 When I saw these photos, I had the urge to make something fun just for her to have on our table for Christmas dinner.  She loves everything colorful.  I decided on these cute little trees which are sugar cones decorated with popcorn, red hots, and a variety of colorful sliced gumdrops.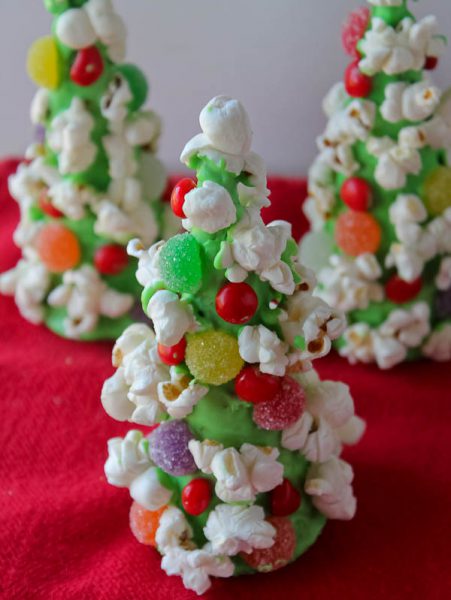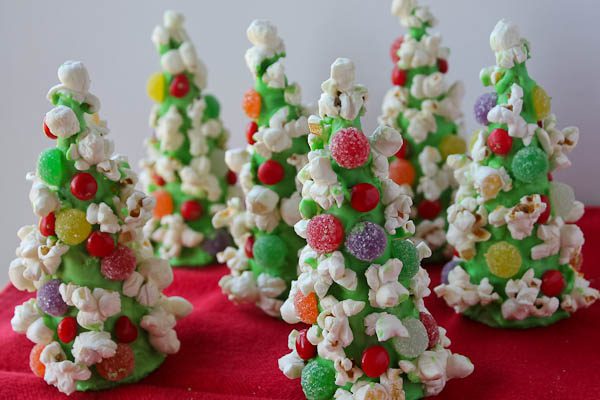 I think she will love these, and someday we will be able to make them again together when she's older.  I have a feeling Virginia Rose and her grandma will be doing a lot of food-related things when she's older!
All you do is make a simple frosting with an egg white to make it sticky so the decorations will stick.  Tint it green, spread over the cones, one at a time and have all the decorations set out ready to go.  You have to work quickly or the frosting will set.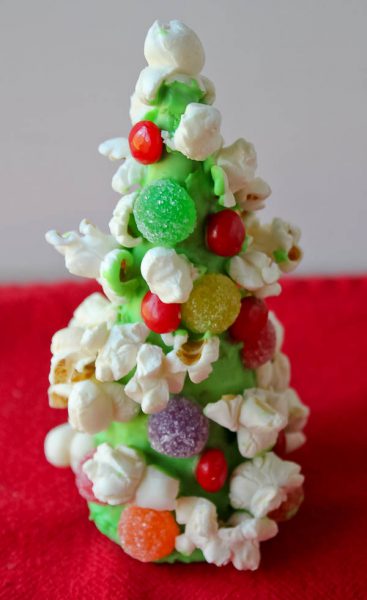 Virginia Rose and her mommy and daddy will be here for Christmas and I can't wait to show her these, although she won't be able to hold them because she would probably put them in her mouth!  But she loves colors and I hope she enjoys them.  Now I need to worry about her yanking things off the real Christmas tree.  That will really be tempting!  But we are all looking forward to seeing the joy and excitement in her eyes with all these new items in her world.
Merry Christmas!

Festive Popcorn Trees
Ingredients
2-1/2 cups powdered sugar, sifted
1 egg white
1-1/2 Tablespoons water
About 6 drops of green food coloring
6 sugar cones
3 cups popped corn (about ½ cup per cone)
Red cinnamon candies
Gumdrops, sliced (use the rounded tops)
Instructions
Stir together the powder sugar, unbeaten egg white, and water together to make a frosting. It will be sticky. Tint it with the food coloring. Spread the frosting, doing one at a time, over the outside of the cones, using about 3 Tablespoons per cone to cover them completely. While the icing is still soft, press the popped corn, red candies, and gumdrops all over the cones. Place on wire racks to fully set. Makes 6 trees.