This is one of my all-time favorite appetizers, especially during the busy holiday season when it seems you never have enough hours in the day.  These delicious little appetizers that highlight shrimp and feta cheese can be made weeks ahead and frozen.  Right before serving your guests, just take them directly out of the freezer, no thawing needed, and reheat.  Super easy and oh, so good!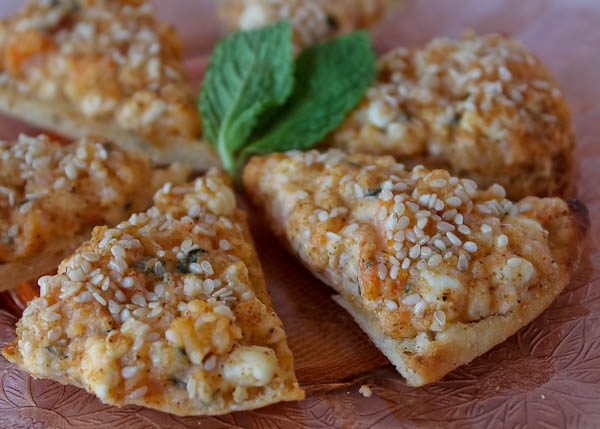 This week I will be hosting our Book Club meeting and party and knew I had to serve these.  I snapped the photos before they went into the freezer.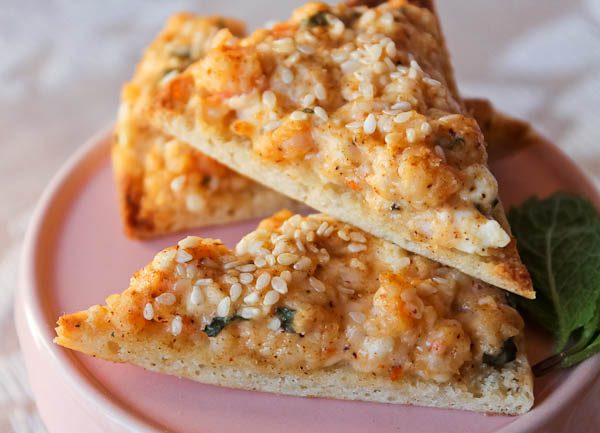 First thing to be done is split some pita bread in half lengthwise, butter the insides, then cut into triangles.  For the filling, all you do is mix feta cheese, chopped shrimp, garlic, mint, a little chili powder and ground cumin, stir in some mayo to bind together and spoon on each triangle.  Each triangle is then sprinkled with sesame seed, paprika, and then broiled.  When cooled, place in airtight containers and freeze.  Simply remove and briefly reheat on a baking sheet until hot.  I love the ease having them all ready and not even having to thaw.  Perfect for the holidays.  Warning:  These are very addictive.  I've never known anyone to eat just one!

Feta-Shrimp Appetizers
Ingredients
4 to 5 pita breads (about 6" diameter)
Softened butter
8 ounces feta cheese
8 ounces medium cooked, peeled shrimp, chopped
2 garlic cloves, minced
½ cup mayonnaise
½ teaspoon chili powder
½ teaspoon ground cumin
2 Tablespoons chopped fresh mint
Sesame seeds
Paprika
Instructions
Heat oven to 300 degrees F. Slip a sharp knife into the edge of pita breads and divide in half horizontally. Spread each half with butter. Cut each half into 5 or 6 triangles. Place on a baking sheet and bake for 15 to 20 minutes or until lightly browned.
To make the topping, crumble the feta cheese into a medium mixing bowl. Add shrimp, garlic, mayonnaise, chili powder, cumin, and mint. Spread topping generously on toasted triangles. Sprinkle each with sesame seeds, then dust with paprika.
Turn oven to broiler position. Place prepared triangles (in batches, if needed) on broiler pan and broil until tops are brown and bubbly, about 5-7 minutes or until tops are browned and bubbly. Watch carefully as broilers differ and they can burn quickly.
Serve immediately, or the triangles can be frozen after broiling. Reheat on a baking sheet from the frozen state at 450 degrees F for about 5-10 minutes or until heated through. Makes about 35-40 triangles.