I have never met Michelle Mazurkiewicz.  She is friends with my daughter Kristina, who told her about the flood of The Culinary Cellar and the loss of my thousands of cookbooks.  Michelle worked for the Food Network and understood very well how devastating this would be and decided to help.  And to say she helped is an understatement. Michelle leveraged her contacts in the food industry and mobilized an army of friends and colleagues through calls to action on Facebook.
When the books were delivered, my husband was out of town and I couldn't even carry the boxes up to my kitchen table because they were so heavy.  I had to wait two days before I could even look at them!
There are so many books they couldn't fit on a table all at once so I had to take the photos of them in boxes.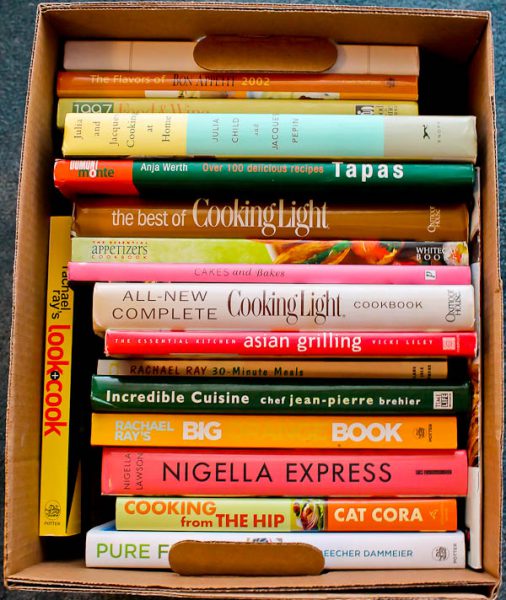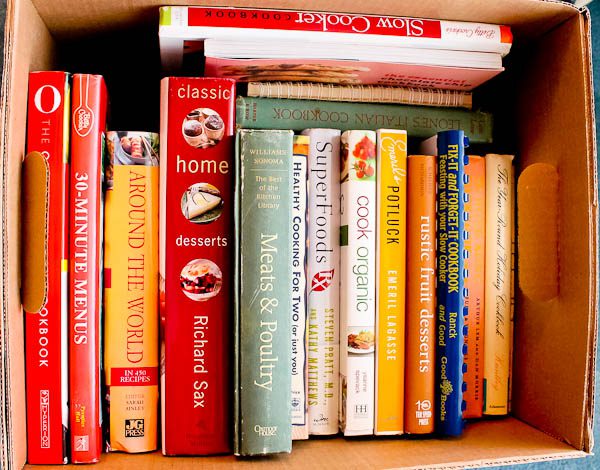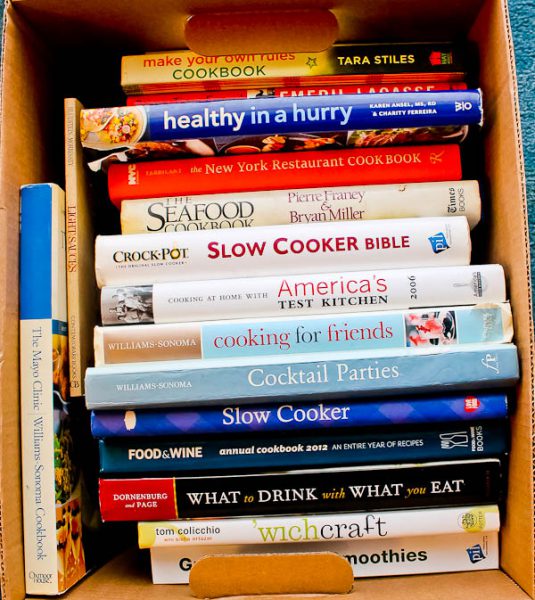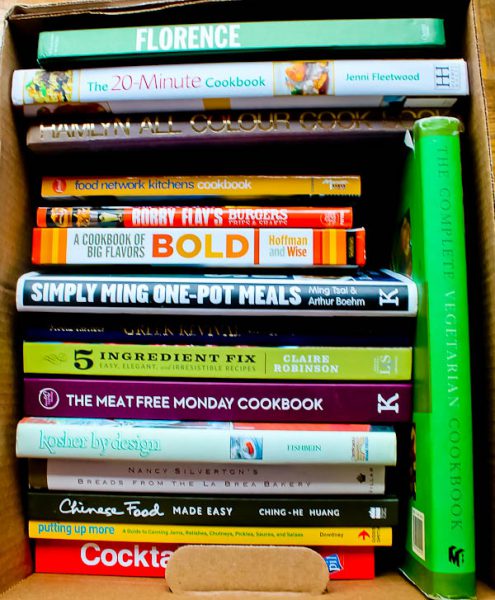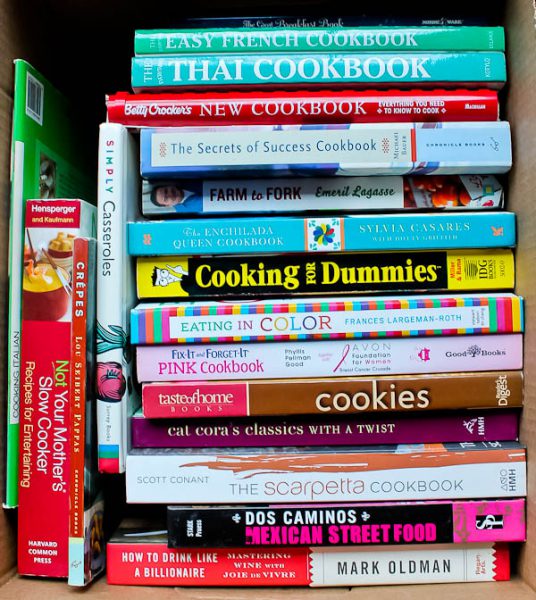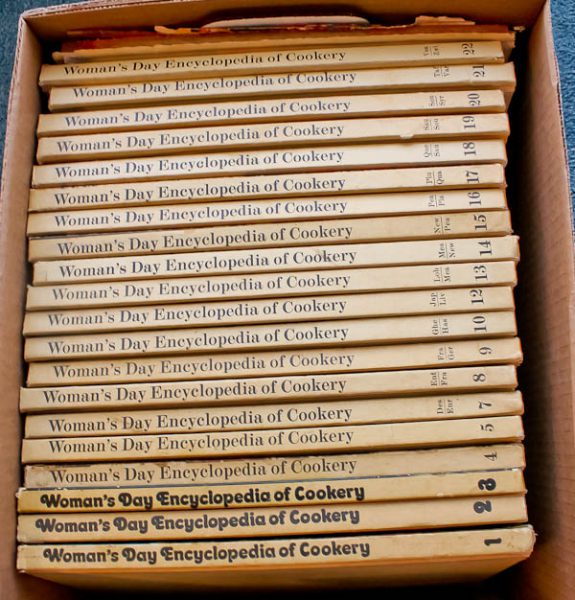 This last book was so huge, it wouldn't even stand up in a box: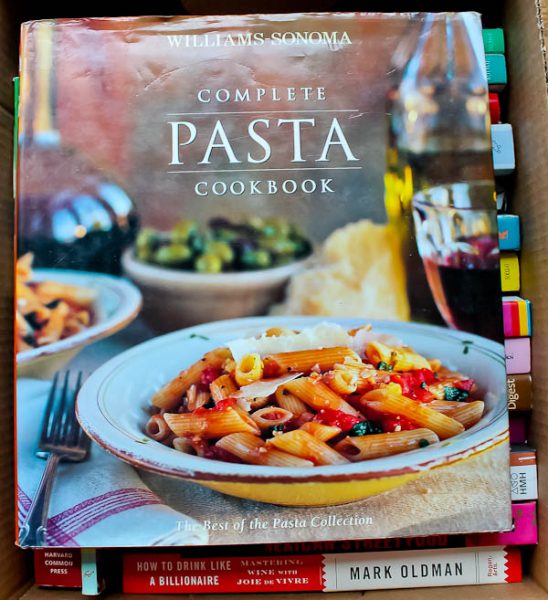 Isn't this incredible?  Most of them are large and very heavy.  I can't imagine Michelle collecting them all by herself not to mention having to carry them into the post office!
As you can see, the selection is extensive.  Julia Child, Mark Oldman, Williams-Sonoma, America's Test Kitchen, Betty Crocker, Bon Appetit, Cooking Light, Food & Wine, Pierre Franey, and just about every Food Network star.  I love the vintage Woman's Day encyclopedia set.  One other vintage book I was thrilled to have back is the old Mama Leone cookbook from her long ago New York City iconic restaurant.  There are so many more.  Have fun looking at them all.  It's like a small library!
It was quite a task selecting one recipe from one cookbook to feature, but there will be many more blogs in the future with this incredible selection.  Since we are now entering the December celebrations and parties I decided an appetizer would be fun for this month.  I settled on a Williams-Sonoma book called Cocktail Parties and found a delicious-sounding recipe for "Prosciutto-Stuffed Mushrooms."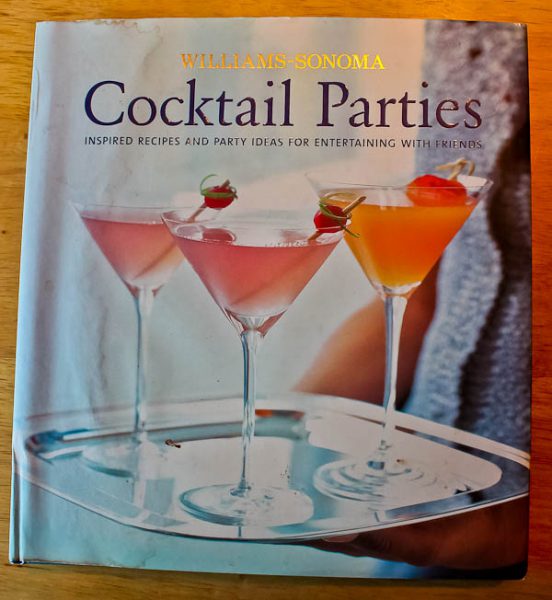 I knew just by reading the recipe these would be good, and of course they were fabulous.  The mushroom stems are chopped and sautéed in butter with shallots, then additional ingredients are added- chopped prosciutto, goat cheese, bread crumbs, and Italian parsley.  The caps are filled and baked and topped with a parsley sprig and little pieces of rolled up prosciutto strips.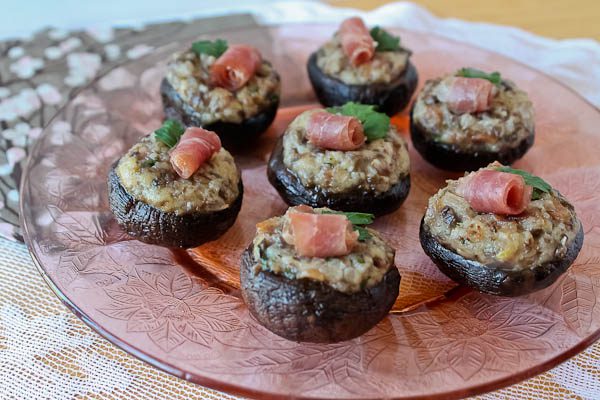 Aren't they so pretty?  They taste as good as they look.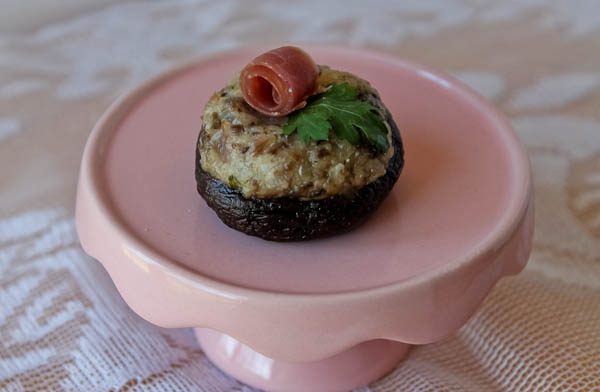 If you want to serve them for a Christmas party, find some pretty holiday napkins or plates.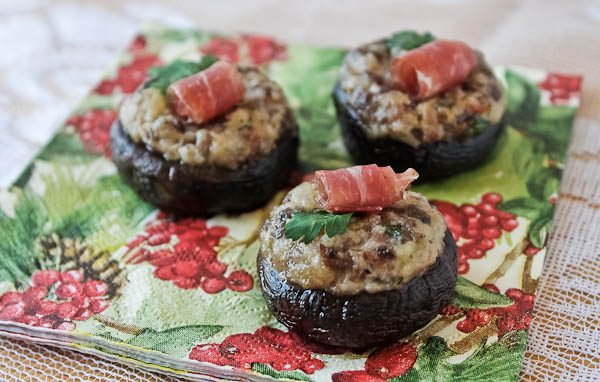 Michelle, I can't thank you enough for your hard work getting all these books together.  You embody the true spirit of giving and it is appreciated more than I can say.  I have a feeling there will be a need for an extra shelf just to fit all your books!  It will have to be named the "Michelle Shelf!" I hope next time I am visiting Kristina in New York City we will finally be able to meet.

Prosciutto Stuffed Mushrooms
Author:
Williams-Sonoma Cocktail Parties
Ingredients
24 medium size mushrooms
8 thin slices prosciutto, fat trimmed
4 Tablespoons unsalted butter
⅓ cup minced shallots
3 ounces soft goat cheese
⅓ cup freshly made white bread crumbs, or store bought crumbs (I like the fresh)
2 Tablespoons minced fresh flat-leaf (Italian) parsley, plus sprigs for garnish
1 Tablespoon extra-virgin olive oil
Instructions
Preheat oven to 350 degrees. Remove mushroom stems, making a cavity in the caps. Set caps aside.
Using a sharp paring knife, trim and discard the bottom ¼-inch of the stems. Mince the rest of the stems and set aside. Finely chop 6 of the prosciutto slices. Cut the remaining 2 slices into strips about ½-inch wide then cut again into strips about 1-1/2 inches long, and set aside.
In a frying pan over medium heat, melt the butter. Add the minced mushroom stems and shallots and saute until the shallots are translucent, about 1 minute. Add the chopped prosciutto and saute for about 30 seconds. Remove from heat and mix in the cheese, bread crumbs, and chopped parsley. Brush the mushroom caps with the olive oil, then stuff each cap with an equal amount of the cheese mixture and place in a lightly greased dish.
Bake until the mushrooms are tender and the stuffing is browned, 20-25 minutes. Let cool slightly in the baking dish on a wire rack. To serve, roll up the prosciutto strips and place a strip on each cap, top with a parsley leaf , and arrange on a serving platter. Serves 8-10.
I will be making these again.  My husband loved them too, and he doesn't even like goat cheese.