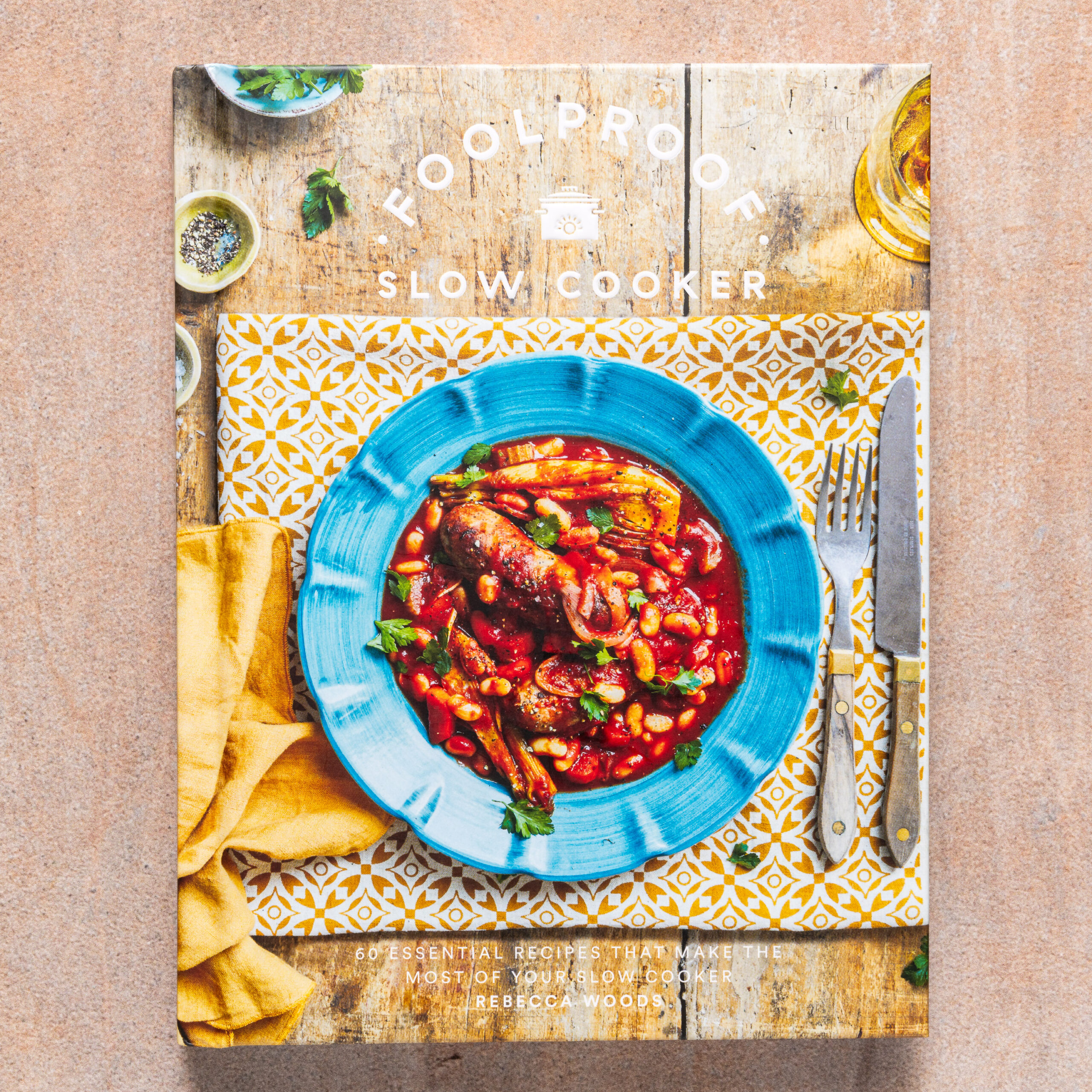 Slow cookers are great for not heating up the kitchen, and for making easy and favorite soups and stews.  However, many believe slow cooker meals can be boring or everything  gets mushy.  Thankfully, our food horizons have broadened and slow cookers have become more sophisticated and caught up to changing tastes.  You will find that the sixty recipes in this cookbook will show ways to create new and more exciting meals and to raise the old classics another notch.
In the meat chapter try spicy brisket smothered in Korean gochujang; or a Moroccan-inspired lamb shank tagine with butternut squash , pomegranate molasses, and mint.  The fish chapter has classics like seafood chowder, but also sweet-sour king prawns, and salmon with charred spring onions with ginger and lime.
I'm a fan of shakshuka and the vegetable chapter has an overnight version so breakfast can be ready when you wake up.  If you have a sweet tooth the dessert and sweets chapter has a lemon and blueberry cloud pudding, and classics like individual crème brûlée, or at Christmas time, a warm and comforting Swedish Glögg with some raisins and toasted almonds thrown in for a toasty flavor.
Last but not least is the ever-popular chicken and poultry recipes where you will find spiced duck with orange and hazelnut rillettes; spicy Jerk turkey rice, along with classics like a cassoulet, roast chicken, and spicy Buffalo pulled chicken piled into brioche buns with cabbage slaw and a tangy blue cheese sauce.
I chose to make a tarragon chicken with bacon, leeks, and potatoes.  It was creamy and comforting from the addition of crème fraîche, with a hint of anise sweetness from the tarragon.  Fresh tarragon is so flavorful and fragrant and so much better than the dried version.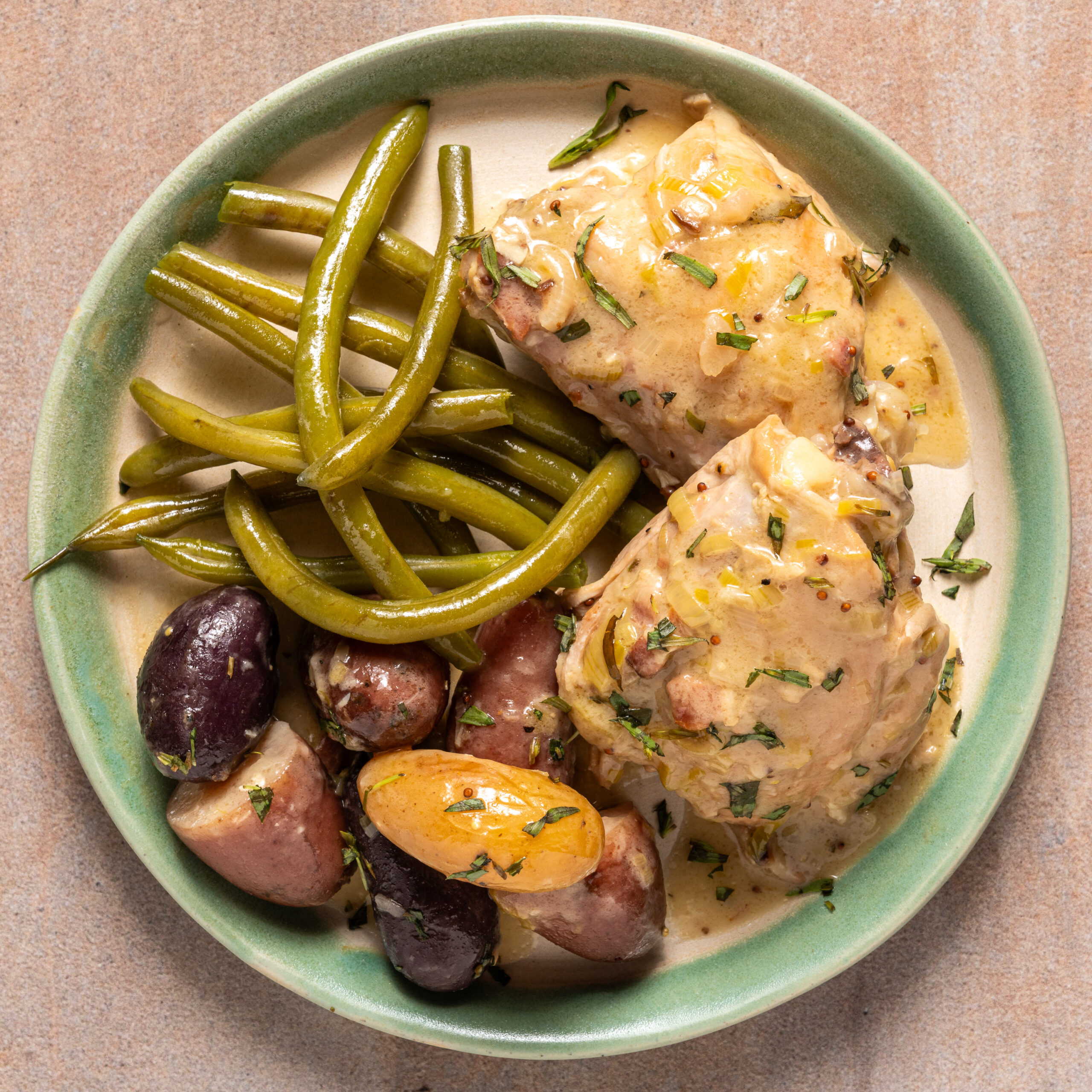 I served it with some green beans that were prepared stovetop, or it could be broccolini or zucchini.  I liked the green color that added even more brightness to the leek and tarragon pieces.

Creamy Tarragon Chicken with Bacon, Leeks, and Potatoes
Author:
Foolproof Slow Cooker
Ingredients
2 Tablespoons olive oil
8 skinless, bone-in chicken thighs
6 slices thick bacon, chopped
1 large onion, sliced
2 large garlic cloves, finely chopped
3 leeks, sliced (white part only)
18 ounce bag of tiny potatoes, halved if large
1 small bunch tarragon, roughly chopped (about ½ cup chopped)
2 teaspoons whole grain mustard
2-1/2 cups chicken broth, heated
3 Tablespoons cornstarch
1 container (5-1/2 ounces) crème fraîche
Sea salt and freshly ground black pepper, to taste
Instructions
Heat oil in a nonstick skillet over high heat; add the chicken thighs and brown on all sides. Transfer to a slow cooker. Add the bacon to the skillet and stir constantly until crisp and golden. Turn heat to medium and add the onions. Stir a few minutes to soften and pick up some color. Add the garlic and stir another minute. Scrape into slow cooker with the chicken.
Add the leeks, potatoes, and half the tarragon to the slow cooker. Dissolve the mustard in the hot chicken broth. Stir the cornstarch into a little cold water until it's blended in, and add to slow cooker. Stir ingredients in slow cooker carefully. Place on the lid. Cook on high for 3-4 hours or on low for 6-7 hours.
When done, stir in the créme fraîche and remaining tarragon. Taste with salt and pepper and serve.
Note: If the sauce seems too thin, you can add more cornstarch mixed with a little water.