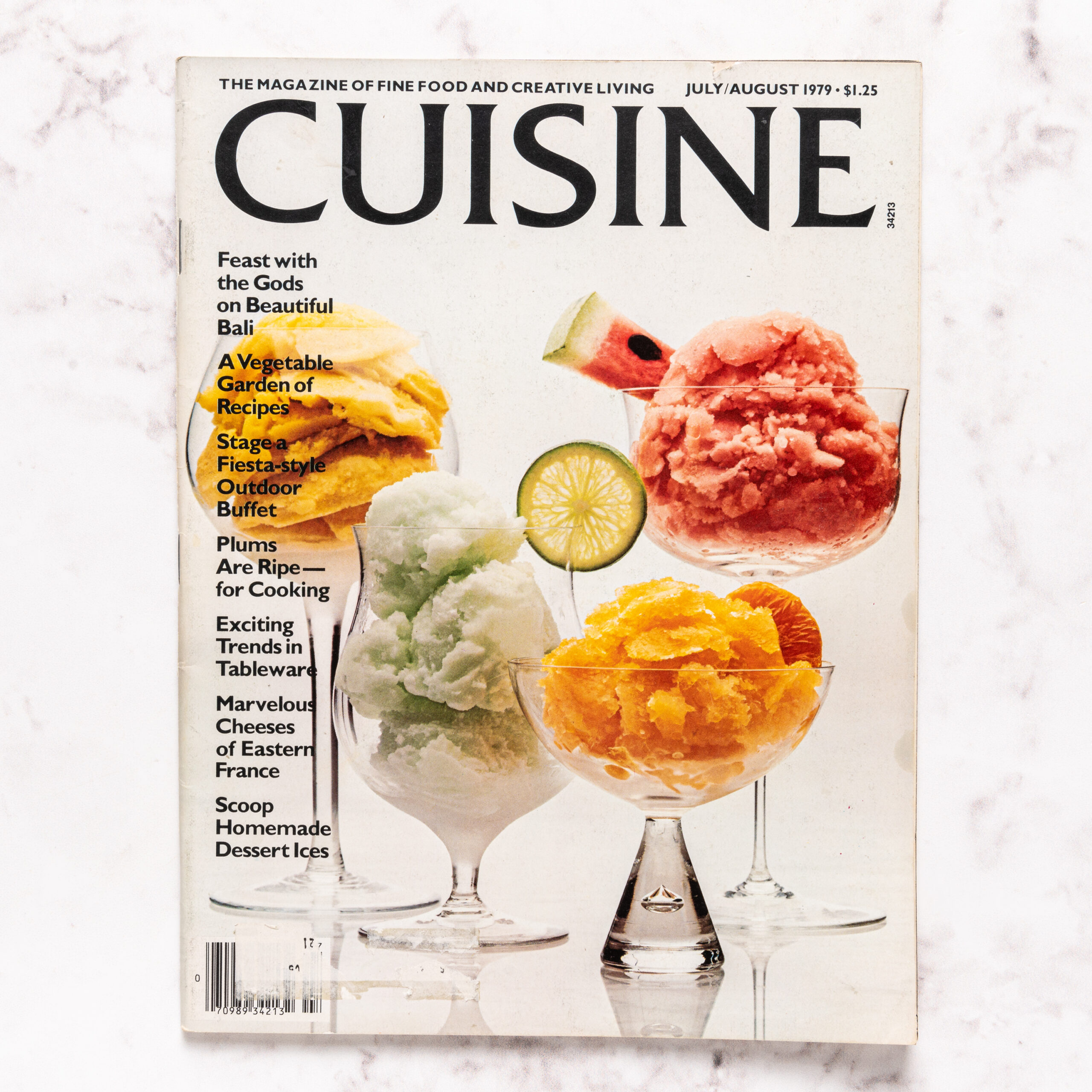 Plums are at their plentiful peak and you will find recipes using them with duck, a honey cake, dumplings, daiquiri, pork chops, and a lovely chiffon pie.  There is an article devoted to many flavors of sorbet to cool off in this hot weather; another on Indonesian cooking; and a backyard Mexican barbecue for a festive party with family and friends.
An article on using garden vegetables included carrots which were used for this luscious carrot-pineapple cake from the great Bert Greene.  He said it is one one of his favorites.  Now it's one of mine too.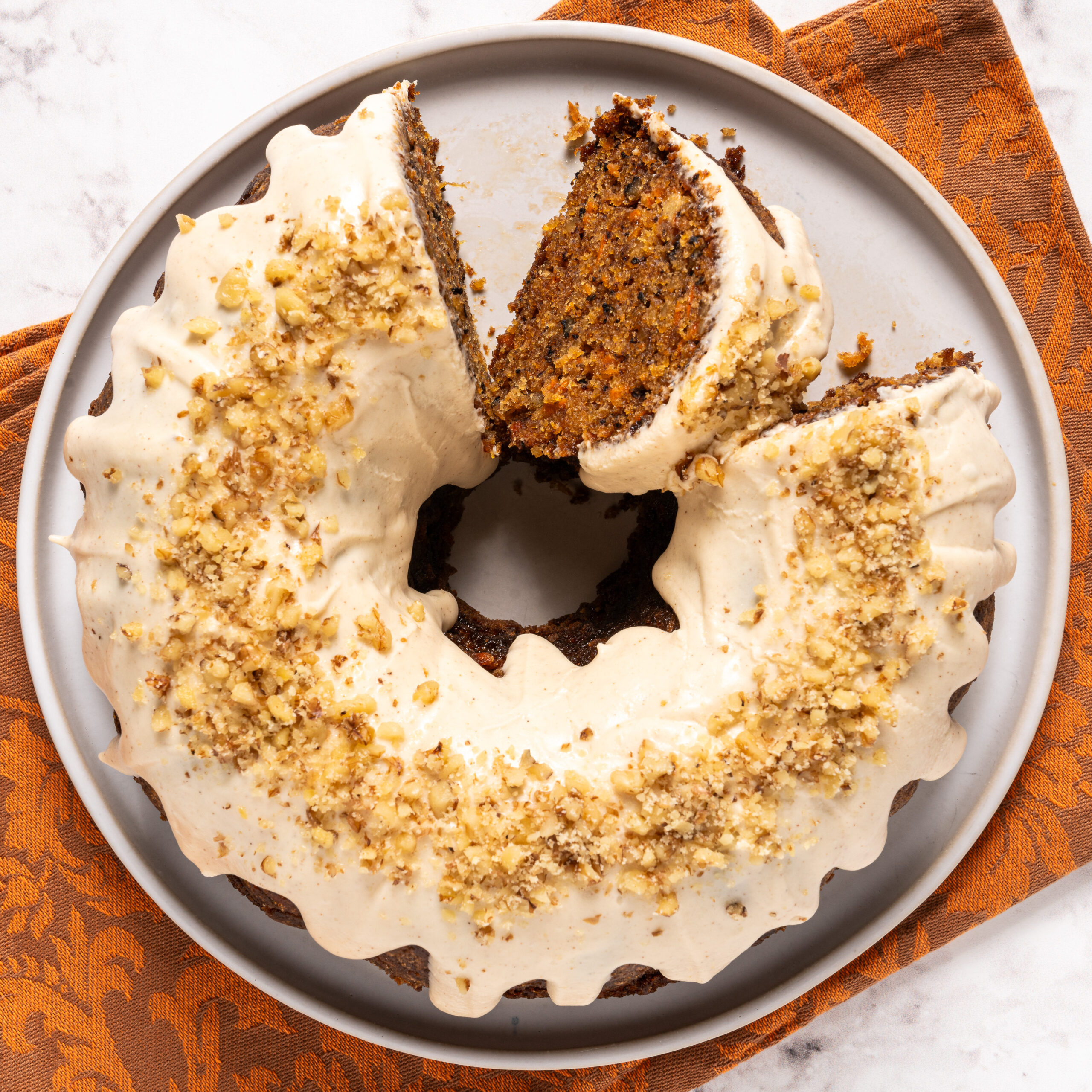 The cake has a wonderful heftiness to it yet very moist and flavorful.  It's even better the second day if you can wait!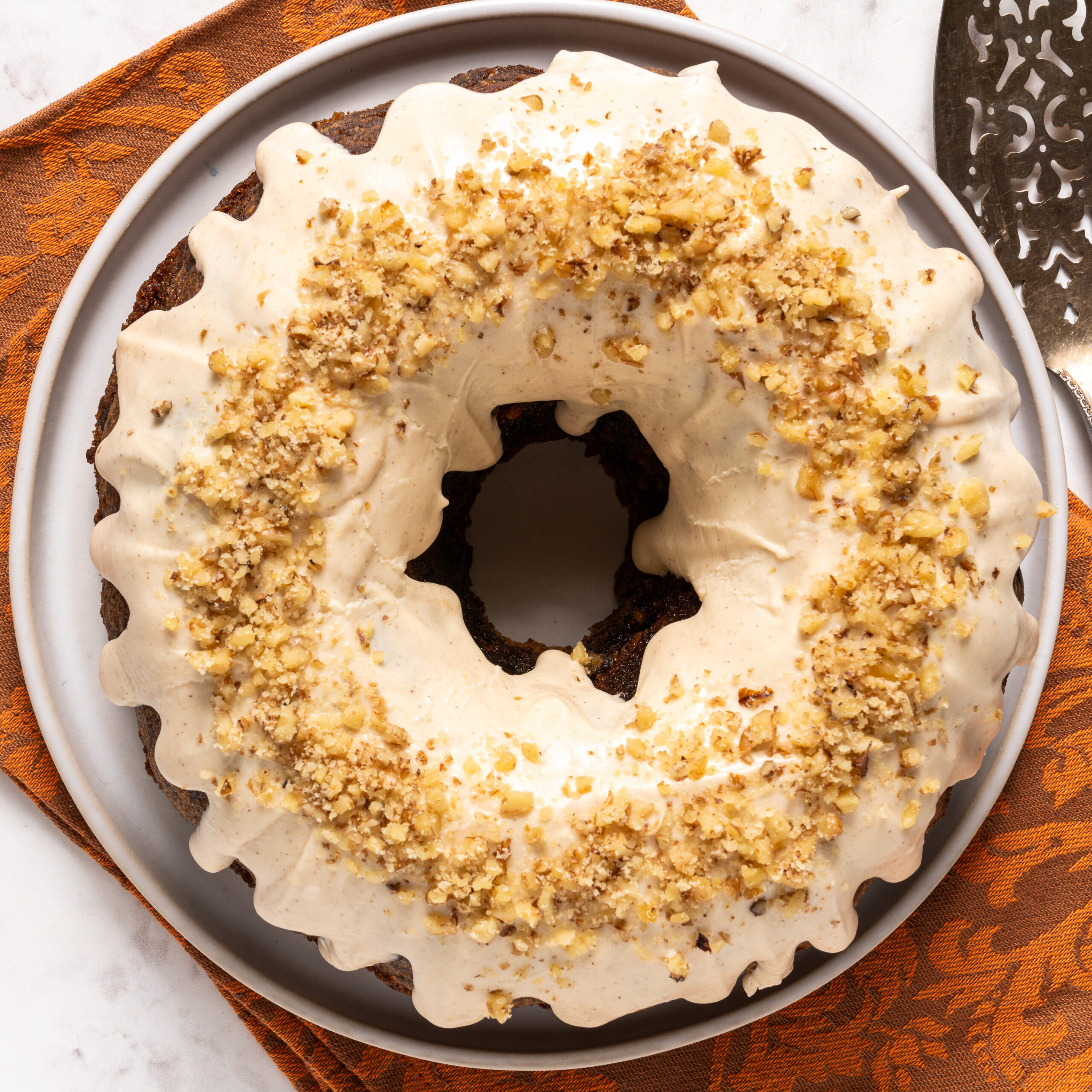 The cream cheese frosting has a hint of orange juice and cinnamon.
Carrot-Pineapple Bundt Cake
Author:
Cuisine Magazine July/August 1979 (Bert Greene recipe)
Ingredients
For Cake:
1 can (8-3/4 ounces) crushed pineapple
3 eggs
1-1/2 cups canola or vegetable oil
2 teaspoons vanilla extract
3 cups sifted cake flour
2 cups granulated sugar
2 teaspoons baking soda
2 teaspoons ground cinnamon
1-1/2 teaspoons table salt
1 teaspoon baking powder
2 cups freshly grated carrots (do not use packaged pre-shredded carrots!)
1-1/2 cups chopped walnuts
For Frosting:
3 ounces softened block-style cream cheese
2 Tablespoons softened unsalted stick butter
1 Tablespoon vanilla extract
1 teaspoon orange juice
⅛ teaspoon ground cinnamon
1-1/4 cups sifted powdered sugar
Garnish: 2 Tablespoons finely chopped walnuts
Instructions
For Cake:
Heat oven to 325 degrees F. Grease and flour a 10-inch Bundt pan; set aside. Drain well the liquid from the pineapple into bowl of electric mixer; reserve pineapple. Add eggs, oil, and vanilla to the pineapple liquid and beat until mixed.
Add flour, granulated sugar, baking soda, cinnamon, salt, and baking powder to bowl; beat on medium speed for 3 minutes. Stir in reserved crushed pineapple, carrots, and 1-1/2 cup chopped walnuts. Pour into prepared Bundt pan. Bake until a wooden pick inserted in highest part of cake comes out clean, about 1 hour, 7 minutes. (ovens vary so if not quite done, check every 2 minutes).
Remove from oven and set on a wire rack. Cool in the pan for 30 minutes before removing to cool completely.
For Frosting: Beat cream cheese and butter until fluffy. Beat in vanilla, orange juice, and cinnamon. Gradually beat in powdered sugar until smooth and of good drizzling consistency.
To Finish: Place cake on cake stand. Carefully spoon frosting over cake. Sprinkle finely chopped walnuts around the top. Keep cake covered. It's even better the next day!