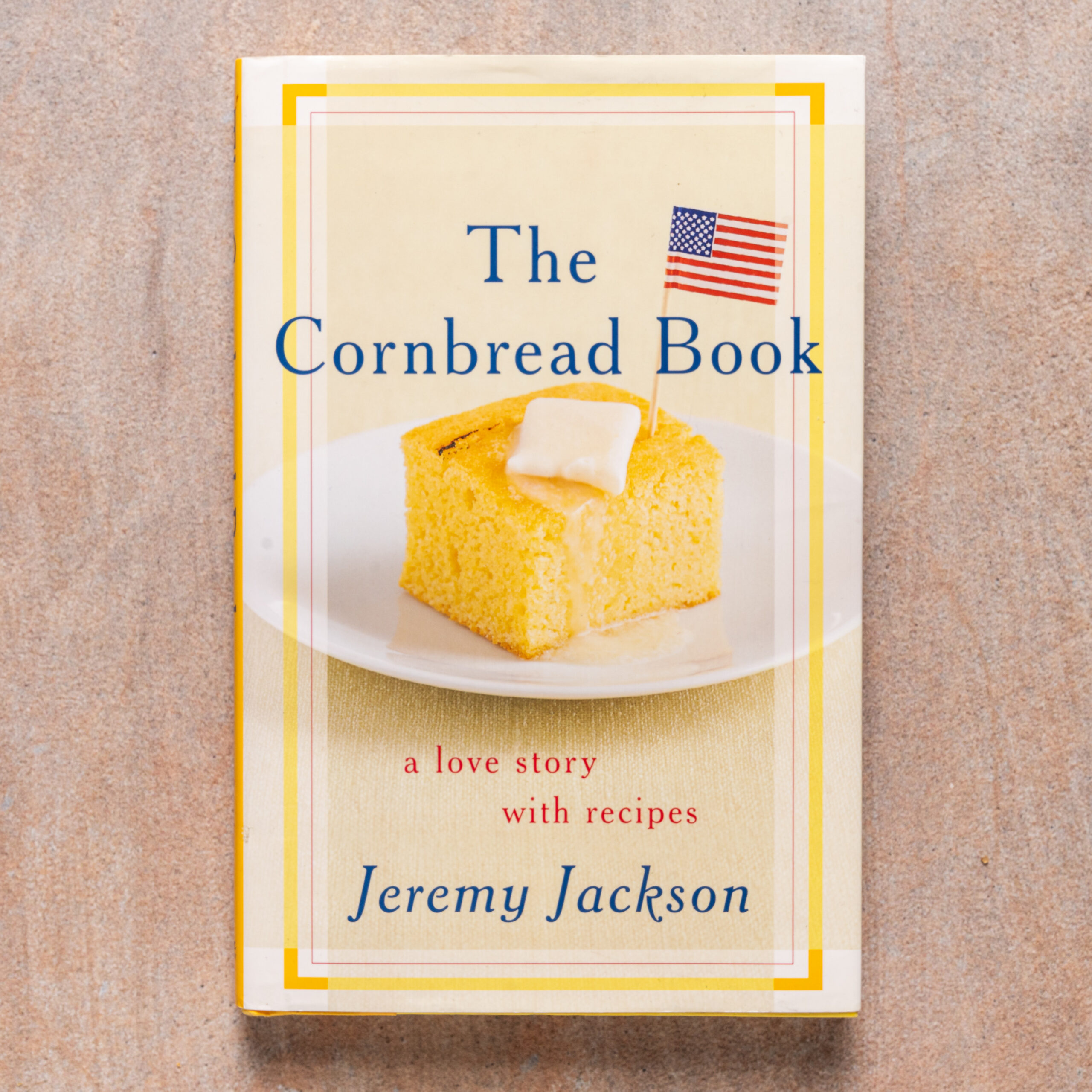 Being a Midwest girl, I will read any recipe or cookbook about corn, cornmeal, or cornbread.  When I read about a cookbook available from my favorite Bonnie Slotnick Cookbooks in New York City called The Cornbread Book I emailed Bonnie and ordered it.  Author Jeremy Jackson calls it "a love story with recipes."  He says cornbread is the American bread served with a whole lot of butter.
The Cornbread Book does just that with recipes for cornbreads, fritters, hush puppies, biscuits, popovers, spoonbread, biscotti, pizza dough, batter breads, and more.  Not just with recipes, Jackson describes how his love of cornmeal might gave begun as a toddler when during cold winter days when playing outside was not possible, his mother would pour cornmeal into a large shallow pan, which served as a place to drive play trucks and land movers through it.  When Jackson was done playing his mother then gathered up his cornmeal and placed it into a gallon jug and marked it "Play" and set it next to the jug that was marked "Eat."  What a smart and caring mom.
The book includes the history of cornbread; ingredients and equipment to use; recipes for basic, sweet, and yeast cornbreads; what to do with leftovers; and even a song dedicated to cornbread written by Jackson himself.
Some of the recipes I have ear-marked to try include a cornbread with roasted red peppers and green onions; cornmeal popovers; crinkle-top cornmeal sugar cookies; apple skillet flipcake;  blackberry cobbler; his mom's caramel corncake; "honey snail" bread which can be coiled or made into cinnamon rolls; soft corn dinner rolls; and a Southern cornbread layered salad.
The recipe I did make is called "Choco-Corno-Espresso-Almondo Biscotti."  The cookie base includes white flour, cornmeal, turbinado sugar, and almond paste, with a chocolate topping (that is actually dipped on the edges) of melted chocolate chips, espresso powder, and a little shortening, then dipped in more turbinado sugar for a wonderful crunch and appealing look.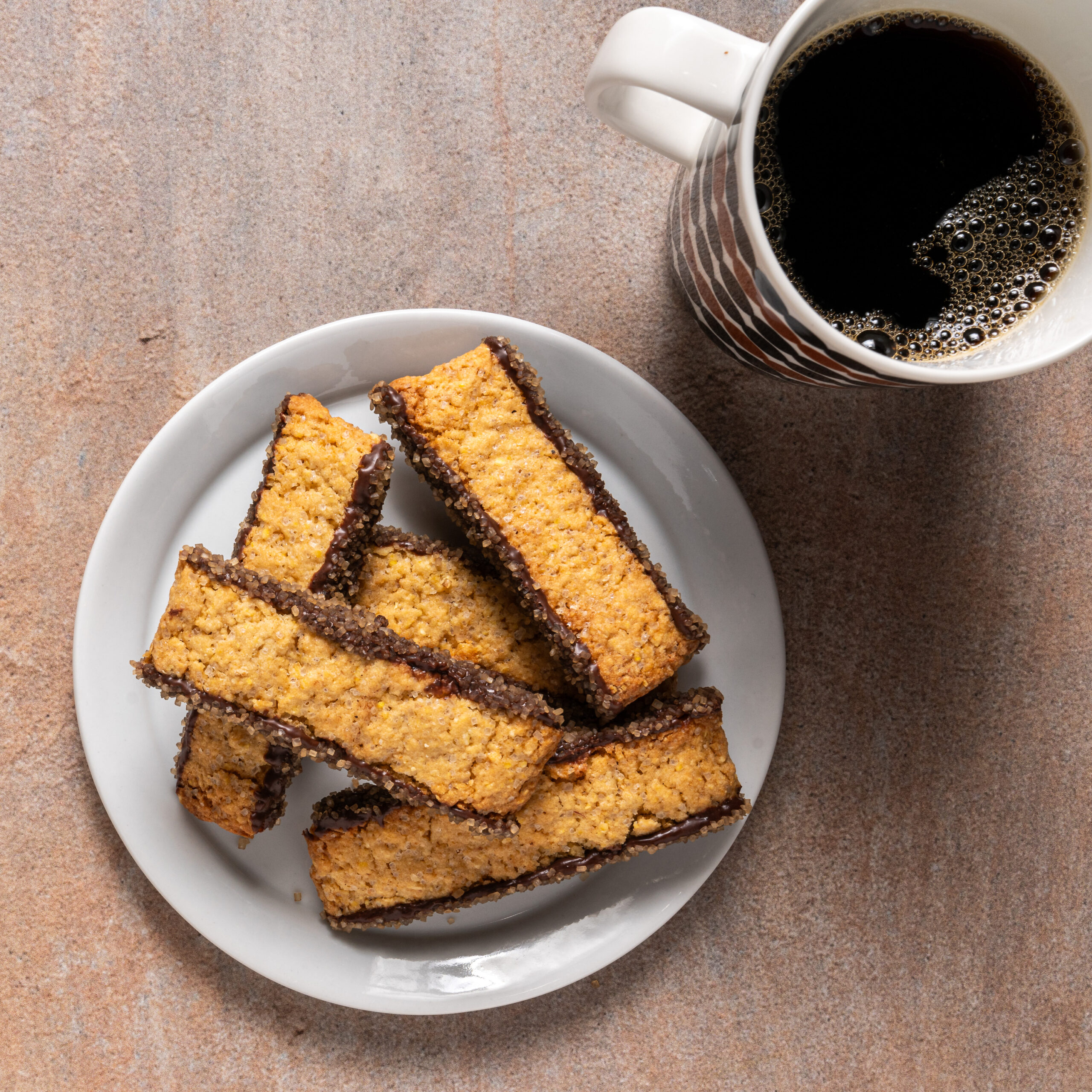 The result was many a happy morning dipping these into our morning coffee, or just enjoyed  with a glass of ice cold milk.  They are so good!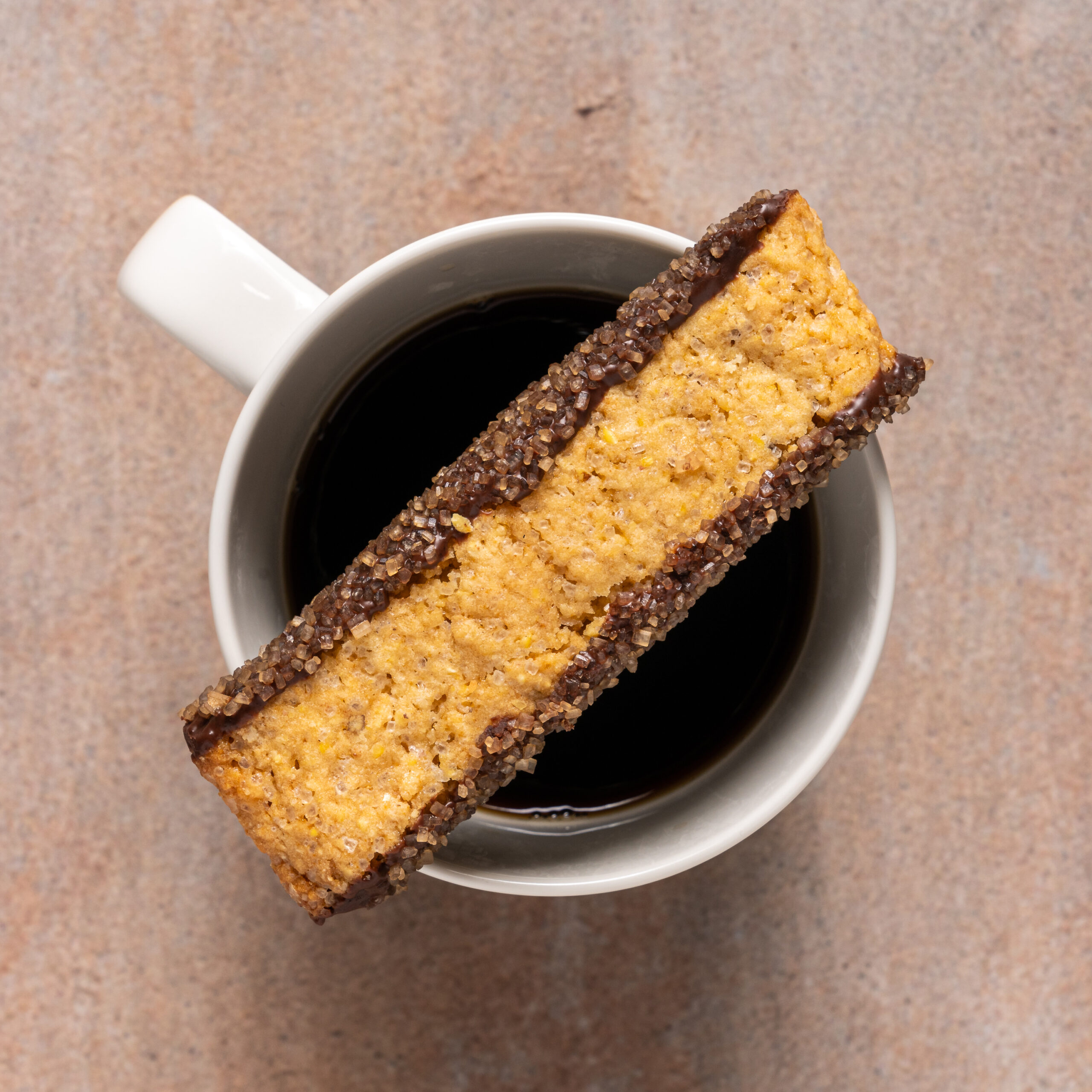 Don't you want a bite!?
Bonnie Slotnick, thank you for this fun-to-read cookbook with great recipes.  Be sure and check out Bonnie's website, Instagram, and Facebook pages.  If you are a cookbook lover, I guarantee Bonnie will have something for you, plus she is a really nice person.

Choco-Corno-Espresso-Almondo Biscotti
Author:
The Cornbread Book by Jeremy Jackson
Ingredients
1-1/3 cups unbleached all-purpose flour
⅔ cup yellow cornmeal
1 teaspoon baking powder
½ teaspoon table salt
½ cup Turbinado sugar
¼ cup almond paste, cut into small pieces
3 Tablespoons cold unsalted butter, cut into cubes
2 large eggs
1 teaspoon vanilla extract
Chocolate Topping:
½ cup semisweet chocolate chips
2 teaspoons instant espresso powder
2 teaspoons solid vegetable shortening
Additional Turbinado sugar, for sprinkling
Instructions
Preheat oven to 350 degrees. Lightly grease a large baking sheet or use parchment paper; set aside.
Sift flour, cornmeal, baking powder, and salt into a mixing bowl. Using a pastry blender, cut in the almond paste and butter until mixture has pea-size chunks. Stir in the eggs and vanilla. At this point the dough will be clumpy but far from mixed.
Stir vigorously for a bit, but then mix with your hands until you have a stiff dough that just incorporates all the dry ingredients and can be formed into a ball. Add 1 to 4 teaspoons of water if needed. Don't worry about visible pieces of butter or almond paste.
As soon as the dough holds together and is well mixed, divide it in half. Shape and roll each half into a thick rope about 12-inches long and place on prepared baking sheet at least a few inches apart. Flatten each rope with your hands to make them into a 12-by-3-inch rectangle.
Bake for 16 to 20 minutes, or until well set and just beginning to brown a bit on the edges.
Remove from the oven and let cool on the cookie sheet for about 2-1/2 to 3 minutes, then slice them into individual biscotti between ½ to ¾-inches thick. Place the slices standing up on their sides on the cookie sheet and return to the oven for 8 minutes. Remove from oven and flip cookies to the other edge and bake another 8 to 12 minutes until they look toasty but not over-browned on the edges. Remove the biscotti and allow them to cool a few minutes before carefully removing to wire rack to cool completely. They will still be slightly moist and flexible at this point but will dry and harden as they cool.
To finish biscotti: Melt the chocolate, espresso powder, and vegetable shortening over a double boiler over low heat and stir until smooth. Dip the sides of the cooled biscotti into the chocolate and let excess drip off. Sprinkle or dip the chocolate edge generously into the Turbinado sugar. Repeat with other side and set on parchment or wax paper to dry. Refrigerate to set the chocolate.
Notes: If when baking the sliced pieces and they keep tipping over because they are on their sides, I found it was okay if they slightly leaned together at the tips for balance. Also, I placed the Turbinado sugar for dipping onto a flat plate which made it easier than sprinkling on. You will need more sugar than you think!