On Labor Day weekend, my husband almost always drives up to the Upper Peninsula of Michigan to go fishing with his cousin, and sometimes a few others.  They fish in the deep waters of Lake Superior and have a grand time.  I never join them.  Why?  Not that I don't love fish, but they get smelly and dirty.  Not the fish, the men. They also camp out and I am not a camper.  So instead, I stayed home looking forward to a weekend of doing things around the house I have been meaning to do, along with trying some new recipes.  I didn't get things done around the house, but did get some cooking in, that is, when I wasn't watching my new obsession, Downton Abbey.  I never watched it when everyone else did, but this weekend PBS was airing the entire series again and I wanted to see what all the fuss was about.  I got hooked on the first episode.
I would watch an episode, go in the kitchen, make something, then go watch another episode.  Repeat many times.  I am not even done with the series yet, but I do have a lot of meals in the freezer.  Last night I knew I would be up late and decided to make one of those breakfast casseroles that you make at night and pop in the oven in the morning.  Most of the recipes for those are full of fat and calories with tons of cheese, butter, half-and-half, sometimes hash browns, and sausage.  I found a recipe that used turkey breakfast sausage, skim milk, egg substitute, a much smaller amount of cheese, and only 156 calories per serving and less than 2 grams of saturated fat.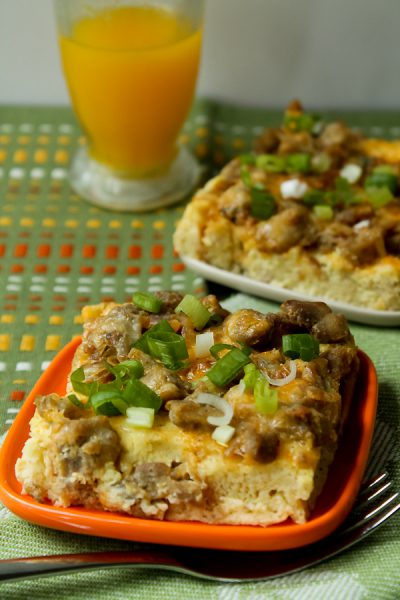 It was so good!  It cut beautifully into squares and I loved it sprinkled with extra green onion on top and another grind of black pepper.  Plain is great too.  The recipe makes 6 servings, and if you have leftovers, wrap in plastic wrap and refrigerate.  The squares will keep for a couple days and just microwave briefly to warm up.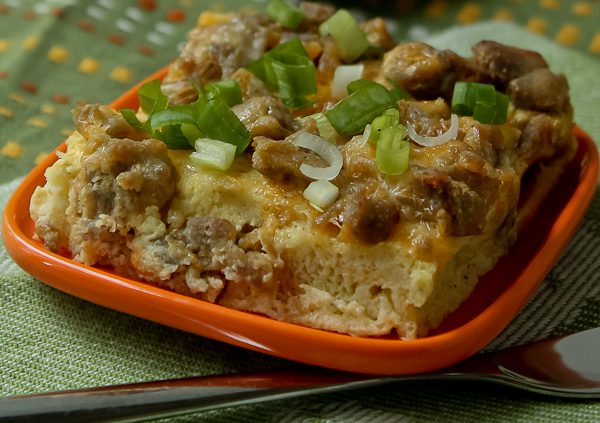 Sorry, gotta go now and catch up on some more Downton Abbey episodes.  I have to find out what is going to happen to Mr. Bates.

Healthier Overnight Breakfast Casserole
Ingredients
3 cups (1-inch) cubed French bread
Cooking spray
½ pound bulk turkey breakfast sausage
¼ cup chopped green onions
¾ cup shredded reduced-fat sharp cheddar cheese
1 cup skim milk
1 cup egg substitute
½ teaspoon dry mustard
¼ teaspoon salt
¼ teaspoon pepper
Instructions
Place bread cubes in an 11-by-7-inch baking pan coated with cooking spray.
Coat a large nonstick skillet with cooking spray; place over medium-high heat until hot. Add sausage and green onions; cook until sausage is browned, stirring to crumble. Drain. Spoon sausage mixture over bread cubes. Top with cheese.
Combine milk with remaining ingredients and stir well. Pour mixture evenly over mixture in pan, then press down with a spatula to soak bread. Cover pan and chill 8 hours or overnight.
Heat oven to 350 degrees.
Bake, uncovered, for about 25 minutes or until set and lightly browned. Remove from oven and let stand 5 minutes before cutting into 6 equal squares.