There is nothing like fresh springtime asparagus.  It's a beautiful vibrant color, tastes wonderful, plus I love to showcase it on my especially-made-for-asparagus platter.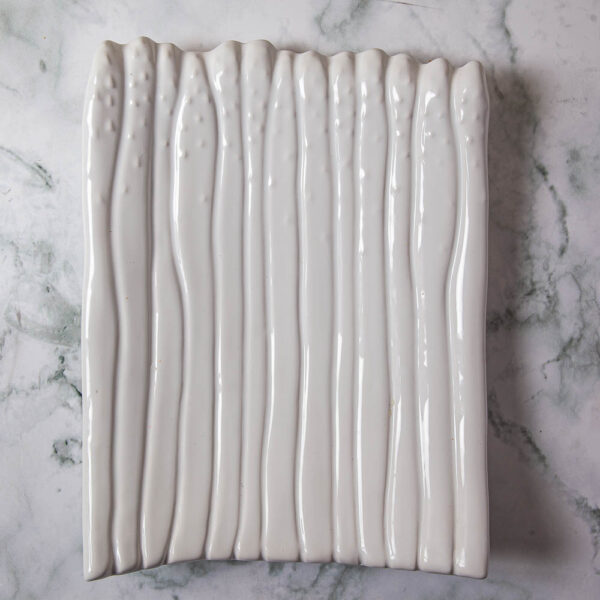 Not only is asparagus a pleasure to consume, it is packed with vitamins A, C, E, K, B6 as well as containing iron, copper. calcium, protein, and a rich source of antioxidants and fiber.  All that and even more benefits in those skinny stalks.
Asparagus can be prepared as an appetizer, soup, salad, in egg dishes like quiche, and tossed with pasta to name a few. But if you want a quick and easy side dish here is an easy oven method. Start by rinsing the stalks and snap off the tough woody ends.  Toss the stalks with a little olive oil, salt, and pepper and place on a rimmed baking sheet.  After roasting it in a 425 degree oven for about 15 minutes, remove from oven. toss with some grated Parmesan cheese and return to the oven for about 5 minutes.  The cheese with get pleasantly crispy and crunchy.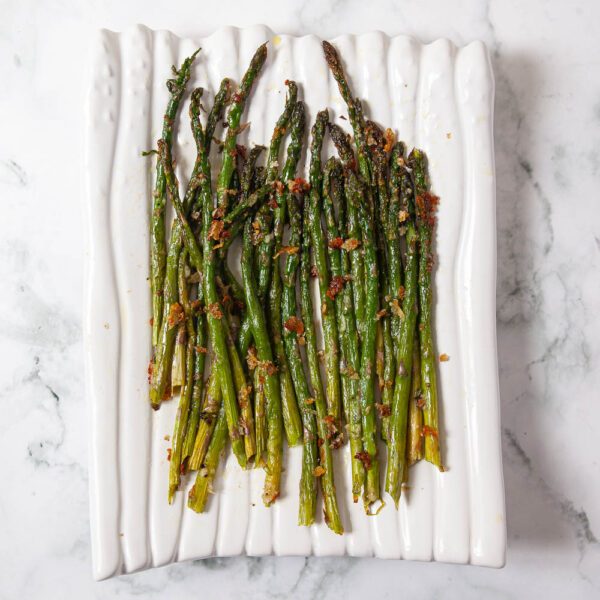 It's so good!  We served it yesterday with our honey spiral Easter ham and scalloped potatoes.  Isn't that a great platter?

Oven-Roasted Parmesan Asparagus
Ingredients
1 pound fresh asparagus
2 teaspoons olive oil
¼ teaspoon salt
¼ teaspoon freshly ground black pepper
¼ cup grated Parmesan cheese
Instructions
Heat oven to 425 degrees. Rinse stalks and snap off any tough woody ends. Place on a rimmed baking sheet and toss well with olive oil, salt, and pepper.
Roast for 15 minutes and remove from oven. Toss gently with the Parmesan cheese to coat and return to oven for 4-5 minutes more or until the cheese is crunchy and browned. Serve immediately. Note: If stalks are very thin, it will not have to roast as long. Watch it carefully. Serves 4,