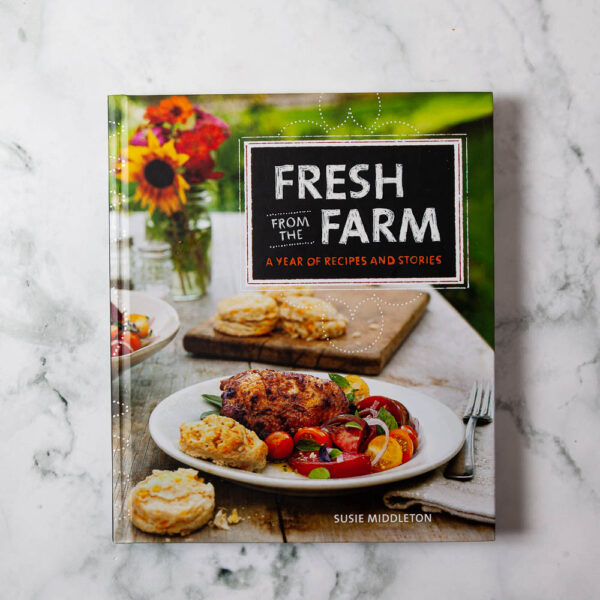 I have been waiting for Spring to come ever since I received this cookbook for Christmas from my brother Alan and my sister-in-law Ellen.  The first sign of rhubarb in the grocery stores was my cue to try the "Gingery Strawberry-Rhubarb Crisp with Brown Sugar-Pecan Topping."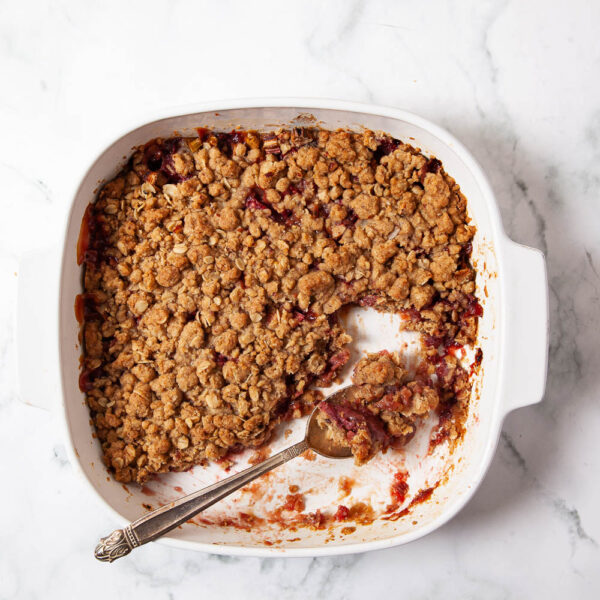 All I can say is, this will be a permanent Spring recipe in my kitchen.  It's incredible!  The filling has an abundance of fresh strawberries and rhubarb, enhanced by some crystallized ginger and a touch of balsamic vinegar.  The topping has oatmeal, pecans, and a little cinnamon and powdered ginger. It bakes up to a gorgeous bubbly warm dessert topped with a scoop of vanilla ice cream.  Or three scoops for a certain husband.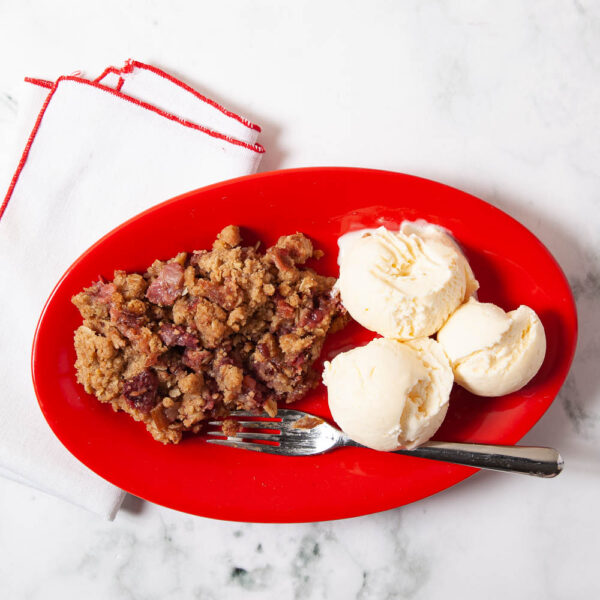 There are so many more recipes to explore year-round in this cookbook.  The chapters are divided into "Late Spring and Early Summer" (AKA- We brake for Salad Greens),  "High Summer" (AKA- Tomatoes and Green Beans and Squash- Oh My!) and "Indian Summer and Early Fall"  (AKA- The Bonus Season).  Here is only a sampling of recipes I want to try:  Deviled Eggs with Spinach, Basil, and Toasted Pine Nut Pesto; Spinach Cobb Salad with Bacon, Blue Cheese, and Avocado; May Day Radish and Parsley Salad with Lemon and Ginger; Summer Veggie-Palooza Paella; Pattypan Stir Fry with Far East Flavors; Peppermint Lemonade Soda; Herb and Lemon Marinated Feta; Braised Chicken Thighs with Chipotle-Plum Tomato Sauce; Pear Streusel Coffee Cake; Grilled Bread with Stilton and Rosemary-Maple Drizzle; and Big Molasses Crinkle Cookies.
I could go on and on, but you get the idea of what's inside to explore.  For now, start with the Spring crisp and you'll want to buy the book to cook for all seasons.
Gingery Strawberry-Rhubarb Crisp
Author:
Fresh From the Farm by Susie Middleton
Ingredients
Topping:
8 Tablespoons unsalted butter (1 stick), softened (plus extra for buttering dish)
1 cup unbleached all-purpose flour
¼ cup finely chopped pecans
½ cup packed light brown sugar
½ cup old-fashioned rolled oats
¼ teaspoon kosher salt
¼ teaspoon ground cinnamon
⅛ teaspoon ground ginger
Filling:
2-1/2 cups hulled quartered strawberries
2'1/2 cups rhubarb stalks, cut ½-inch thick
½ cup plus 2 Tablespoons sugar
3 Tablespoons unbleached all-purpose flour
2 Tablespoons finely chopped crystallized ginger
2 teaspoons vanilla extract
1 teaspoon balsamic vinegar
¼ teaspoon kosher salt
For Serving: Vanilla ice cream or whipped cream
Instructions
Heat oven to 350 degrees. Grease a shallow 2-quart baking dish with butter; set aside.
In a medium mixing bowl, combine all the topping ingredients and mix well with your fingers to form large crumbs. Set aside.
In a large mixing bowl combine all the filling ingredients and mix thoroughly. Place filling in prepared baking dish. Scatter evenly with the topping crumbs.
Bake until the topping is firm and golden, and juices are bubbly around the edges, about 45 minutes.
Let cool fpr 15 to 20 minutes and serve warm with ice cream or whipped cream. Serves 6.