When I make my favorite corned beef and cabbage for St. Patrick's Day, I never can find just a very small head of cabbage which is all I need because my husband doesn't like it.  He'll have extra carrots and baby potatoes to serve with the corned beef but never touches the cabbage.  Every year I end up buying a very large cabbage because that's all the stores seem to stock.  I guess they figure since it's St. Patrick's Day, shoppers will like a larger one.  So what do I do with the leftover raw cabbage after the celebration is over?  Make stuffed cabbage leaves, cabbage soup and of course, coleslaw which is exactly what I made.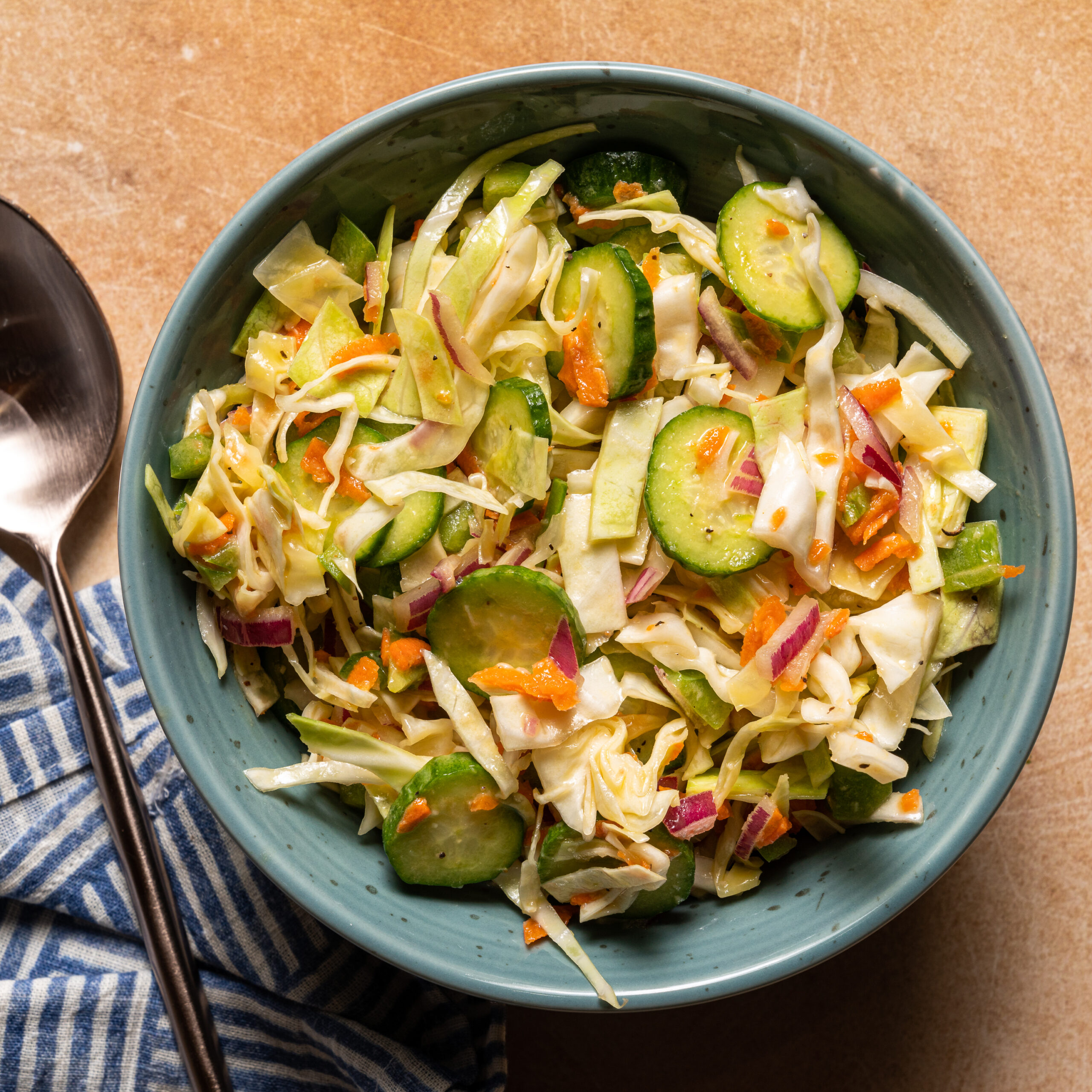 Cabbage is sliced thin and mixed with cucumber, shredded carrots, red onion, and green bell pepper, then tossed with a basic vinaigrette but I like to add some prepared horseradish for extra flavor.  My husband doesn't know what he's missing, but that means more for me.  This is a good one.

After St. Patrick's Day Coleslaw
Ingredients
4 cups thinly sliced green cabbage
1-1/2 cups seeded sliced cucumber (I like to use Persian cucumbers then no seeding needed)
1 cup coarsely shredded carrot
½ cup diced red onion
½ cup diced green bell pepper
¼ cup apple cider vinegar
1 Tablespoon granulated sugar
1 Tablespoon Dijon mustard
1 Tablespoon vegetable or canola oil
2 teaspoons prepared horseradish
½ teaspoon black pepper
¼ teaspoon table salt
Instructions
Combine cabbage, cucumber, carrot, red onion, and bell pepper in a large bowl or container with a lid. Toss well and set aside.
In another bowl place all ingredients and whisk until combined. Pour over cabbage mixture and toss gently to combine. Cover and chill 8 hours.
P.S.  Happy Birthday today to my youngest brother, Ken.