With Easter coming this Sunday, I am starting to gather meal ideas together.  Since I was in the hospital last week I had time to think about what I would like to make.  Hospital stays are never fun, but there is a lot of time to think when confined to an uncomfortable hospital bed.  In quiet times, even in a hospital, my mind always goes to my mom who I miss more than I can say.  I love thinking about the times we spent together in the kitchen or talking about new and old recipes we loved.
I started thinking about side dishes to have with a ham.  I remembered a cold pea salad my mom loved and decided to make it when I got home.  It was just as good as I remembered with peas, corn, cubes of cheddar cheese, chopped dill, either peanuts or cashews, and more.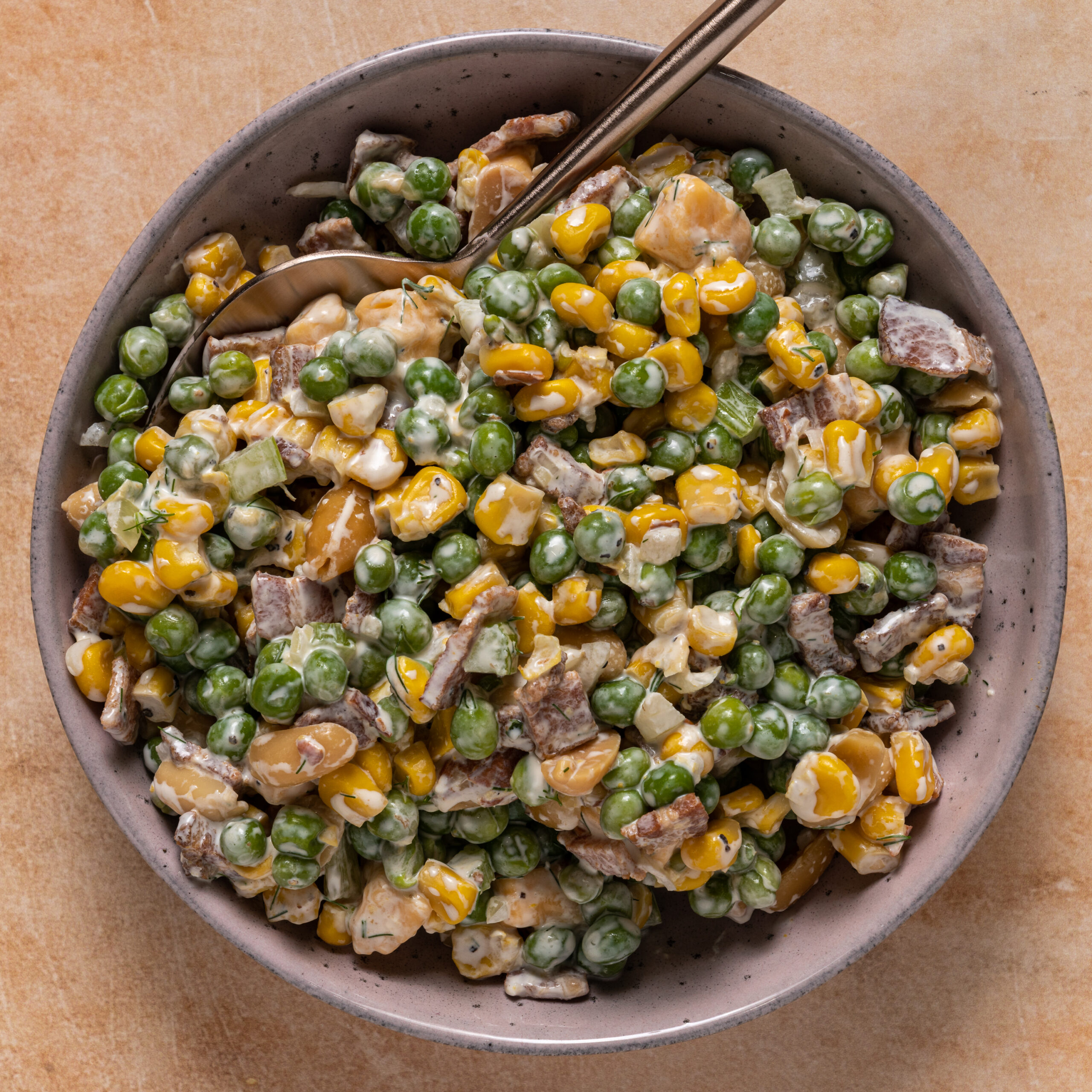 I'll be thinking of other ideas that I will share this week, but let's start with this yummy and easy salad.

Retro Cold Pea and Corn Salad
Ingredients
12 ounce package frozen baby petite peas, cooked as directed and well-drained
11 ounce can whole kernel corn, drained
½ cup diced bacon, cooked and drained
½ cup lightly salted peanuts or cashew pieces
½ cup diced celery
½ cup cubed block cheddar cheese (about ½" dice)
½ cup sour cream
⅓ cup finely chopped onions
¾ teaspoon table salt, or to taste
½ teaspoon freshly ground black pepper, or to taste
2 Tablespoons chopped fresh dill- optional
Instructions
Combine all ingredients in a serving bowl and gently stir to coat. Cover and chill until ready to serve. It can be made in the morning and ready for dinner.
I just came across this photo of a long ago Easter with me and my brothers, and of course with a bunny cake my mom made.  I still have that cake mold, and a lamb one too. I also must say that my (pre-Martha Stewart) mom made that table, my dress, and the chair cover peeking out on the left.  She was amazing.