So who is having flashbacks to Mitch Miller and his "Sing Along with Mitch" popular television show in the early '60's?  I can still see his face and watching him direct the men's choir with the words to songs flashing across the bottom of the screen so we could sing along at home.  My mom and grandmother loved his show and I would join in and sing with them.  I was probably in about fourth grade and felt so grown up being allowed to join in on this activity with them. They both knew almost all the lyrics and rarely had to look up as they knitted or sewed some kind of project on their lap.
One of my favorite parts of the show was at the end when a celebrity would be hidden and in disguise among the twenty-five choir members.  It was a game to find out who it was that week and how they were disguised.  Some celebrities included Johnny Carson, Jerry Lewis, Milton Berle, and even Shirley Temple.  The program ran from 1961 until the network canceled it in 1964, a victim of changing musical tastes like Elvis Presley and the Beatles.  Mitch Miller was not a fan of rock 'n roll and one of the reasons he wanted audiences to sing the 'Old Time" songs.  It was obvious that his audience was an older age group and advertisers wanted instead to target the youth market.
This whole scenario came back in a flash when I found mom's old clipping in her recipe box for "Mitch Miller's Salad Dressing."  So how did this come about?  Did he turn to cooking to ease the pain of being canceled?  Was it a recipe from his mother or wife?  I guess we'll never know but let me tell you about his salad dressing. It sounded very different so I had to make it.  Two hard-boiled eggs are mashed up to a paste along with salt, pepper, dry mustard, and dried basil.  It is then shaken in a jar with salad oil, wine vinegar, a splash of lemon juice, and red onion sliced into thin rings.  I used an old blue Ball canning jar to store it.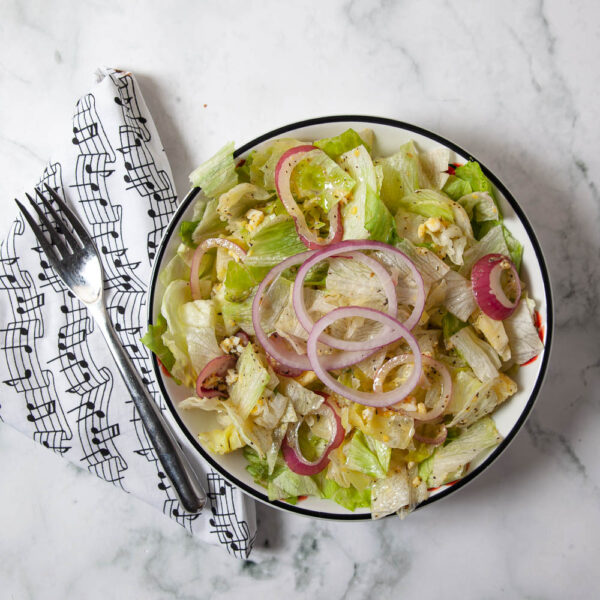 It was a rather unusual recipe and I was not sure how it would taste but it was good.  I am a big fan of red onion and loved how they got pickled as the dressing chilled and the flavors blended.  It's not the prettiest of dressings so shake it hard before tossing it with the lettuce and then you barely see the dressing except for the red onion.  Keep this dressing in mind when you have leftover hard-boiled eggs like at Easter.
Mom may have enjoyed the old-time Mitch Miller songs, but when she was in her 90's guess what her favorite song was-  Uptown Funk by Bruno Mars!  She would listen to that song and look up all the versions of people dancing to it on her iPad.  Sorry Mitch. But your salad dressing still made it into mom's recipe box.

Mitch Miller's Salad Dressing
Ingredients
2 hard-boiled eggs, peeled
1 teaspoon table salt
1 teaspoon dry mustard'
½ teaspoon ground black pepper
½ teaspoon dried basil
¾ cup salad oil
¼ cup white wine vinegar
1 teaspoon fresh lemon juice
1 medium red onion, sliced thinly into rings
1 small head iceberg lettuce, torn or cut into chunks (or your favorite lettuce)
Instructions
Chop up the eggs, and with a fork, make a paste of the eggs with the salt, dry mustard, pepper, and basil. Spoon into mixture into a mason or other container.
To the jar add the salad oil, vinegar, lemon juice, and onion rings, saving some for garnish. Shake well, then refrigerate to blend flavors.
Just before serving, place lettuce in a salad bowl. Shake the dressing well and pour desired amount over the lettuce and toss well. Garnish the top of salad with reserved onion rings and serve immediately.