The minute a flake of snow hits the ground as it did yesterday,  I have to make soup.  It's like a reflex living in a cold climate.  My mom's favorite meal throughout her life was soup.  She loved this recipe for Minestrone that she found in the early 1960's.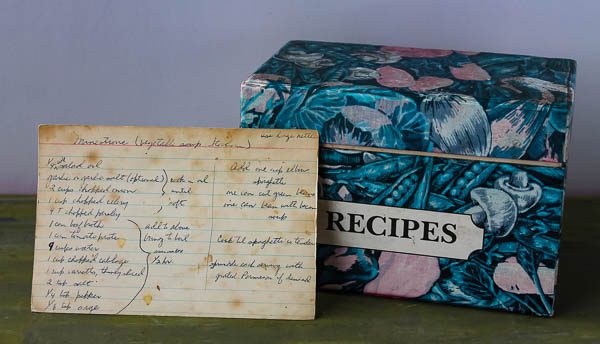 I knew the recipe would be in my mom's recipe box, as I have seen it a million times.  It definitely is showing its wear and I wouldn't want it any other way.  I love old recipe cards with the ingredients splashed all over it from years of use, and especially because it is in my mom's handwriting.  For whatever reason, my highly intelligent mom always spelled "carrots" incorrectly.  To her, it was "carrotts."  It became our recipe joke over the years, and she would shake her head and say, "I have  no idea why I keep doing that!"
The recipe itself is recognizable as being from the early '60's as it uses a few canned products mixed in with all the fresh ingredients, and the elbow macaroni is called elbow spaghetti.  The grocery aisles today have endless varieties of pasta, but fifty years or so ago you wouldn't hear pasta, everything was spaghetti no matter what the shape, at least in our suburban area.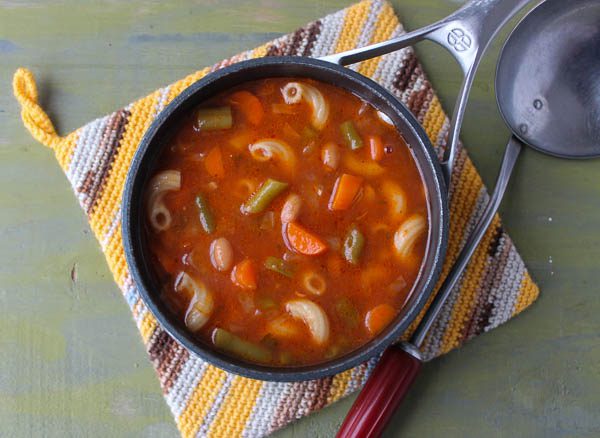 The soup is easy to make and delicious.  There is cabbage, celery, onion, parsley and carrots, along with the canned items of beef broth, sliced green beans, and a can of Bean with Bacon Soup that actually adds a nice touch of smokiness.  It goes together quickly and dinner is ready in less than 45 minutes.  I served it with some great French bread that my husband Bill and daughter Kristina picked up from a bakery in Chicago.
Later tonight more snow and icy conditions are expected.  What soup shall I make next?

Mom's Minestrone
Ingredients
¼ cup canola or olive oil
Dash of garlic salt, optional
2 cups chopped onion
1 cup chopped celery
4 Tablespoons chopped parsley
1 can (15 or 16 ounces) beef broth
1 small can tomato paste
8 cups water (my mom changed it to 9 cups somewhere along the way, but I use 8)
1 cup chopped green cabbage
1 cup sliced carrots
2 teaspoons table salt, or to taste
¼ teaspoon ground black pepper
¼ teaspoon rubbed sage
1 cup elbow macaroni
1 can (about 15 ounces) cut green beans, drained
1 can (10-3/4 ounces) Campbell's Bean with Bacon Soup
Grated Parmesan for serving, if desired
Instructions
Heat oil in a large pot or Dutch oven. Sprinkle in some garlic salt, onion, celery, and parsley. Saute until vegetables have softened.
Add the beef broth, tomato paste, water, cabbage, carrots, salt, pepper, and sage. Bring to a boil, reduce heat, and simmer gently for 30 minutes.
Add the macaroni, green beans, and Bean with Bacon soup. Cook until the macaroni is just tender, about 8 minutes. Serve with some Parmesan sprinkled on top, if desired.