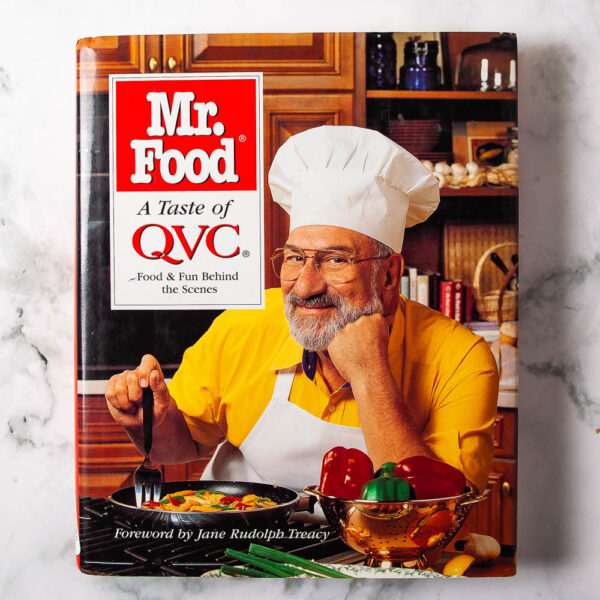 At the time this book was published in 1997, Art Ginsberg AKA Mr. Food, his King World syndicated television appearances were the largest food news insert in the nation, seen in more than 400 cities.  He had sold more than 2 million of his Mr. Food cookbooks and Mr. Food's Easy Cooking Magazine.  He was known for his catch phrase, "Ooh, it's so good!'
Mr. Food's frequent appearances on QVC cooking segments also helped him to become a household name.  The recipes in this cookbook are not just from him, but also from various QVC hosts, producers, and others, who share family recipes and stories, while Mr. Food  answered viewer letters and requests for kitchen help.  His recipes were easy to make with a touch of his humor and charm thrown in the mix,
One of my readers, Anne Clifford from New Jersey, sent me this cookbook, writing that it was one of her favorites.  Not only does Anne enjoy cooking, she also is on Etsy under the name Scentsy where you will find lovely warmers and fragrances, along with other items.  Check it out at ANNEKATHLEENC.SCENTSY.US for more info.  Thank you for the book, Anne!
I selected this recipe, "Kelley's French Onion-Mustard Tart" for several reasons.  It contains several ingredients I love like Boursin cheese, sour cream, Dijon mustard, and onions.  I had a huge bag of onions in my pantry just waiting for a recipe like this.  Kelley is Paul Kelley who was in charge of QVC's 50 in 50 Tour, and known as "The Traveling QVC Ambassador."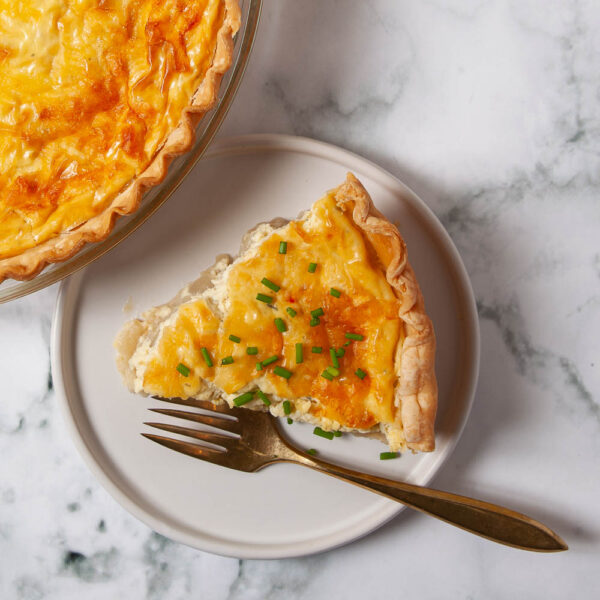 The pie was delicious!  So full of flavor and easy to make using an  all-ready pie crust.  The chives are my addition because I have some in my garden and I liked the splash of color.  Some other recipes I would like to make include a maple-walnut fudge, Portobello Wellington, Toffee Almond Popcorn, and the famous Wisconsin State Fair Cream Puffs, which I have actually enjoyed at the Wisconsin State years ago when we took our girls there for a fun summer adventure.
I hope you enjoy the onion pie.  I can assure you – "Ooh, it's so good!"

Kelley's French Onion-Mustard Pie
Author:
Paul Kelley from the cookbook, Mr. Food, A Taste of QVC
Ingredients
2 Tablespoons butter
6 medium onions, peeled and thinly sliced
1 package (around 4 or 5 ounces) Boursin Herb Cheese Spread
1 cup sour cream
2 eggs
2 Tablespoons original Dijon mustard
2 Tablespoons minced garlic
1 folded refrigerated pie crust (from a 15-ounce package)
½ pound Gruyère cheese, shredded
Instructions
Preheat oven to 350 degrees F. In a soup pot, melt the butter over medium heat. Add onions and sauté for 8 to 10 minutes, or until tender,
In bowl of electric mixer on medium speed, beat the Boursin, sour cream, eggs, mustard, and garlic until smooth. Unfold the pie crust following directions on box, and place in a 9-inch deep dish pie plate, pressing the crust firmly onto the plate.
Place the onions in the pie crust, then evenly pour in the cheese mixture over onions. Sprinkle with the Gruyère cheese and bake for about 45 to 50 minutes or until golden and set. Remove from oven and let sit for 20 minutes before cutting into wedges.