My loyal readers know how much I love the vintage food (and craft) magazine, Sphere,  from the 1970's.  It had a short but sweet run.  One such reader is Barb Retherford from Michigan who also loved Sphere,  sent me one of the two cookbooks that Sphere published.  The first was called "When You're Entertaining," and the second, "When You're Entertaining Internationally," which is the one Barb sent.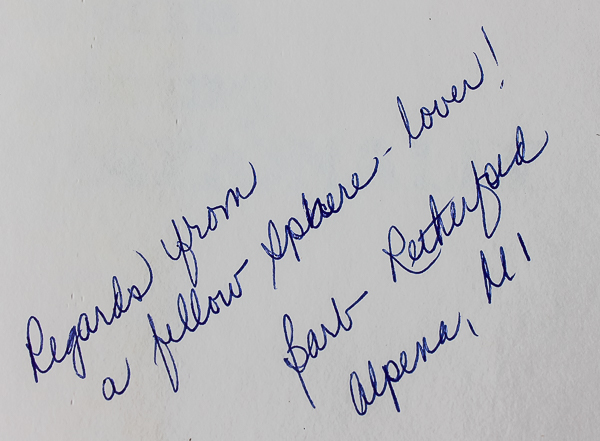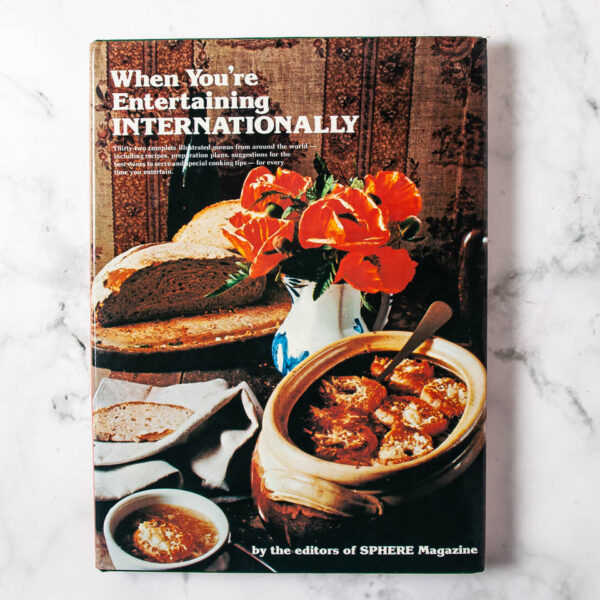 The cookbook has 32 menus from almost as many places around the world, each lavishly illustrated with photographs  of the food and the region.  Each menu begins with appetizers all the way to desserts, and even wine selections.  You will find delicious menus from Argentina, Turkey, the South Sea Islands, a traditional Christmas in Nova Scotia, a Russian Easter dinner, a British sweet trolley, a Finnish coffee table, a French picnic, a Colonial Holiday Feast, a Scottish picnic, a Hungarian Buffet, and so many more.
I decided to go exotic and found a menu called "A Tunisian Temptation."  The menu begins with two appetizers of shrimp with a delicious tomato-based sauce, and pastry triangles stuffed with egg and tuna; main dishes of chicken stuffed with olives, an eggplant salad with roasted red peppers, and for sweets  oranges with pomegranate, fresh dates, and mint tea.
Since I had shrimp on hand I made the Grilled Shrimp with Sauce Kerkennaise (Crevettes Grilles a la Kerkennaise).  It was beautiful and delicious!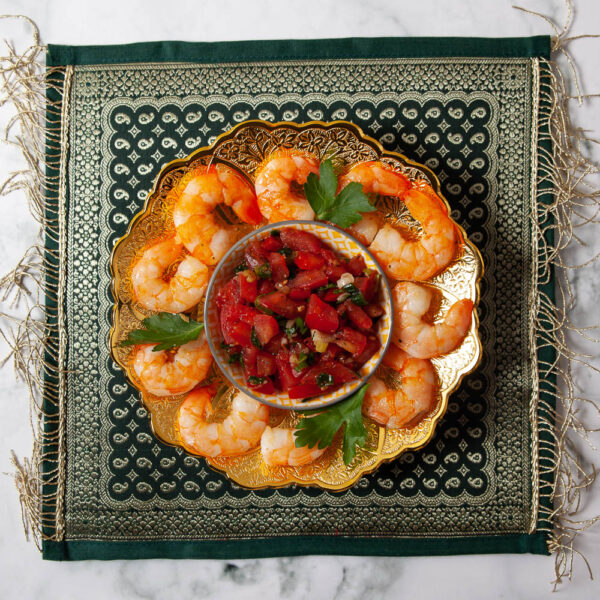 The warm shrimp scooped up with some of the sauce was a taste sensation.  I love the hot and cold combo in one bite.  The shrimp are broiled or grilled on skewers, then pushed off the skewer and placed around the sauce for a delicious appetizer.
I absolutely love this cookbook.  Thank you, Barb!  It has a home on a special shelf of favorites in The Culinary Cellar.

Grilled Shrimp with Sauce Kerkennaise
Author:
From the Editors of Sphere Magazine
Ingredients
2 pounds large shrimp, cleaned and deveined
Olive oil
Salt
Pepper
Lime wedges, parsley sprigs for garnish
Sauce Kerkennaise:
2 cups peeled and chopped tomatoes
⅓ cup olive oil
¼ cup chopped fresh parsley
2 Tablespoons minced green onion
1 clove garlic, crushed
½ teaspoon salt
½ teaspoon black pepper
½ teaspoon crushed red pepper
½ teaspoon sugar
Instructions
For Shrimp: Thread shrimp on small skewers. Brush with olive oil and lightly sprinkle with salt and pepper. Broil or grill until shrimp turn pink, about 3 minutes on each side. Remove shrimp from skewers and place around a bowl of prepared sauce. Garnish with lime wedges and parsley sprigs.
For Sauce: Combine all sauce ingredients. Stir and refrigerate. (lime can be squeezed over shrimp if desired before dipping into sauce).