That poor Iowa cookbook I wrote about on my previous blog from Friday.  I wore it out even more and had to add more tape here and there.  But I couldn't put it down all weekend!  There are so many fascinating old recipes to be made.  I selected this particular one because I happened to have all the ingredients on hand and it sounded interesting.  There is an entire chapter simply called "Puddings" even though there is not one pudding as we think of pudding.  There is even a poem included about puddings.  Over five pages you will find plum pudding, date pudding, sauces for pudding, cherry pudding, lemon fluff pudding (that one is next on my list), raisin pudding, and several suet puddings, which I doubt I will ever try.
I made the "Cottage Pudding with Hot Nutmeg Sauce."  I love nutmeg.  Is there anything more fragrant than freshly grated nutmeg?  As I mentioned, there was nothing pudding about the pudding  recipes.  The cottage pudding was actually just a nice white cake with a beautiful soft crumb and a nice golden exterior, baked in an 8-inch square pan.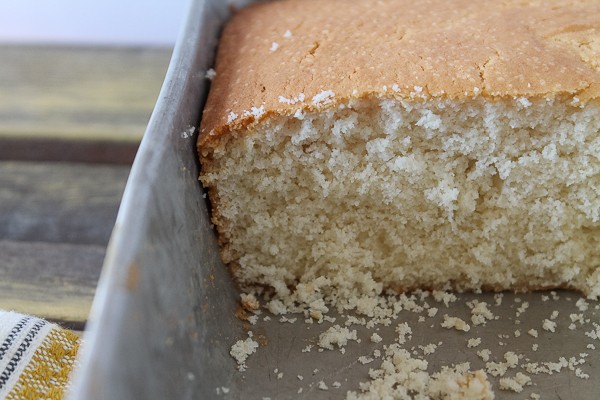 The hot nutmeg sauce was wonderful and so easy to make.  Freshly grated nutmeg is best, but prepared is fine too.  The recipe calls for 1/2 teaspoon or more; I went on the more side.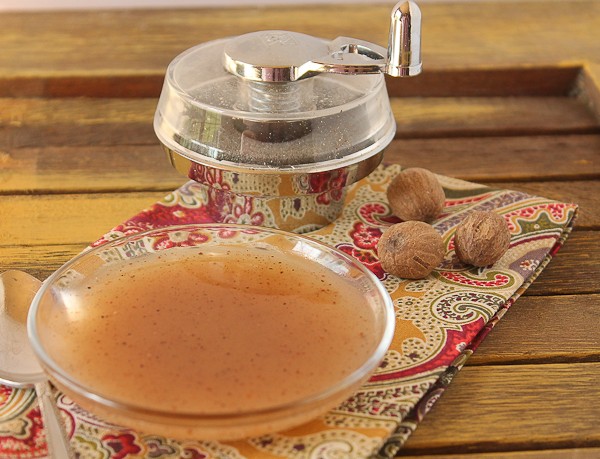 I called my mom to tell her I was making another recipe from the Iowa cookbook as it belonged to her Aunt Margie, my Great Aunt, who was my grandmother's sister.  I told mom about the hot nutmeg sauce and she remembered that her mother used to make it often.  So often in fact, that my grandfather used to ask for it but didn't know what it was called.  My mom said he called it something like "gunk."  He would say, "Do you have any of that gunk sauce?"  Mom said it wasn't gunk, but some funny word like that.  So of course now I can think of nothing but gunk sauce.  So gunk sauce it will be…
Mom said it's great on gingerbread.  I can imagine it's also good on apple pie, pound cake, ice cream, pancakes, waffles, etc.  Use your imagination and go gunk something up.  But here's how it looks if you make it like the recipe in the book.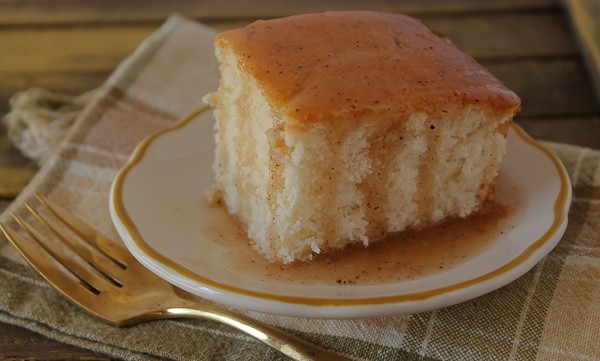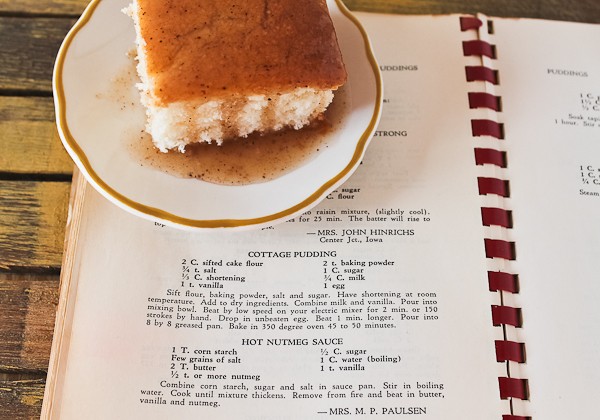 This will make it easier to see and I put ingredients in correct order:

Cottage Pudding with Hot Nutmeg Sauce
Author:
Mrs. M. P. Paulsen
Ingredients
For Pudding:
2 cups sifted cake flour
2 teaspoons baking powder
¾ teaspoon salt
1 cup sugar
⅓ cup shortening (solid Crisco)
¾ cup milk
1 teaspoon vanilla
1 egg
For Hot Nutmeg Sauce:
1 Tablespoon cornstarch
½ cup sugar
Few grains of salt
1 cup boiling water
2 Tablespoons butter
1 teaspoon vanilla
½ teaspoon or more grated nutmeg
Instructions
For Cottage Pudding:
Heat oven to 350 degrees. Grease an 8-inch square pan.
Sift flour, baking powder, salt, and sugar into mixing bowl. Add shortening and mix to blend into flour mixture. (by hand or in electric mixer). Combine milk and vanilla; add to flour/shortening mixture. Beat on low speed for 2 minutes or by hand 150 strokes. Add the egg and beat another minute. Pour into prepared pan and bake for about 40-45 minutes or until a tester comes out clean when inserted in the center. Place pan on wire rack while preparing nutmeg sauce.
For Hot Nutmeg Sauce:
Combine cornstarch, sugar, and salt in a small saucepan. Stir in boiling water. Cook, stirring constantly, until thickened. Remove from heat and beat in butter, vanilla, and nutmeg. Serve hot with pieces of warm cottage pudding.