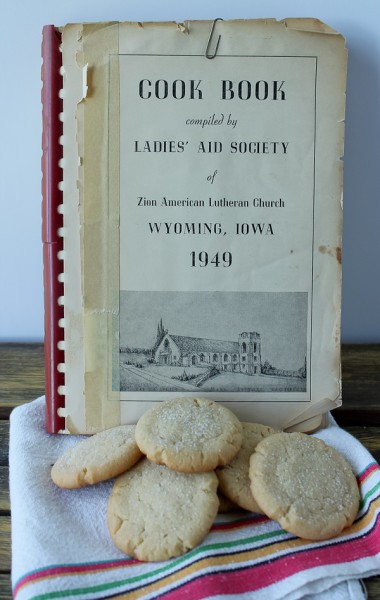 This is a well-loved cookbook as you can see.  It's splattered and held together with old masking tape and paper clips.  It belonged to my beloved Great Aunt Margie who used it often.  She made the world's best sugar cookies, but unfortunately it's not the ones pictured here.  That recipe was never written down as far as I know; it was only in her head.  I had to try for second best and decided a good place to start was with her old 1949 church cookbook.  There were many sugar cookies from which to choose and since I grew up with great Iowa cooks, I knew any one that I selected would be good.  I also decided to go into the Culinary Cellar and find Aunt Margie's Willow Ware that I haven't used in a while.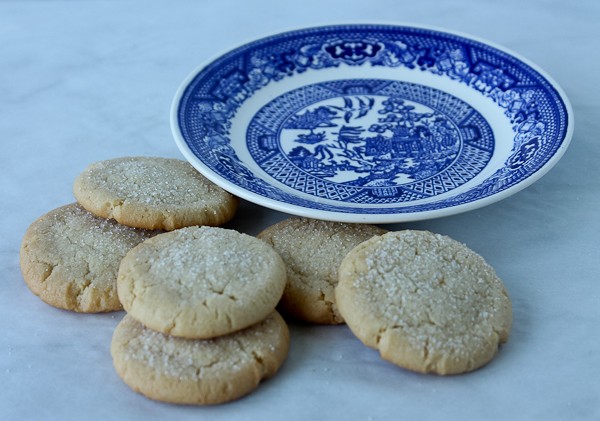 While looking for the Willow Ware I also came across something wrapped in a kitchen towel.  I had forgotten about Aunt Margie's old ceramic measuring spoons.  I can still see these hanging next to the sink in her tiny, happy kitchen.  She must have dropped them numerous times but always glued them back together.  I wish I knew where she got them or who gave them to her, because they obviously were very special.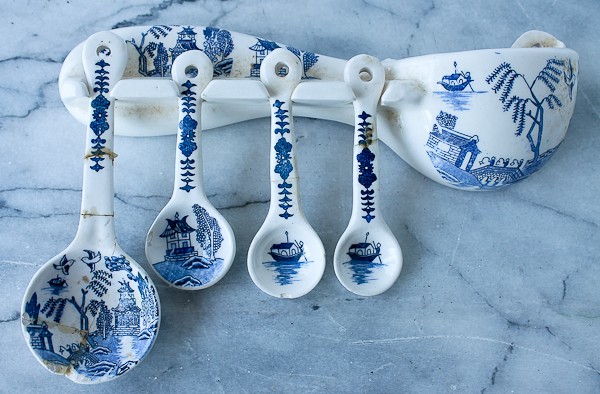 The sugar cookies turned out great and my cookie monster husband was very happy.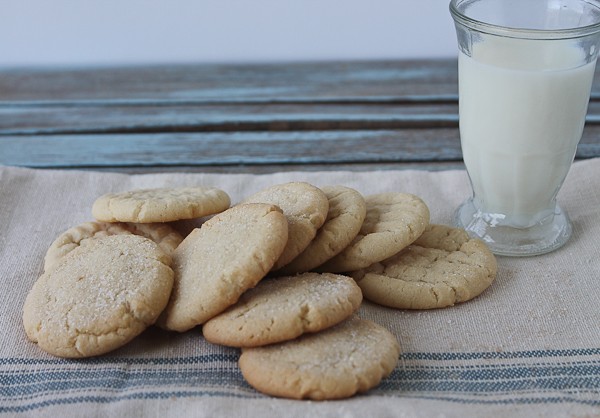 These are not rolled cookies and cut into shapes but formed into balls and the tops pressed down with a sugared glass bottom, or the recipe said they could also be crisscrossed with a fork.  I did both, but prefer the glass method.
It wasn't until after I made the cookies that I looked at the name and town of the person who submitted the recipe.  The cookbook had recipes from Wyoming, Iowa but also those living in surrounding communities and all from Jones County.  The submitter, Mrs. J.G. Mardorf was from Monticello, 19 miles away.  It occurred to me that Monticello and Jones County had been in the news in the last week but I couldn't remember what it was so I Googled it.  Of course… it was the Iowa town and county where Hillary Clinton decided to begin her presidential campaign.  I then recalled back in 1992 when Family Circle magazine initiated its "Presidential First Lady Cookie Contest," which they were inspired to start when Hillary once remarked that she "didn't want to stay home and bake cookies."  So in the 1992 election, Family Circle asked their readers to choose between a favorite cookie from Hillary Clinton and Barbara Bush.  Hillary's cookie won and the magazine has continued the tradition of this cookie war.  And apparently all but one winner went on to live in the White House.  Does this mean that Bill Clinton must submit a cookie recipe this time?  Anyone see Bill as a cookie baker?   Well, if you do need a cookie recipe Mr. President, I suggest you use Mrs. Mardorf's sugar cookies.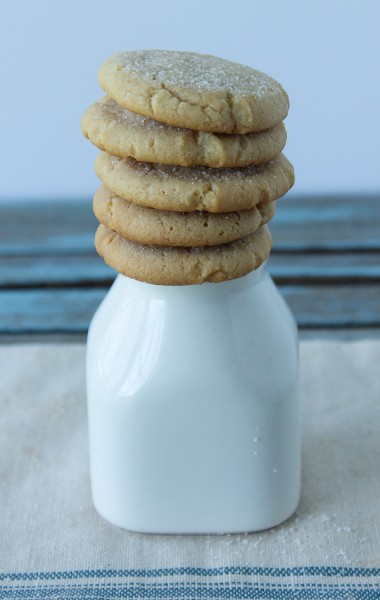 Soft Sugar Cookies
Author:
Mrs. J.G. Mardorf of Monticello, Iowa
Ingredients
1 cup white sugar
¾ cup packed brown sugar
1 cup shortening *
2 eggs
½ teaspoon baking soda dissolved in ½ teaspoon hot water
3 cups (all-purpose) flour
4 teaspoons baking powder
1 teaspoon salt
1 teaspoon vanilla
Note: Use Crisco sticks for the shortening, but I wonder if Mrs. Mardorf used lard as many cooks did back then. Also, if you want a crispier cookie, use ½ cup softened unsalted butter and ½ cup solid Crisco instead of all Crisco.
Instructions
Mix in order given. Roll into small balls and press down with a glass dipped in sugar or press with a sugared fork. Bake for 10 minutes at 350 degrees or until cookies are golden around the edges.
This is how the instructions are written in the book. I lined cookie sheets with parchment paper and used a Kitchen Aid mixer!
I found this old photo of Aunt Margie's Pontiac.  I don't think she drove it much except to and from church, the store, the library in town where she was the only librarian, or to visit her friends out on the farms.  That's me on the front left with my brother and cousins.  I loved washing that old car until it sparkled, but not as much as I enjoyed making cookies with Aunt Margie.