Everyone knows that one must buy tickets for the theater, opera, or symphony, but how about for a restaurant?  Chef Grant Achatz's restaurant "Next" is like nothing you will ever experience in the world of fine dining.  Located in Chicago's meatpacking district just west of downtown, Next is not your traditional restaurant.  The menu changes every four months, focusing on a different time period or place in the world.  Past themes have been "Paris, 1906," "Thailand," "Childhood," "Tribute to El Bulli," "Sicily," "Kyoto," and currently, "The Hunt."  Next is a production, complete with a dining room that one could say even resembles a theater, with its track running through the center of the intimate dining area into the stage of a kitchen.  The restaurant even makes an online trailer, just like a movie trailer, for each of its menus.  The only way to reserve a spot in the restaurant is to buy tickets in advance for each production, or season tickets are also available.  Sometimes people will buy tickets and sell them on Craig's List, although the restaurant does not encourage this practice.  For the El Bulli -inspired menu, Achatz held a Dutch auction to raise money for charity.  In two days, the auction prices ranged from $4,000 to $5,000 –  for parties of two.  We have been so lucky to have scored tickets, thanks to daughter Kristina,  for "Thailand" and "Childhood," and just returned from "The Hunt."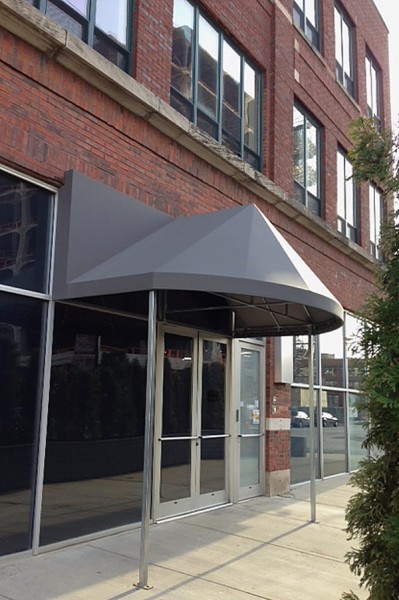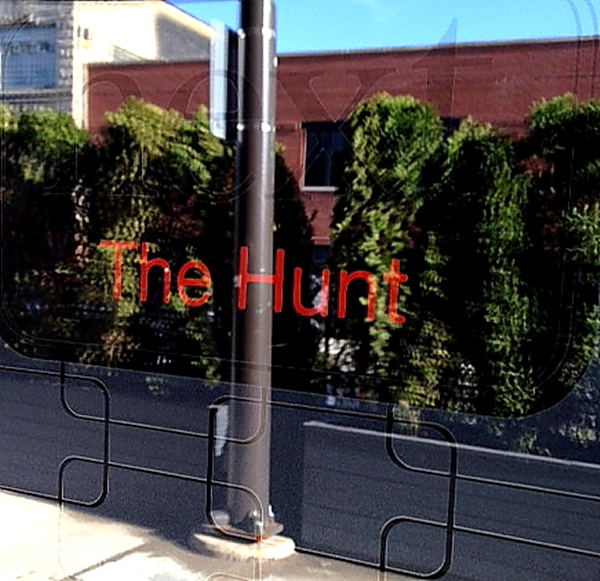 If not for "The Hunt" on the window, it would be easy to just pass by the restaurant.  There are tall bushes that hide the front of the building and it would be easy to miss it while driving.   As we pulled up,  a valet popped out from behind the bushes to take our car.  Since we were at the first seating at 5:30 and were almost 10 minutes early, we had to wait for the door to open.  Just a reminder if you have tickets – don't be late.  Ever.  You will lose your coveted seats, and your money.  No refunds.
Someone came out to let us and two other couples into the dining area.  The minute the door opens, the heavenly aromas hit your senses.  Another reminder – don't eat much during the day.  Save everything for this meal.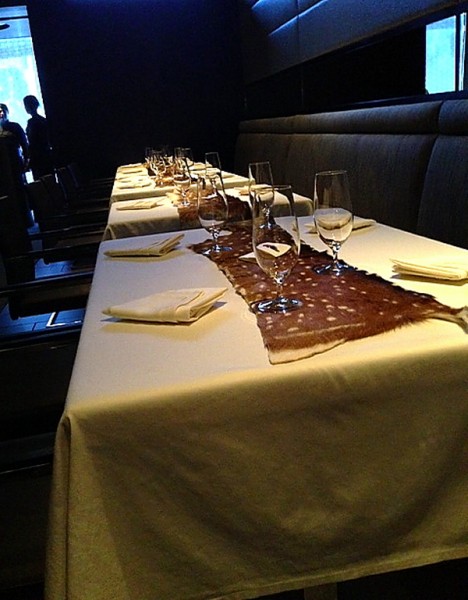 Each table had a runner of deer pelts, complete with a tail.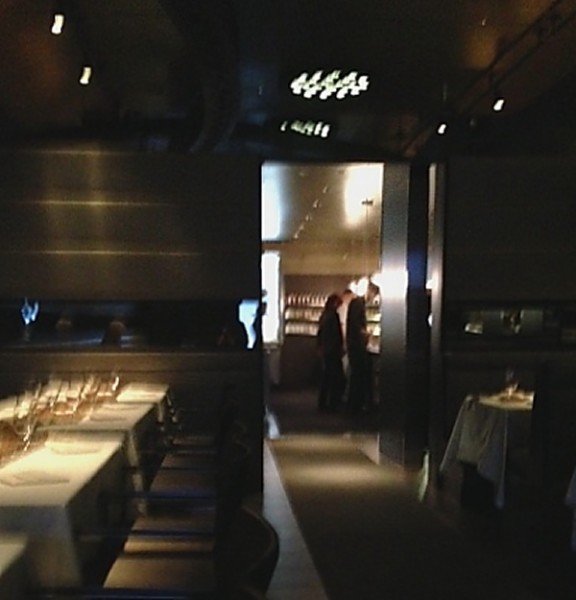 View of the kitchen where the magic begins.
After being seated, we were presented with an envelope: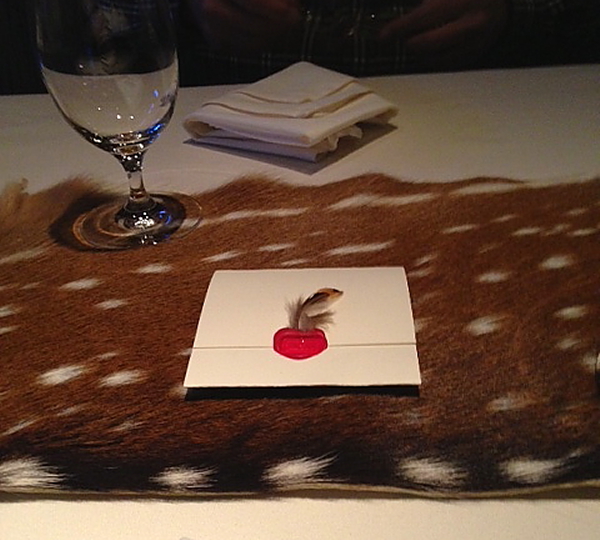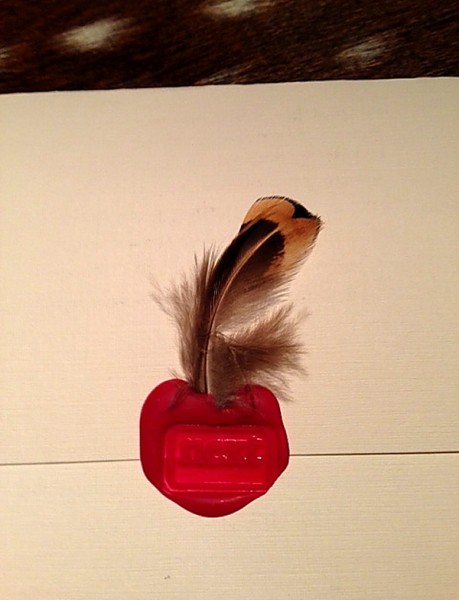 Part of the text stated: "With this menu we want to explore facets of hunting beyond basic ideas of game meats and hunting as sport, broadening our outlook to include fishing, foraging, and preservation.  And because hunting and the outdoors are inseparable, the menu embraces nature throughout."  It continues, "Hunters have shown respect for their prey by using as much of the animal as possible and by preserving and processing even the seemingly less desirable parts.  In a culture that gets nearly all of its meat from factory farms, hunting is a celebration of the animal and its locale: of using what surrounds you-  flora and fauna- to the fullest extent in order to nourish.  Please join us on The Hunt."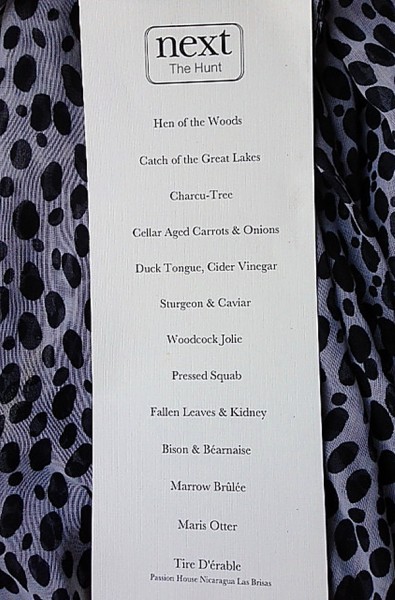 The Menu.
Research for "The Hunt" and all other productions involves reading, menu testing, and traveling, a process taking 8-10 weeks.  For the past "Kyoto" menu, a team flew to Japan.  For "The Hunt," artists were found to make rustic plates, birch bark to serve as dishes, and how to clean and reuse them.  At Next, everything tells a story.  Are you ready for Mother Nature?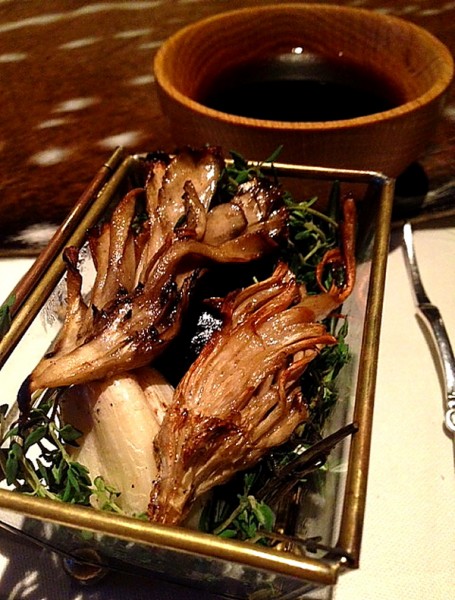 The first course arrives in a glass mini terrarium filled with fragrant herbs and hen-of-the-woods mushrooms, garlic, and shallots.  Silver French walnut picks are offered to spear the mushrooms.  Alongside is a wooden bowl of a cremini mushroom consommé, which was like liquid gold.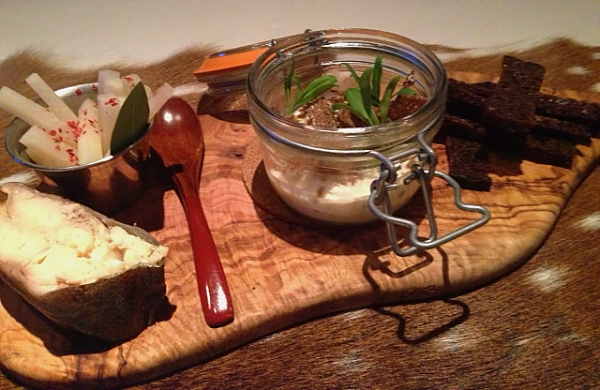 In a tribute to "Catch of the Great Lakes," a wooden plank with a pile of smoked trout, potted walleye rillettes and smoked sturgeon, pickled kohlrabi sliced into matchsticks, and my husband's favorite, toasted pumpernickel pieces stacked like campfire logs.
The "Charcu-Tree" arrived with some small items I could not immediately identify.  The beautiful logs each had five items resting on smooth white rocks, which served as the eating utensil.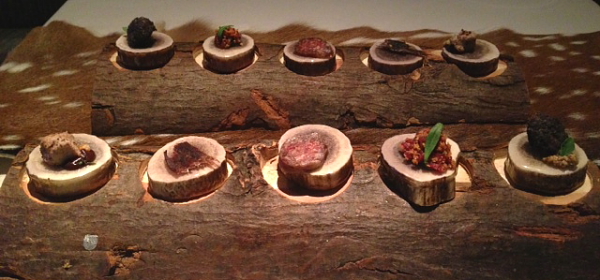 From left to right: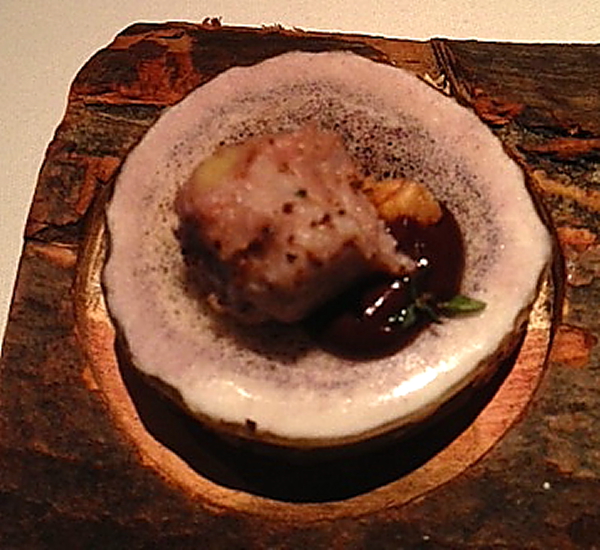 Soft Rabbit Pate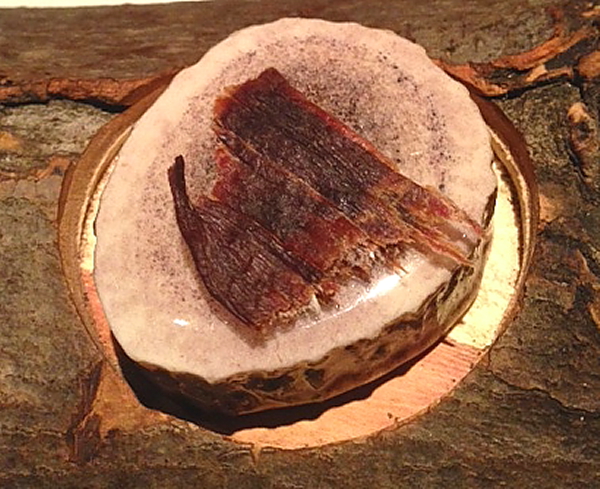 Chewy Elk Jerky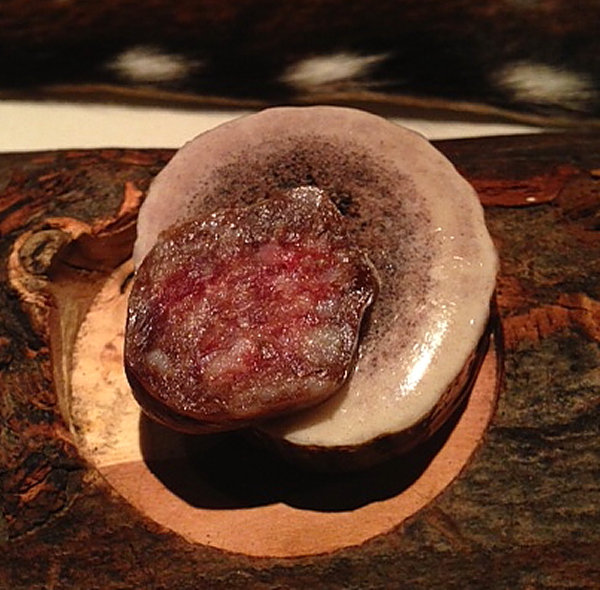 45 Day-Aged Boar Salume
Venison Heart Tartare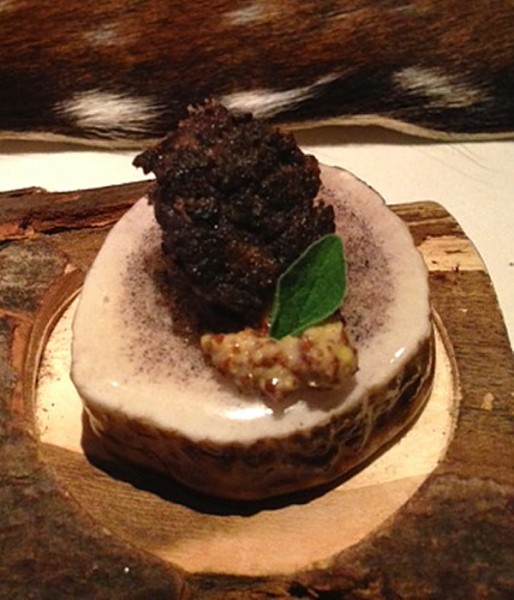 Blood Sausage
I had no problem with the first three, but venison heart tartare has never been on my list of things to try, and I don't like blood sausage.  The venison turned out to be my favorite of the five, and I will eat blood sausage again.  My husband declared it was better than what he had in Germany.
Don't think for a second that these are any ordinary carrots.  Farmers around the Midwest were instructed to pull 600 pounds of carrots out of the ground on the first frost back in October.  The carrots were then buried in mounds of sawdust, which  dries out and sweetens them.  When brought to Next for  the Hunt, they are roasted until soft and very sweet, with bold flavors and beautiful color.  We kept wishing the surrounding carrot sauce could have been put in bowls to eat like a soup.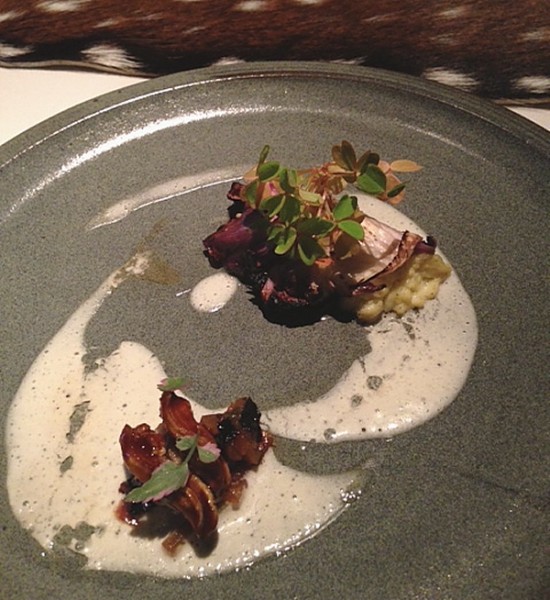 This is a bacon-and-eggs composition of radicchio-wrapped scrambled duck eggs alongside smoked duck tongue with splashes of apple cider vinegar.  Bacon and eggs will never be the same again.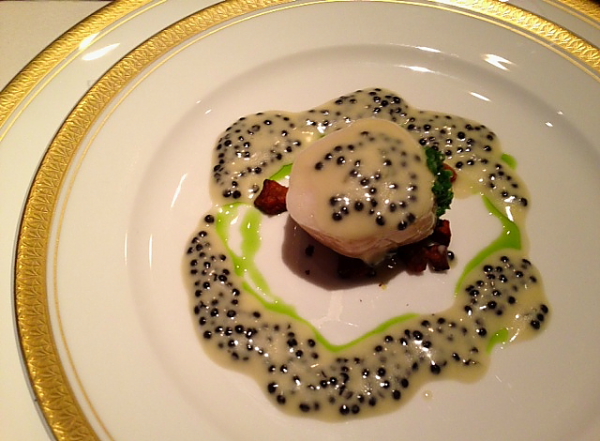 The next showstopper was brought on beautiful gold-rimmed china plates.  Sturgeon was placed over crisped sunchokes with an insanely good caviar-butter sauce.  It looked like a painting.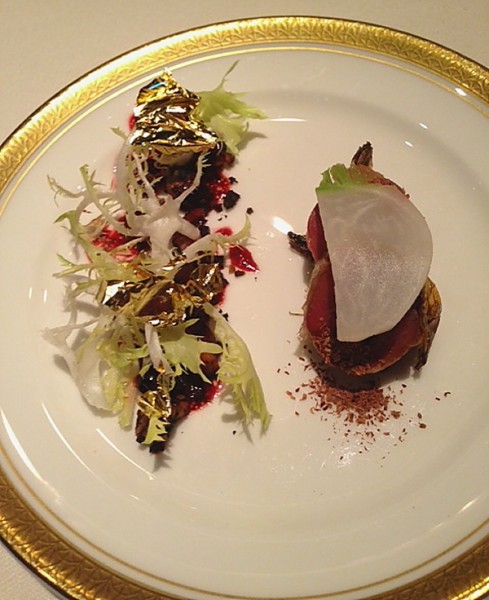 Woodcock  medallions are stuffed with its offal (minced liver and heart with a touch of truffle) and topped with tiny slivers of unsweetened chocolate.  Another work of art.
We knew something special was coming up when the server suddenly appeared with a candelabra for the table.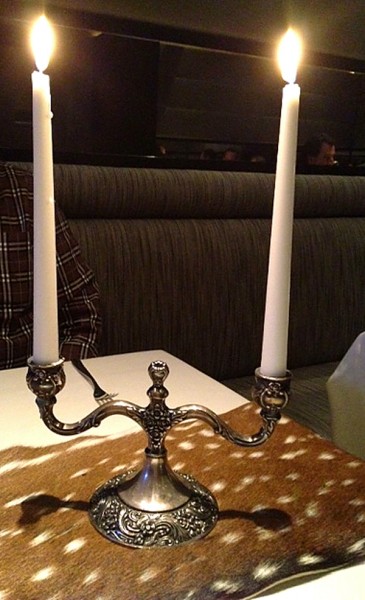 The centerpiece of the menu was squab, from the beak to the tail.   We knew something was up when the server also brought us steaming hot towels.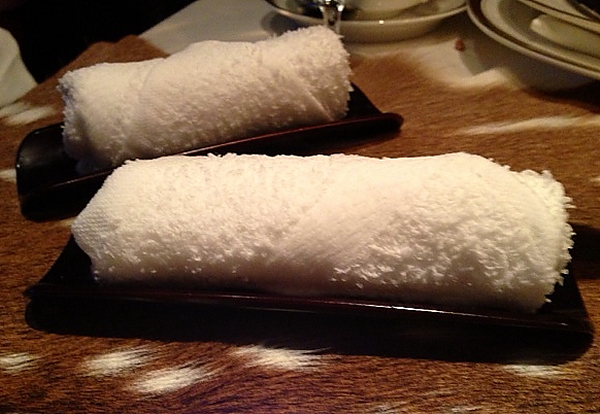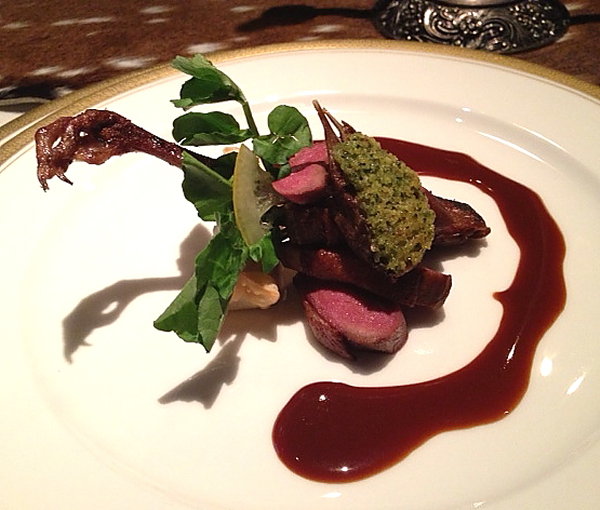 The squab breast, leg, head, and brain are on the plate, along with a small dough-wrapped package of innards and a sauce of squab jus, cognac, and red wine.   We were instructed to gnaw on the bones of the squab, hence the hot towels.  Brought in at the same time was a bowl of roasted carcass pieces of squab.  More towels needed.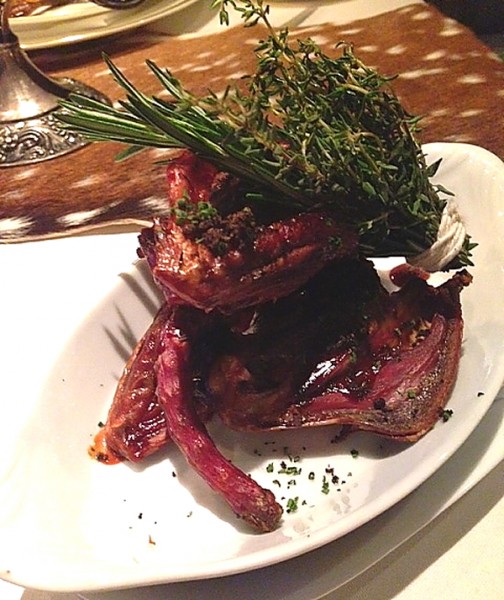 Alongside was a bowl of savory oatmeal porridge that contained more bits of squab, a little foie gras and duck fat, and including more of that delectable wine sauce rimmed on the edges.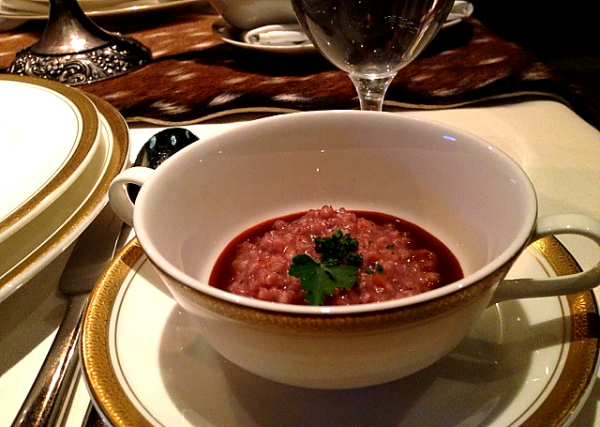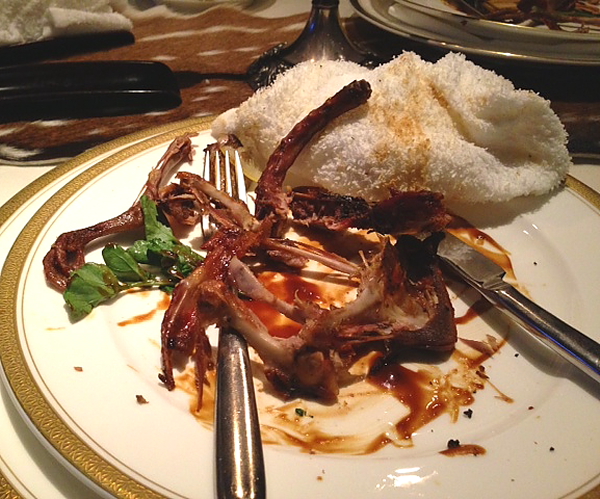 Yes, the towels took a beating.  I felt bad for the woman at the table next to us who was wearing all white.  Funny how what was probably the most elegant part of the experience was also the most messy.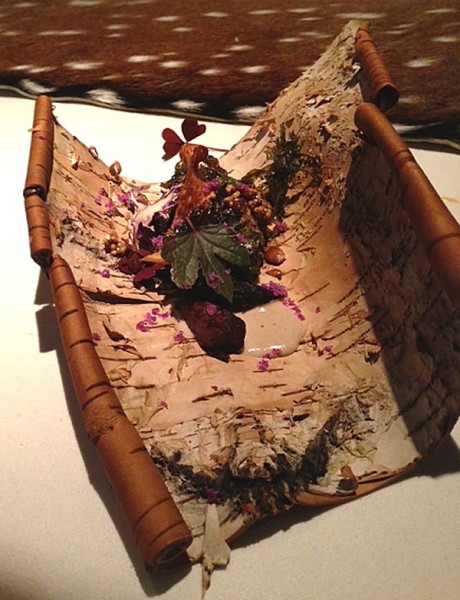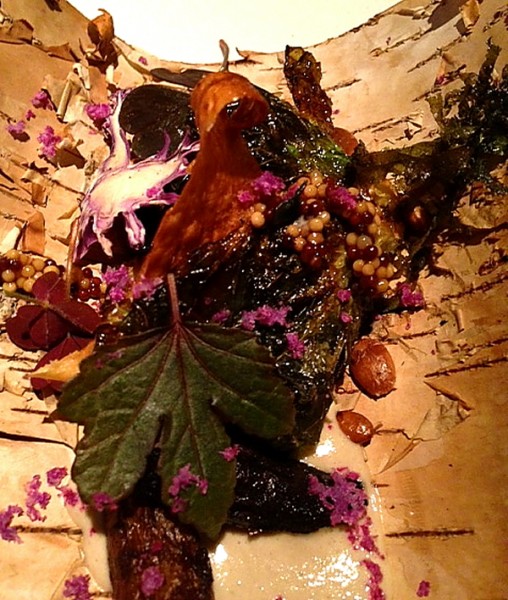 These stunning curls of birch bark contained a gorgeous composition called "Fallen Leaves and Kidney."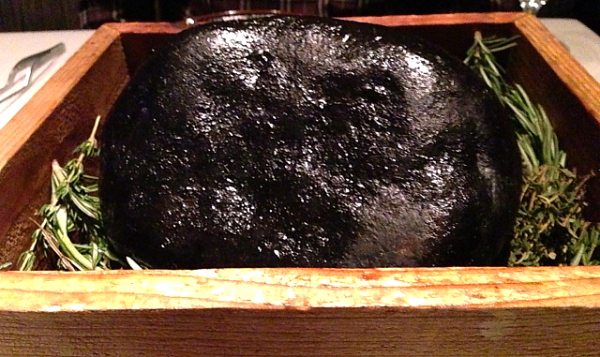 I could smell this next dish before the server even made it to the table.  Sitting on a bed of fragrant rosemary and thyme leaves was a very hot rock.  Placed next to it was a plate containing small rounds of bison.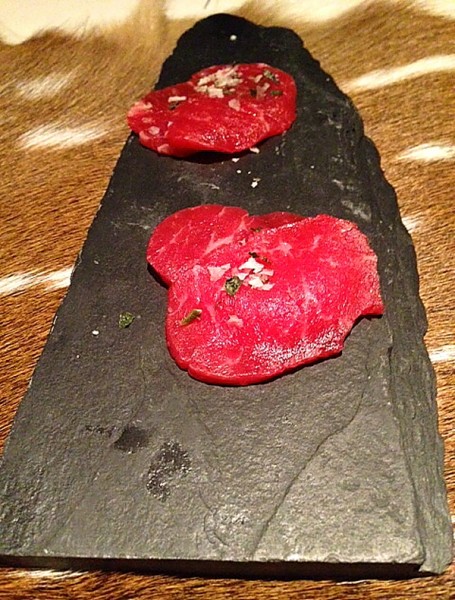 Special silver forks were provided to pick up the bison and place each piece for 15 seconds on the hot rock, then transfer to a plate of an onion composition.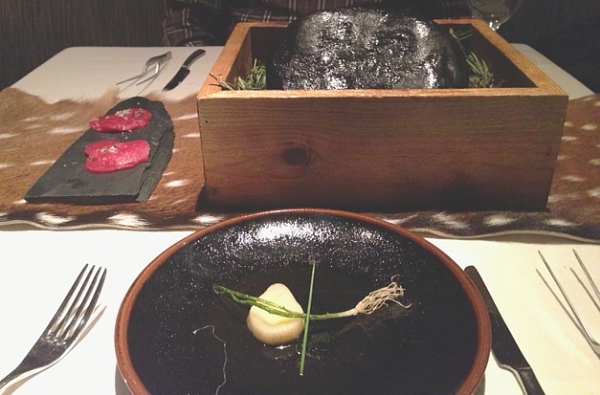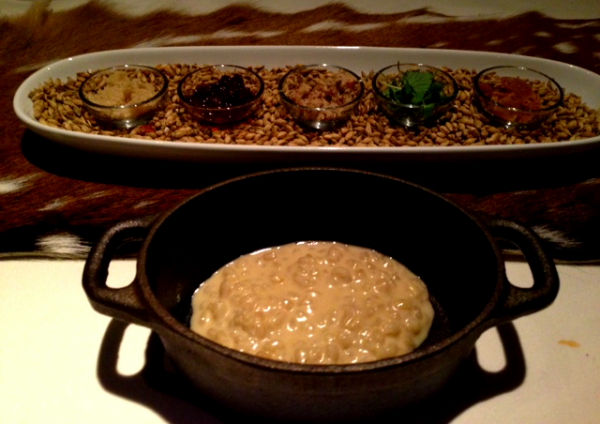 A barley pudding followed with a selection of toppings and garnishes including English toffee, mint pieces, candied pecans, tart cherry jam, and brown-butter sugar.  I would have taken one at a time and tasted each topping with a bite of pudding, but the server said to mix it all in.  I was surprised and delighted that I could taste each topping separately, thinking that all the flavors would run together.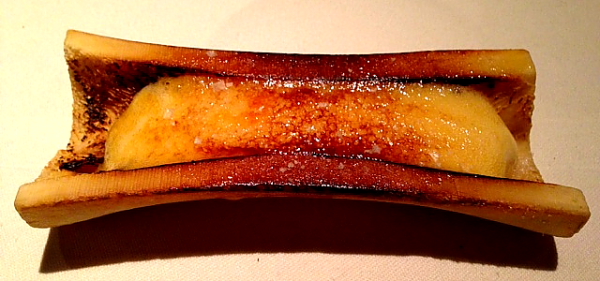 Crème brulee is one of my favorite indulgences.  When this brulee-looking dish arrived in a bone, I surmised that this brulee must contain bone marrow.  Could have fooled me.  It was delectable.
No meal-in-the-woods would be complete without something on-a-stick.   The server placed a long platter of "snow" (shaved ice) in front of us along with a long twig of Japanese maple.  She proceeded to pour two strips of a maple-based syrup onto the snow.

We were instructed to immediately pick up the branch, lay it next to the syrup and twirl and roll it up until it formed a little ball of a taffy-like bite at the end.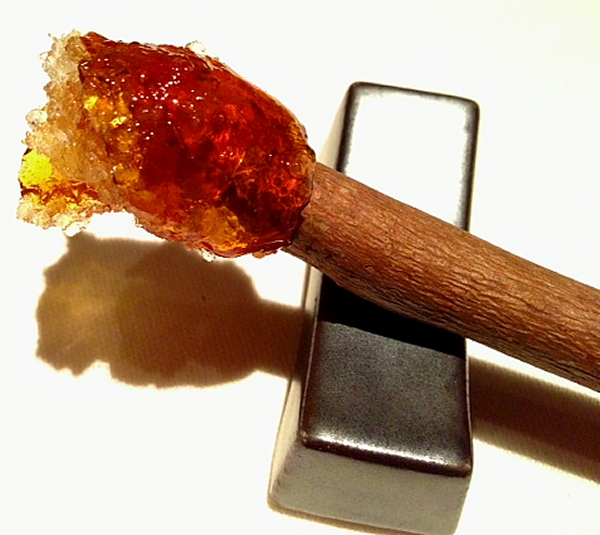 Surprisingly enough, we were not busting at the seams.  This incredible meal took over three hours to enjoy and the portions were perfect.   We asked about what was coming up next after "The Hunt."  After all the game, next is….. "Vegan."   Makes sense, right?  Now if Kristina can just get lucky enough to get tickets for that one.  I can only hope.