When we were in Finland several years ago, our Finnish cousins introduced us to the famous chocolates from Karl Fazer.  We couldn't get enough of all the flavors.  Every flavor is amazing but I got totally hooked on the popcorn variety.  Many flavors are available online, but alas, not the popcorn flavor or the new one, Caramel Popcorn.  But I am lucky that our cousin Sini will mail them to me from Finland.  Thank you, Sini!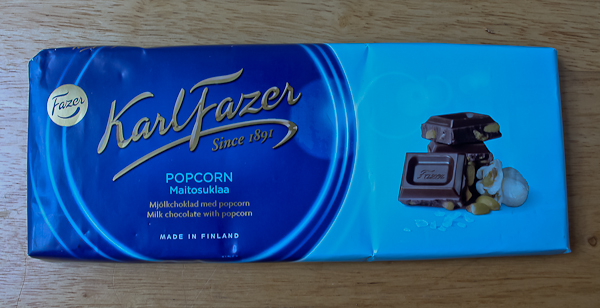 When Sini mails some to me, I try to make them last as long as possible even though I could probably eat the whole bar in one sitting.  So I had to come up with something chocolate and popcorn together just to satisfy the craving.  I found a recipe for a popcorn-almond fudge that sounded good.  And it was.  It's not Karl Fazer by any means but it was fun to make.  The fudge would make a different and fun food gift this holiday season.  Wrap it up in a pretty tin and your friends and family will love it!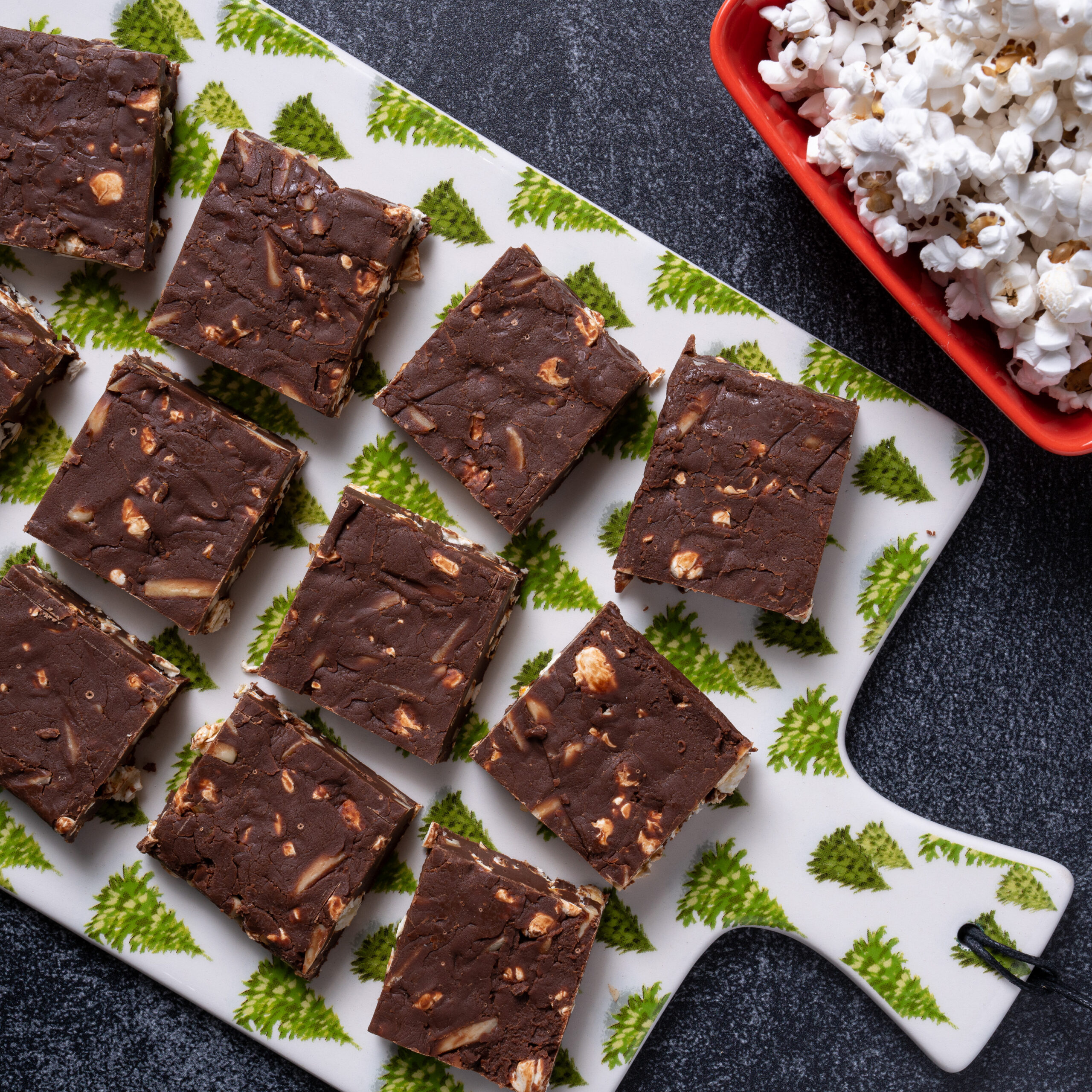 Popcorn-Almond Fudge
Ingredients
18 ounces semisweet chocolate chips
14 ounce can Sweetened Condensed Milk (NOT evaporated milk)
2 Tablespoons butter
4 cups plain popped corn, slightly crushed
1 cup toasted slivered almonds
1 teaspoon vanilla extract
Instructions
Line a 9-by-13-inch pan with nonstick aluminum foil with some overhanging edges for easily lifting out of pan. Set aside.
In a large heavy saucepan over low heat, melt the chocolate chips with the sweetened condensed milk, and the butter, stirring until smooth.
Remove from heat and immediately and quickly stir in the popcorn, almonds, and vanilla. Spread mixture evenly into the prepared pan. Chill for 1 to 2 hours until firm enough to cut. Lift out fudge and place on a flat surface to cut into squares.
Note: these fudge pieces will be flatter and smaller than thick chunks as some prefer their fudge to be. I haven't tried it yet, but next time I make it I will use a smaller pan like a 9-inch square and see how it turns out.