To me there is nothing more satisfying on chilly winter days than something slow roasting in the oven for hours.  It not only fills the kitchen with wonderful aromas but warms up the house too.  Now that we are into cold weather season it's the perfect time to make it.
This Double Dill Pot Roast fits the bill on all counts.  First the roast is rubbed with a mixture of dill seed, salt, and pepper, and placed in a heavy deep roasting pan.  Some water and wine vinegar are poured around the roast.  It then roasts, covered with foil for 5 hours at 200 degrees F.  No need to do anything else.  It comes out with a gorgeous crust and cooked perfectly.  While the meat rests, flour is stirred into the drippings and then add some sour cream and chopped fresh dill.  I served the roast with buttered poppy seed noodles and roasted carrots.  Guaranteed to warm you up!  It's so good!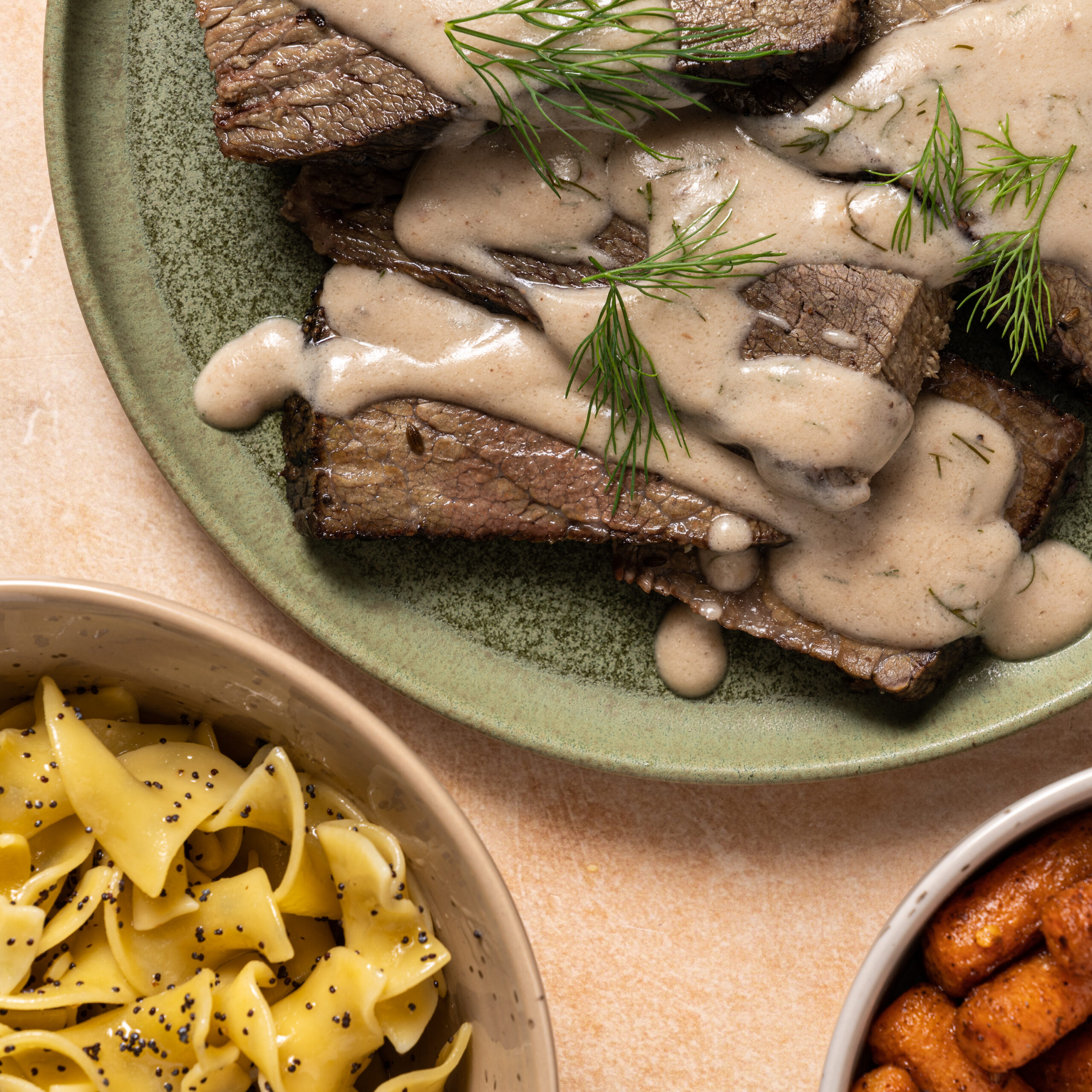 Double Dill Pot Roast
Ingredients
4-1/2 to 5 pound chuck roast
1 teaspoon dill seed
1 teaspoon table salt
¼ teaspoon ground black pepper
¼ cup water
1 Tablespoon wine vinegar (I used sherry wine vinegar)
3 Tablespoons (or more if needed) all purpose flour
2 Tablespoons chopped fresh dill (or 1 to 2 teaspoons dried dill weed)
1 cup sour cream (not light or fat free)
Instructions
Heat oven to 200 degrees F. Have a large deep roasting pan ready.
Season the beef on both sides with a mixture of the dill seed, salt, and pepper. Place in roasting pan.
Pour the water and vinegar around the roast. Cover pan tightly with foil and roast for 5 hours.
Remove roast to a cutting board to rest while you prepare the gravy. Sprinkle the drippings in the pan with the 3 Tablespoons flour and blend well. Stir in the sour cream. (If it needs to be thicker, place some of the sauce in a measuring cup or small and whisk in more flour then stir into the pan). Stir in the chopped fresh dill.
Slice roast and serve with the sour cream sauce. I served it with buttered wide noodles and sprinkled with poppy seeds alongside roasted carrots. We loved it!