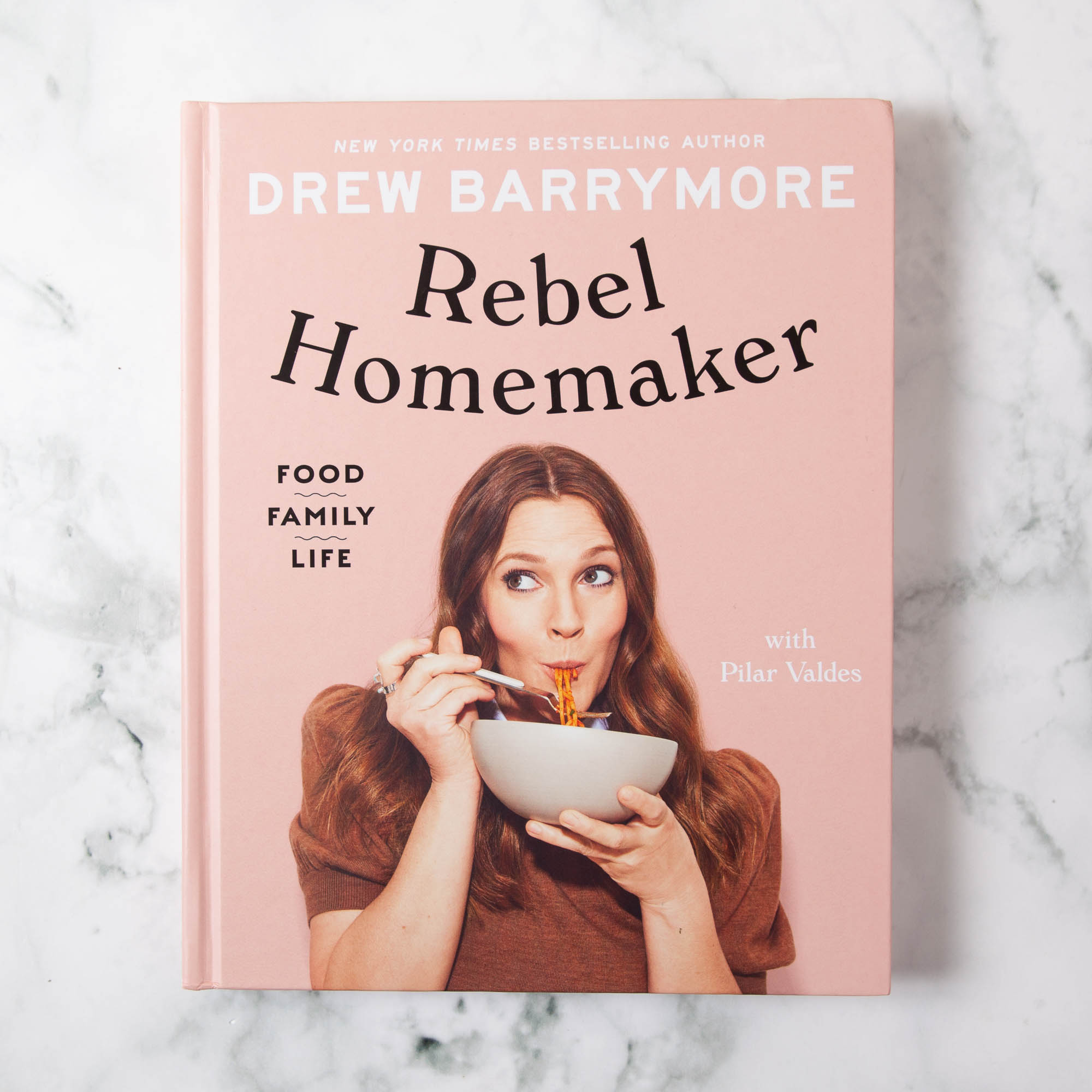 When you think of Drew Barrymore, do you think movies like E. T., Ever After, Firestarter, The Wedding Singer, Charlie's Angels, or Grey Gardens?  Or maybe of her iconic family of many Barrymore's?  Now add that Drew has her own magazine, kitchen appliances, countless awards, beauty products, home designs, and as everyone knows by now, her own highly successful television show.  I love everything about Drew Barrymore.  I find her endlessly fascinating as someone who has overcome so much adversity to who she is today with her generous heart and a mom of two girls.
But here's what I am loving about Drew right now, as she states in the cookbook:
I collect cookbooks
I love reading cookbooks
I love ordering cookbooks
I love shopping for cookbooks
I love cooking from cookbooks
I can recognize a cookbook wherever I go
And I think every cookbook has one recipe that will change your life!
How could I not love Drew's spirit when my heart is with her on these statements?  She gets it.  Food, cooking, and cookbooks, can bring people together and share experiences about family, community, and culture, while celebrating the joys of life together.  Food is love made edible.  I could go on and on about Drew but you'll have to read this cookbook as she takes you through her kitchen and her life.
Now let's get into the recipes in the cookbook.  Drew and her culinary partner in crime, Pilar Valdes, share some of their favorites for breakfast, lunch, dinner, and sides and salads.  One of Drew's favorites for dinner is Pilar's Shrimp Scampi.  Drew's girls love roast chicken. Lunch can be roasted poblano-tomatillo soup, a shrimp ceviche, brie and apple grilled cheese sandwiches, or a greens and herb quiche.  How about tacos for breakfast?  Oh, yes.  Another of Drew's favorites.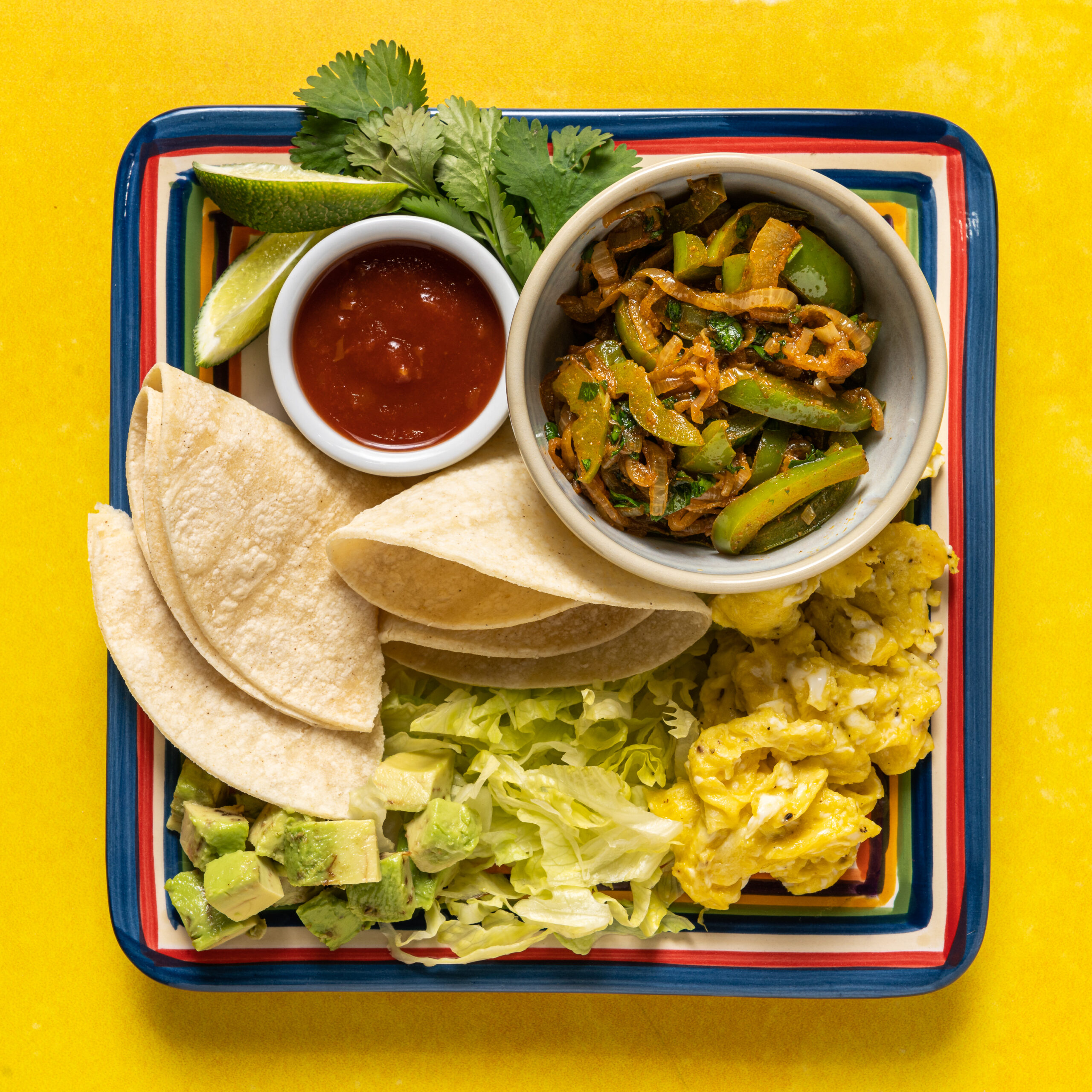 Breakfast tacos have become a favorite of mine too.  Who wouldn't love a warm tortilla filled with scrambled eggs, bell peppers and onions seasoned with spices, along with avocado slices, and fresh limes to squeeze over it all?  What a way to start the day!
Before I give you the recipe, I have something special to share that unless you happened to be at the International Home and Housewares Show in Chicago this past Spring, you probably haven't seen these photos of Drew's giant display of her cookware she calls "Beautiful."  My daughter Kristina was there and she took these photos.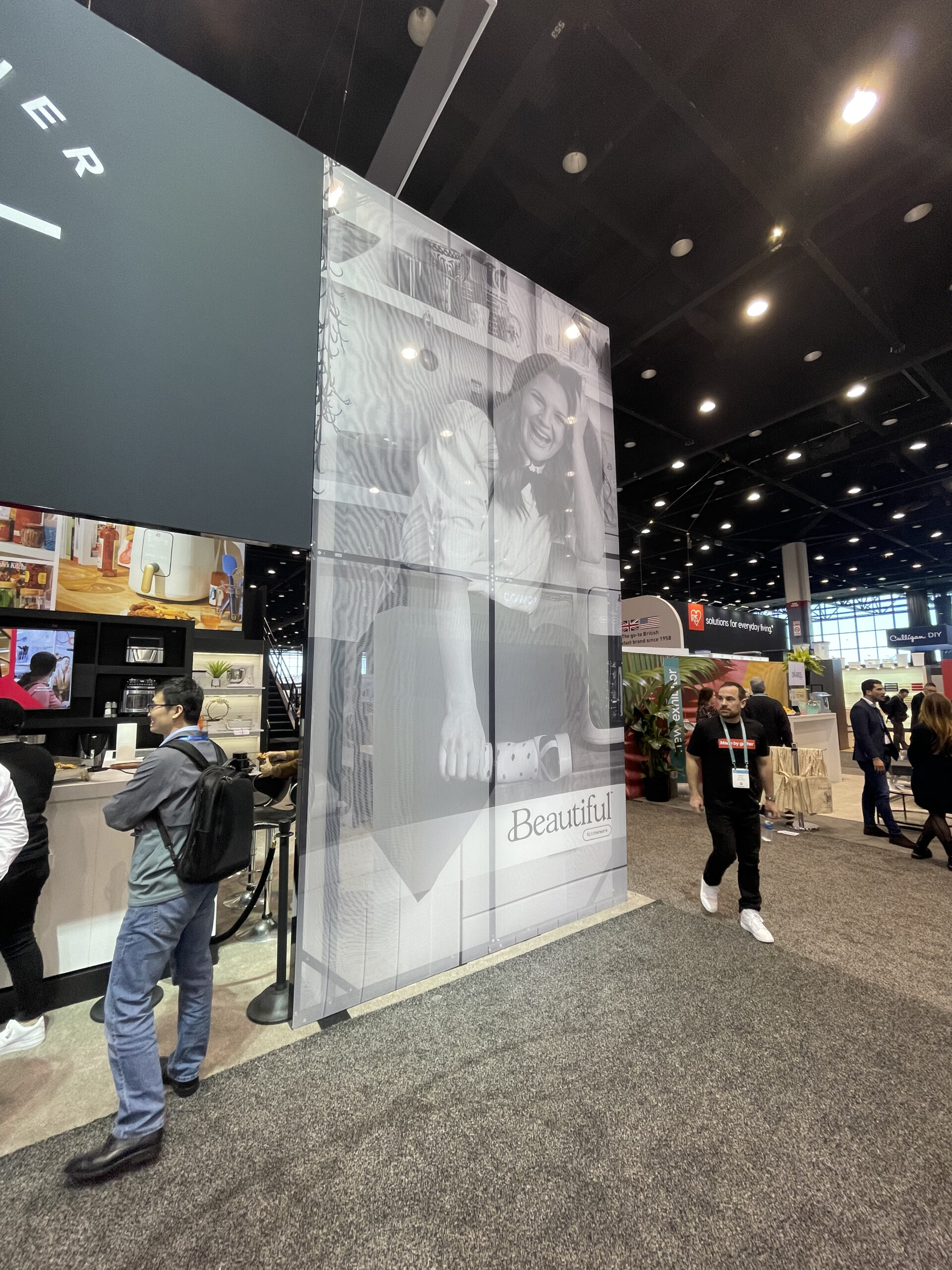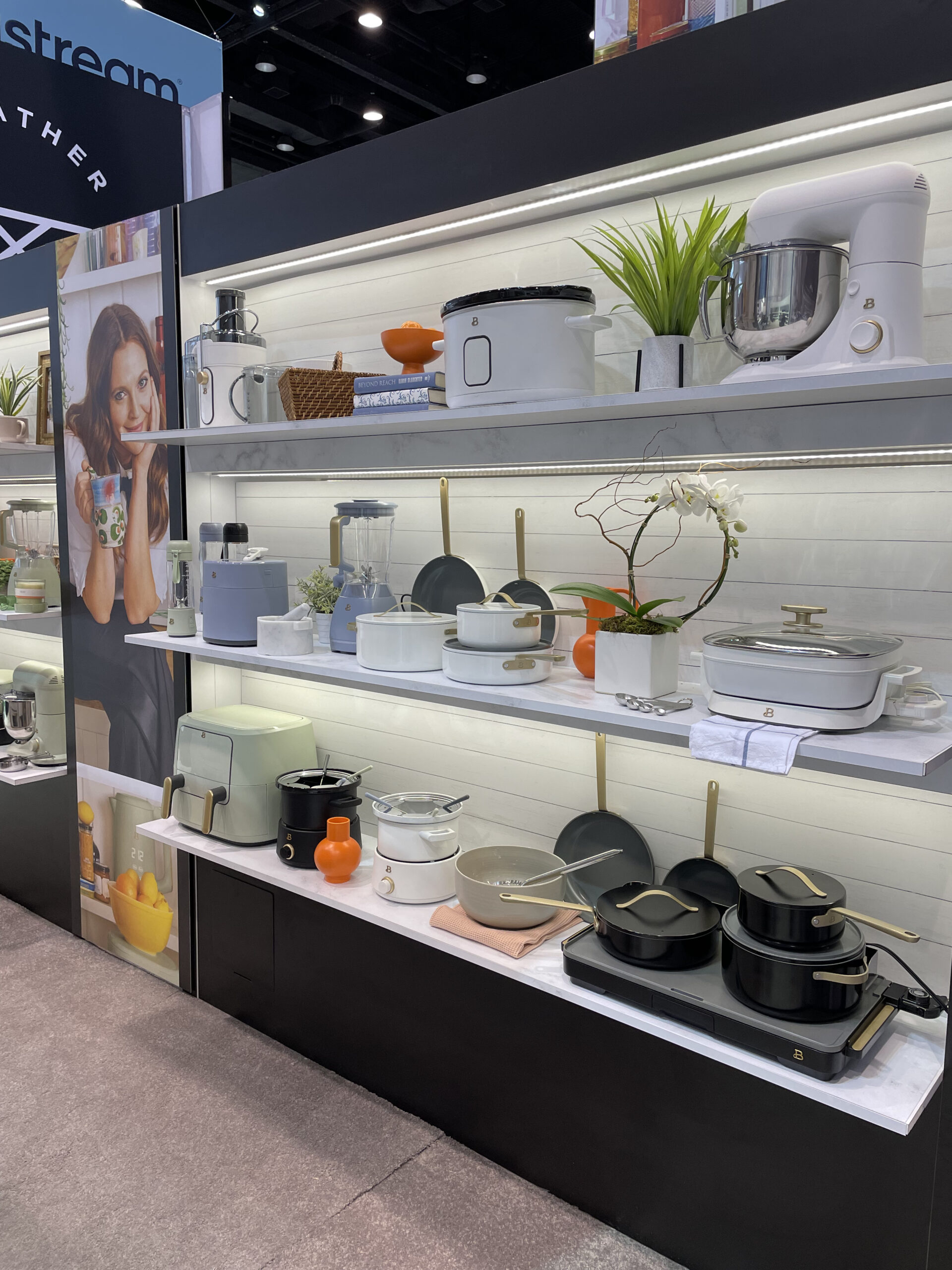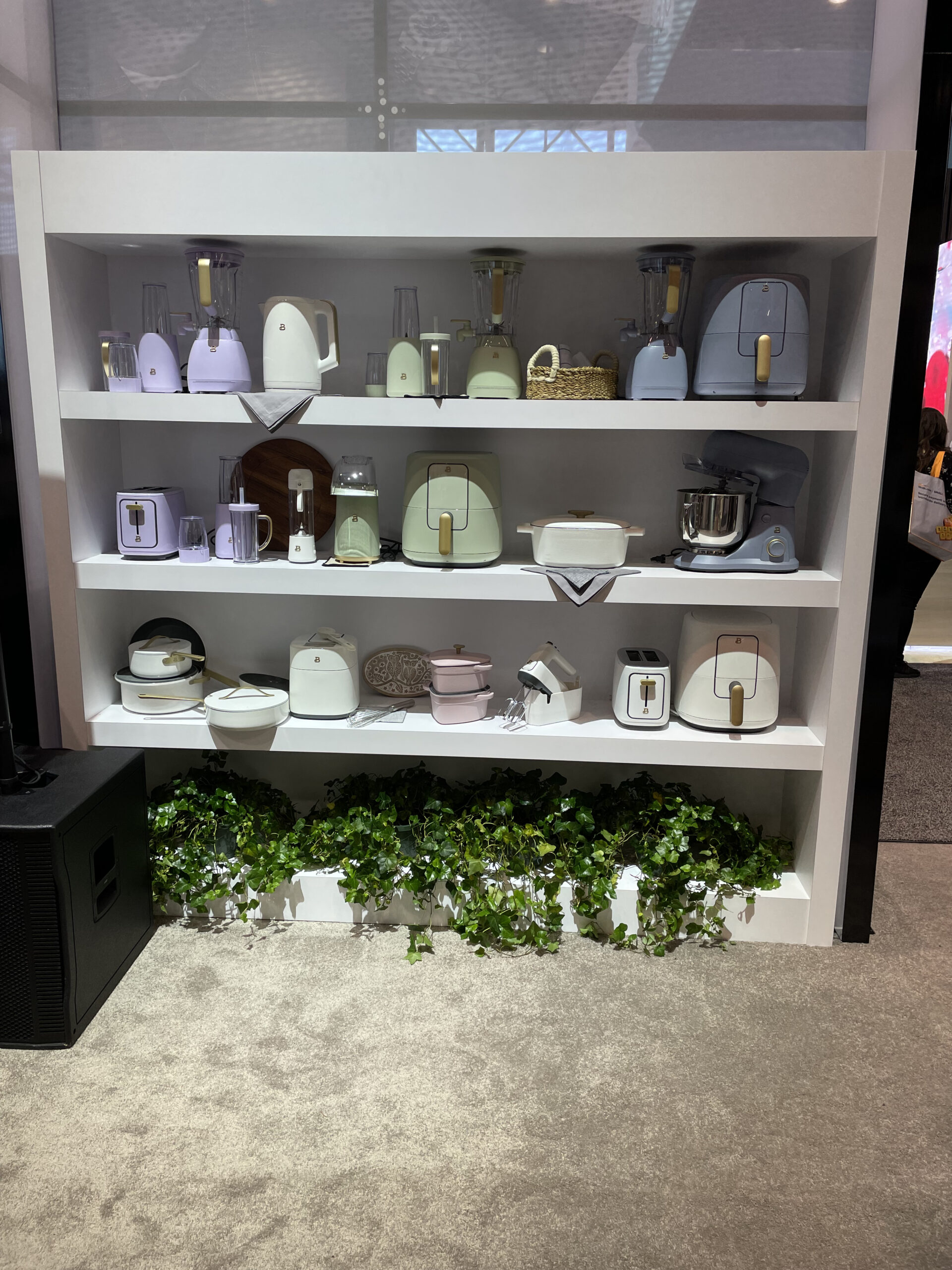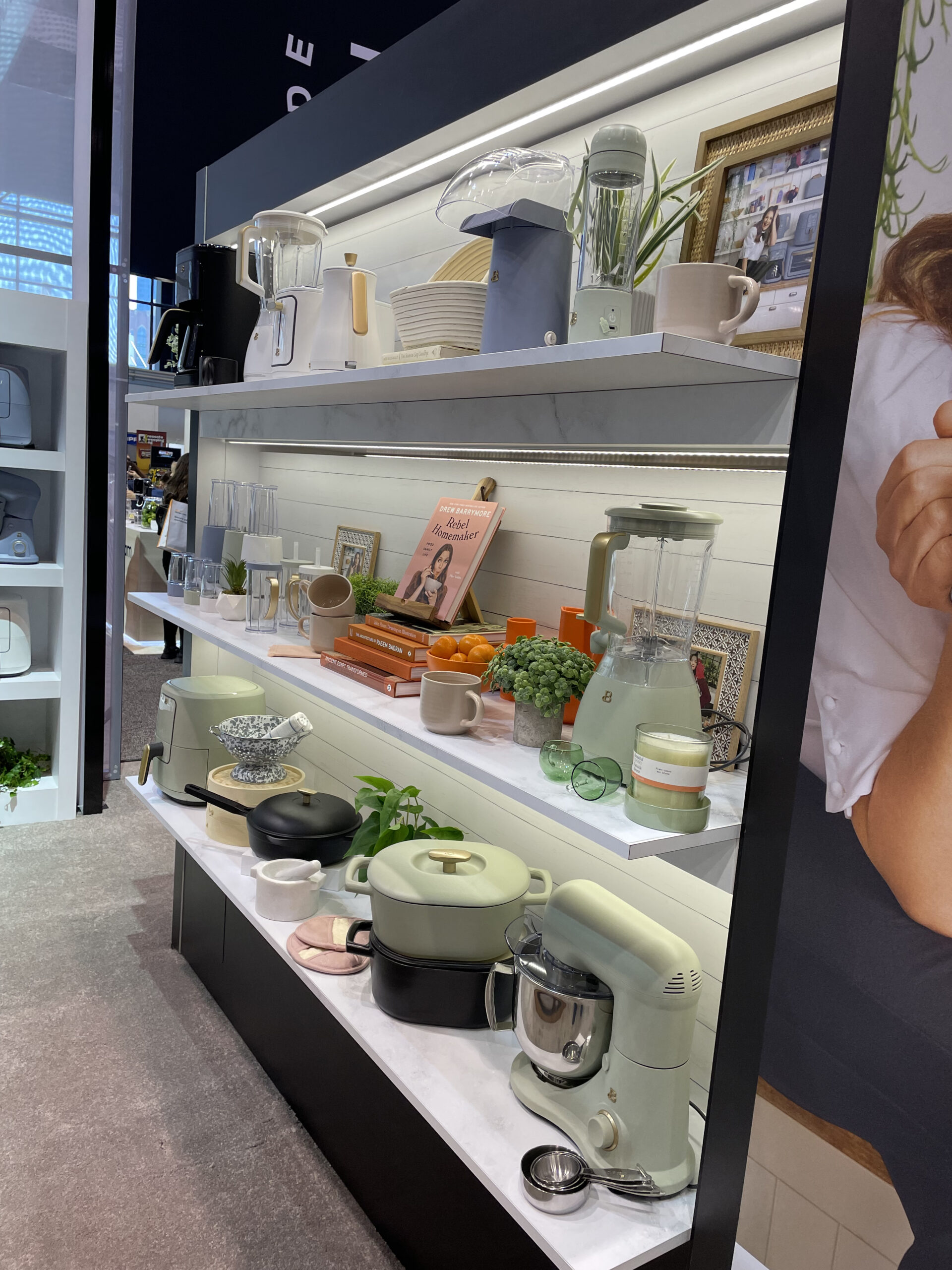 I spy the cookbook!
Quite the display, isn't it?  Beautiful Indeed!
Below you will find the recipe for the Breakfast Tacos but remember the cookbook has so many more recipes you will love.  Here is my question to Drew:  When are you going to write the next cookbook?  Looking forward to it.  Oh, and I miss seeing your happy show and cooking segments.  Come back soon.
To paraphrase Drew at the end of each show:
I wrote this blog for you, so take it with you!

Dina's Breakfast Tacos
Author:
Rebel Homemaker Drew Barrymore and Pilar Valdes
Ingredients
1 Tablespoon plus 2 teaspoons olive oil, divided
1 green bell pepper, halved, seeded, and cut lengthwise into ½" strips
1 medium yellow onion, peeled and cut lengthwise into ½" slices
Kosher salt and and freshly ground black pepper
2 teaspoons ground cumin
2 teaspoons sweet paprika
1 Tablespoon freshly squeezed lime juice, cut into wedges for serving
⅓ cup chopped cilantro leaves, plus additional for garnish
10 large eggs
8 small flour or corn tortillas
½ small head iceberg lettuce, roughly chopped
1 avocado, peeled, pitted, and thinly sliced
Instructions
For the Bell Peppers: heat a large skillet over medium-high heat. Add 1 Tablespoon olive oil and swirl to coat pan. Add the peppers and onions, season with salt and pepper, and sauté, stirring until just tender, about 4 minutes. Add the cumin and paprika and continue to cook for another minute more. Transfer to a bowl and cover to keep warm. (Just before serving season with lime juice and salt to taste, and fold in the cilantro). Wipe the skillet clean with a paper towel and set aside.
Make the eggs: Whisk the eggs in a large bowl; season with salt and pepper. Heat a skillet over medium heat and add the remaining 2 teaspoons of olive oil. Add beaten eggs and stir gently and continuously. Remove the skillet from the stovetop just before reaching desired doneness. They will continue to cook off the heat.
Heat the tortillas: Using the same skillet you used for the peppers and onions, heat over medium-high heat. Add one tortilla at a time, flipping to warm evenly until it becomes soft and pliable (about 30 seconds). Wrap it in a dish towel to keep warm. Repeat with remaining tortillas.
To serve: Squeeze a few lime wedges over the avocado slices and season with salt. Divide tortillas among plates and top each with a spoonful of peppers and onions, eggs, lettuce, and avocado slices. Serve immediately, garnished with additional cilantro, a wedge or two of lime, salt and pepper on the side. Makes 8 tacos, serves 4.