How can you not love a blog where the writer states, "Welcome to my kitchen, where the oven is always on, and the fridge is packed with delectables."  My kind of cook, as it sounds like my kitchen.  Only thing I would add is, where there is always butter softening on the counter!  My guess is Dorothy Reinhold might do the same thing.
Dorothy's site is called Shockingly Delicious, because at her house, when something tastes so fantastic, she and her family call it "shockingly delicious" or "scary good."  So when Dorothy generously sent me a group of wonderful cookbooks, to me she became "Shockingly Wonderful."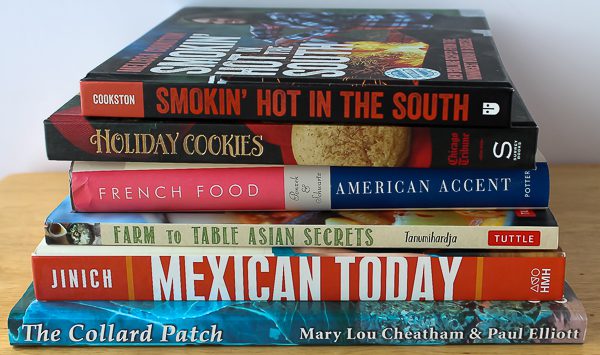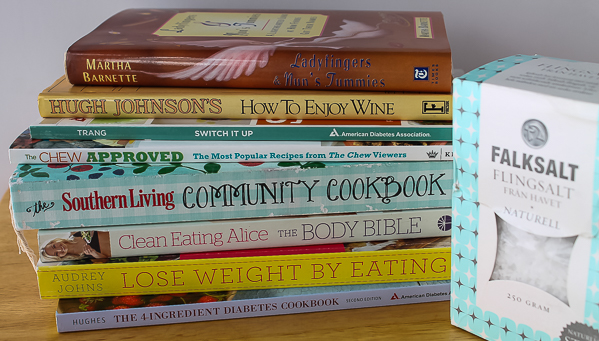 Don't you love the added gift of Flingsalt too?
In addition to Dorothy's website, she also writes a weekly food column called "Malibu Taste" for Malibu.Patch.com and one for Gourmetrecipe.com.  Her recipes have appeared in Sunset and Taste of Home.  And if that wasn't enough, Dorothy develops recipes and does social media for greens-grower San Miguel Produce and their Cut 'n Clean Greens and Jade brands.  Before all this, Dorothy spent 25 years as a newspaper reporter/editor.  With all this experience, I think you will enjoy all of Dorothy's recipes on her site.
I selected this particular book Dorothy sent because it's from the Chicago Tribune which holds a popular cookie contest every year.  In the early years of the contest, I was fortunate to be selected as a finalist and I have followed the contest ever since.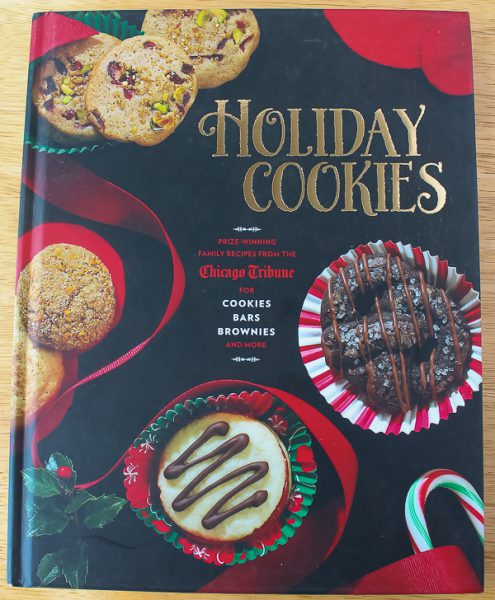 I actually made the following cookies several weeks ago because at that time we were experiencing an abundance of snow.  When I saw the winning recipe for "Black-Out Cookies" and read the story behind it, I had to  make them.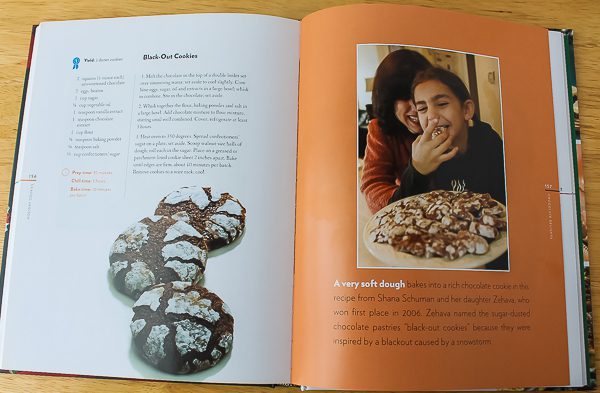 It seems the inspiration behind the cookies took place when a black-out occurred during a Chicago snow storm.  We know how bad those storms can be, and what better way to spend it than trying to keep warm and developing a recipe.  See?  Chicago storms can spur creativity, because these cookies were great!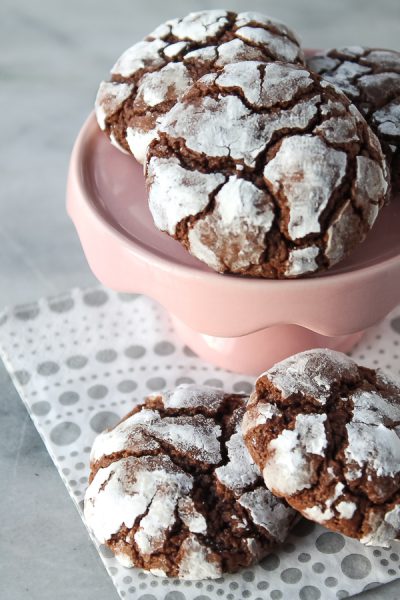 The cookies are fudgy in the middle and slightly crispy on the edges.  The secret to making them taste extra fudgy besides the unsweetened chocolate squares, is the addition of some chocolate extract.  Give the cookies a try.  Even if you are not stuck inside during a storm.  Or just make them because February is National Chocolate Lover's Month!
Thank you, Dorothy, for all the great books, especially this one that was near and dear to my heart.

Black-Out Cookies
Author:
Chicago Tribune, from their holiday cookie contest
Ingredients
2 ounces unsweetened chocolate squares
2 eggs, beaten
1 cup granulated sugar
¼ cup vegetable or canola oil
1 teaspoon vanilla extract
1 teaspoon chocolate extract (see note*)
1 cup all-purpose flour
¾ teaspoon baking powder
¼ teaspoon salt
½ cup confectioner's sugar (or more, if needed)
Note: I use Nielsen-Massey chocolate extract available at Williams-Sonoma.
Instructions
Melt the chocolate squares in top of a double boiler set over simmering water; set aside to cool slightly.
Combine eggs, sugar, oil, and extracts in a large bowl; whisk to combine. Stir in the melted chocolate and set aside.
Whisk together flour, baking powder, and salt in a large bowl. Add chocolate mixture to flour mixture, stirring until well-combined. Cover bowl and refrigerate at least 3 hours.
Heat oven to 350 degrees. Spread confectioner's sugar on a plate; set aside.
Scoop walnut-sized balls of dough and roll each in the confectioner's sugar. Place on a parchment-lined cookie sheet 2-inches apart. Bake until edges are firm, about 8 to 10 minutes. Transfer cookies to wire rack to cool. Makes about 2 dozen.