February 23rd is recognized as National Banana Bread Day.  There are many health benefits to bananas including a great source of potassium, fiber, Vitamin B6, and antioxidants.  One medium banana contains the daily recommended dosages of magnesium, copper, Vitamin C, and manganese, in addition to trace amounts of iron, zinc, iodine, and selenium.  There is a lot of goodness under that beautiful yellow peel! The arrival of bananas in the US was believed to have been in the 1870's, but it wasn't until the 1930's that bananas started to appear in banana bread and other sweets.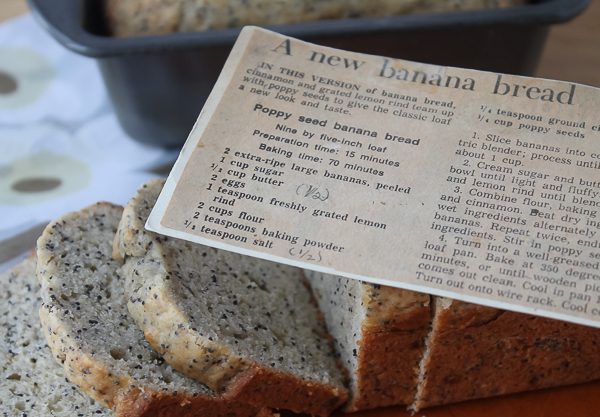 Unfortunately, I never met my mother-in-law, Helen.  She died of Parkinson's disease about six months before I met my husband, Bill.  But she did leave behind a packet of recipes and a couple of cookbooks.  I found this old newspaper clipping of "A New Banana Bread" which was described as having cinnamon, grated lemon rind, and poppy seeds "to give the classic loaf a new look and taste."  I wish there had been the year Helen cut this out of a newspaper, but whenever it was it sounds like at the time, poppy seeds were something different and exciting to add to banana bread.  Some of the amounts were barely legible as the print faded over the years, so I wrote them down before they were faded forever.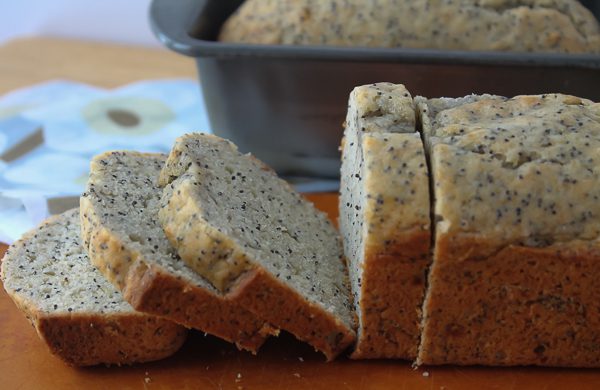 There are a million versions of banana bread and this is a goodie.  The recipe calls for it to be made in a 9-by-5-inch loaf pan, but I usually make it into three mini-loaves instead.  As most banana breads, the flavor and texture become even better if you wrap it in plastic and let it sit at room temperature for a day.  Bill usually gobbles up one little loaf fairly quickly, and I freeze the other loaves for another day.  They freeze beautifully.  The bread can be enjoyed plain, with smear of butter or cream cheese, or even lemon curd.  Whatever makes you happy.  I'm just happy to carry on some of Helen's recipes.

Poppy Seed Banana Bread
Ingredients
2 extra-ripe large bananas, peeled (I use bananas that are almost black!)
1 cup granulated white sugar
½ cup unsalted butter, softened
2 eggs
1 teaspoon freshly grated lemon rind
2 cups all-purpose flour
2 teaspoons baking powder
½ teaspoon salt
¼ teaspoon ground cinnamon
¼ cup poppy seeds
Instructions
Heat oven to 350 degrees. Grease a 9-by-5-inch loaf pan or three mini-loaf pans, set aside.
Puree the bananas in a blender or mash very well. It should make about 1 cup. It's okay if it's a little bit over. Set aside.
In a mixing bowl cream together sugar and butter until light and fluffy. Beat in eggs and lemon rind until blended.
Combine flour, baking powder, salt, and cinnamon. Add dry ingredients into wet ingredients alternately with the pureed bananas, beginning and ending with the dry ingredients. Stir in poppy seeds.
Turn batter into the loaf pan or divide evenly between the three mini loaf pans.
If using the large loaf pan, bake for about 50 minutes or until a tester inserted in the center comes out clean. If using the mini loaf pans, bake for about 25-30 minutes or until a tester comes out clean. Remove pan(s) from oven, let cool a minute or so, run a knife around the edges and turn out onto wire rack to cool completely. Wrap in plastic wrap and let sit a day for best flavor and texture. Bread freezes well too.