The Pillsbury Bake-Off is an American culinary tradition, even though it has changed since the first contest held in 1949.  Sue Bickta's mother had a dream to be selected as a contestant and she passed that dream onto Sue.  The Bake-Off has eluded both of them so far, but Sue is not one to give up trying.  She even started a private Facebook page for others who have the same desire.  I have no doubt Sue will make it there one day and fulfill her lifelong dream.
In the  meantime, Sue happily enters other cooking contests but also found the time to generously send cookbooks to help rebuild The Culinary Cellar after a flood. Some books are from her mother's extensive cookbook collection that Sue said she had to let go when they cleaned out her house, but she wanted them to have a good home.  I will treasure them, Sue, and promise that they will be loved in their new home.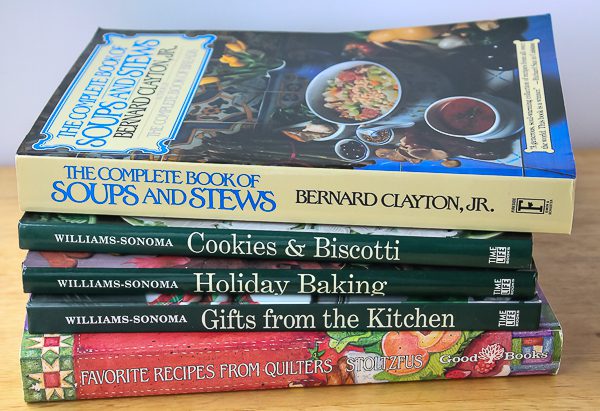 It looks like I am ready for fall and winter cooking and especially the holidays!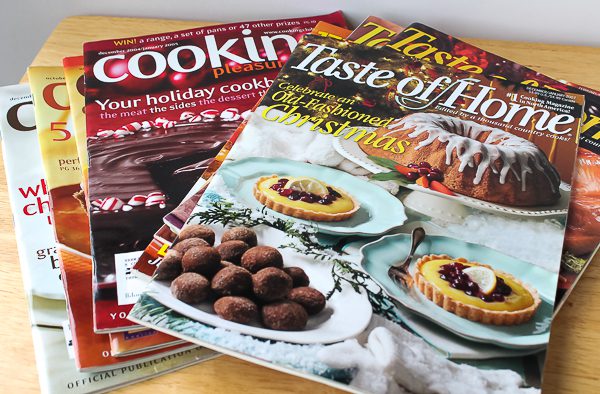 More great holiday recipe ideas from past Taste of Home issues!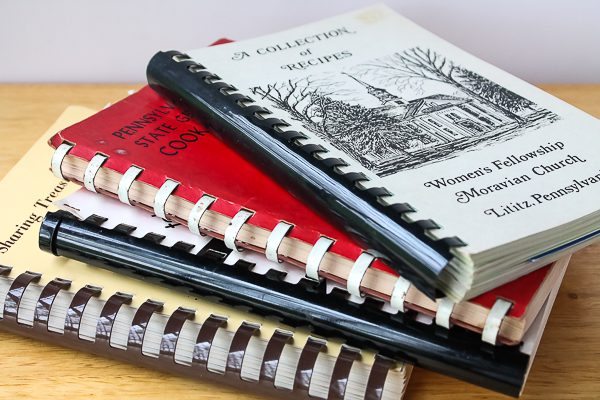 I love church and community cookbooks!
I love all the books from Sue, and selected one in particular to make a recipe for you today.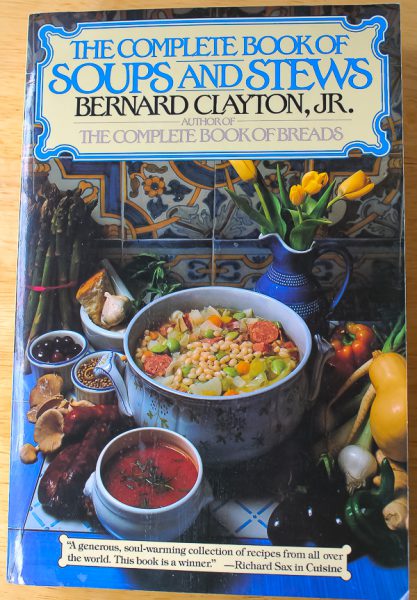 I was thrilled to receive this book from Sue, as it was one of my favorites lost in the flood, and also the author, Bernard Clayton, Jr. was a personal friend.  He spent time at our home for a few days when he was interviewing me for one of his cookbooks, and we stayed friends up to the time of his death.  Bernie was a joy, and the best bread maker I have ever met.  I truly miss him.  Thank you so much for this, Sue!
I decided to make a fall soup in the book (I love making soup) called "Vegetable Cheese Chowder with Beer."  I am not fond of drinking beer, but do love cooking with it.  The soup is really good and so easy to make.  My husband devoured it!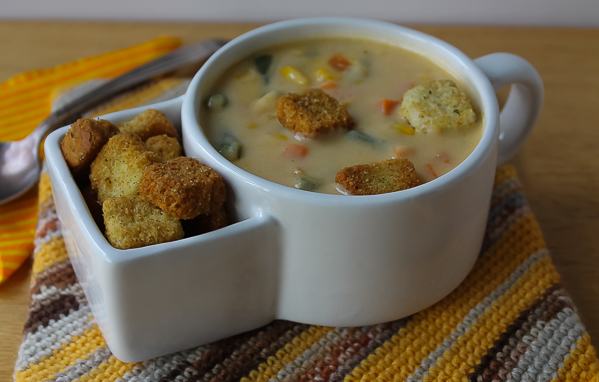 It's a cheesy, creamy soup with frozen mixed vegetables and topped with crunchy herb croutons.  Dinner can be on the table in a half hour.
Thank you for all these great books and magazines, Sue, and especially for bringing The Complete Book of Soups and Stews back into my kitchen.  I'll always cross my fingers for you every time the Bake-Off comes around!

Vegetable Cheese Chowder with Beer
Author:
Bernard Clayton, Jr., from The Complete Book of Soups and Stews
Ingredients
10 ounce bag or box frozen classic mixed vegetables
4 Tablespoons butter
¼ cup All-Purpose flour
1 teaspoon table salt
1 teaspoon dry mustard
2 cups milk
1 teaspoon Worcestershire sauce
2 cups shredded sharp cheddar cheese (about one 8-ounce block-style package, not pre-shredded. I like Cracker Barrel)
1 cup beer (but not a dark ale)
1 cup (or more) packaged herb croutons
Instructions
Prepare the package of frozen vegetables according to package directions. Drain and set aside.
In a large saucepan, melt the butter. Stir in flour, salt, and mustard. Cook over low heat, stirring constantly, until mixture is smooth and bubbly.
Stir in the milk and Worcestershire sauce. Heat the mixture, stirring constantly until it boils and thickens. Reduce heat to medium and stir in the cheese.
Continue to cook and stir until cheese melts. Stir in vegetables and beer and bring soup back to a simmer and is very hot. Taste for seasoning. Ladle into soup bowls and pass the croutons, Serves 6.