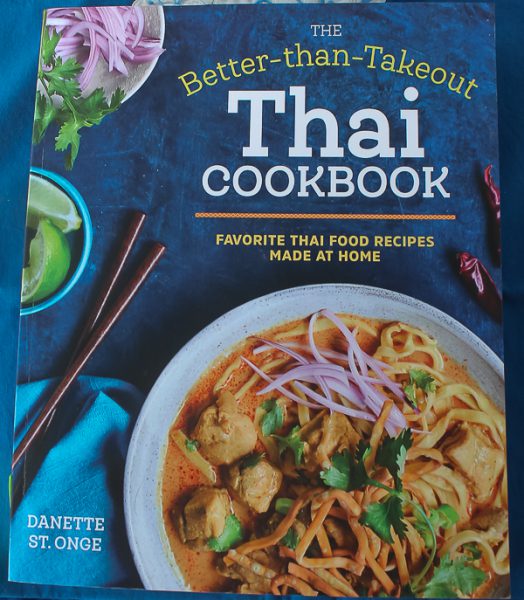 Author Danette St. Onge is half-Thai, half-American and grew up Bangkok and San Francisco.  She began her love of cooking at age ten and later worked at her family's Thai restaurant in Oakland, California.  When Danette sent me her book to help re-build The Culinary Cellar, I knew this one was a keeper.
After I received the book, I messaged Danette and asked if she had favorites to suggest.  She told me a few and I decided to make the Spicy Drunken Noodles.  The name stems from the fact that some lushes love to eat spicy food during or after a late-night bender.
Another reason I picked this recipe to have for lunch is that today happens to be National Chopsticks Day! Who knew?  And my daughter Kristina also just happened to give me some beautiful new chopsticks in my Christmas stocking.  What better way to break them in than with the delicious noodles!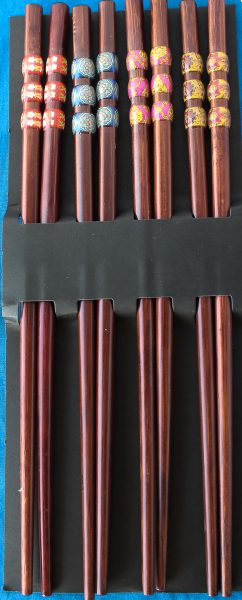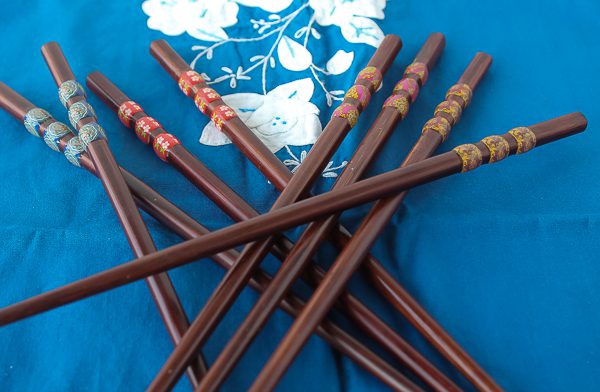 It was a perfect lunch for today.  I gazed out at a new layer of beautiful snow while eating spicy noodles with new chopsticks.  How fun is that?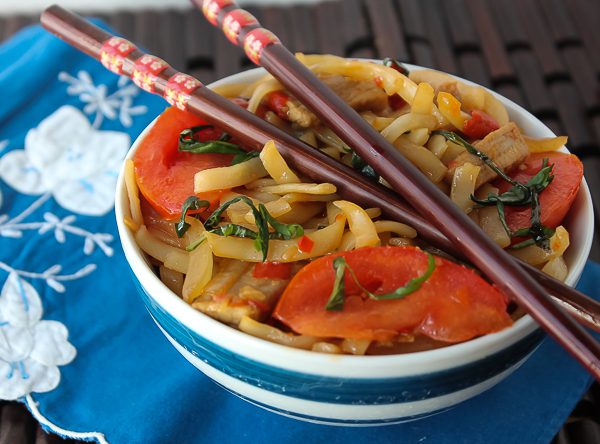 Oh my, this is so yummy.  A sauce of dark sweet soy sauce, fish sauce, and oyster sauce covered the noodles, red Thai peppers, garlic, onion, tomato wedges, basil, and sliced leftover pork pieces from a roast we had the day before.  The recipe says to use chicken breast or other meat.  It was a breeze to make.
The cookbook is great.  There are recipes for Snacks and Starters including spring rolls, satay skewers, fish cakes, and samosas.  The Rice and Noodles chapter has several fried rice recipes and oodles of noodles.  In Soups and Salads  you will find everything from basic stock instructions to exotic dishes like Pomelo Salad with Toasted Coconut and Mint, Coconut-Galangal Soup with Chicken, to Thai-Style Shrimp Ceviche which is next on my list to make.  There are so many offerings in the Curries chapter.  How does Red Curry with Roast Duck and Pineapple sound?  Or Mussamun Curry with Beef, Sweet Potatoes, and Peanuts?  I'm not done yet – the next chapters are Vegetables and Tofu, Seafood, Chicken and Eggs, Beef and Pork, Drinks and Desserts, and Sauces and Condiments.  You will just have to order the book here to find out what the recipes are in those chapters.  I can tell they all sound amazing.
Thank you, Danette, for your wonderful cookbook.  I think the spices in the noodle recipe will keep me warm on this cold snowy day!

Spicy Drunken Noodles
Author:
The Better Than Takeout Thai Cookbook by Danette St. Onge
Ingredients
¾ pound (12 ounces) fresh 1-inch wide rice noodles or 6 ounces dried rice noodles
1 Tablespoon dark sweet soy sauce, aka black sweet soy sauce*
1 Tablespoon soy sauce
1-1/2 teaspoons oyster sauce
1-1/2 teaspoons fish sauce
4 or 5 fresh red Thai bird's eye, serrano, or jalapeno chiles, stemmed
1 Tablespoon chopped garlic
2 Tablespoons vegetable oil
½ onion, cut into ½-inch wedges
6 ounces boneless, skinless chicken breast or any other meat, cut into bite-sized pieces
1 tomato, cored and cut into wedges
2 stems of young green peppercorns, fresh or brined (optional, but recommended)
1-1/2 cups fresh holy basil, Thai sweet basil, or Italian sweet basil leaves
*If you can't find dark sweet soy sauce, it's easy to make your own. Just mix together 1 Tablespoon regular soy sauce with 1 Tablespoon brown sugar and 1 teaspoon molasses. Measure out what you need for this recipe. (I made this and it was great!)
Instructions
If using fresh noodles, microwave them just until softened, at 30 second intervals. When cool enough to handle, separate them using your fingers and set aside. If using dry noodles, bring a pot of water to boil, turn off heat, and add dry noodles. Stir a few times and let them sit about 8 minutes. Rinse well in cold water, drain well, and separate with your fingers. Set aside.
In a small bowl, mix to combine the soy sauces, oyster sauce, and fish sauce; set aside.
Slice two of the chiles lengthwise, seed them, and set aside. Chop the remaining 2 or 3 chiles roughly.
In a mortar and pestle, pound the chopped chiles and garlic together to form a coarse paste (or mince together finely) and then mash them a bit with the flat side of a chef's knife.
In a large wok or skillet over medium heat, heat the oil and add the chile-garlic paste and stir fry just until fragrant, about 10-20 seconds.
Add the onion and stir fry 1 to 2 minutes until softened and a bit browned.
Add the meat and stir fry just until browned, 3-4 minutes.
Push everything to the sides and add noodles in the center. Pour the sauce on top of the noodles and stir a few times to distribute evenly.
Add the tomato and green peppercorn stems (if using) and sliced chiles, and stir a few times to mix well.
Cook until the noodles are softened and just a bit browned or charred. Let the noodles sit for about a minute, without stirring, and then mix and let sit for 1 minute more.
Turn off the heat, add the basil, and stir fry a few times just until the basil is softened. Serve immediately.
Note: You can use any type of noodle in this dish, even instant Ramen noodles or spaghetti.